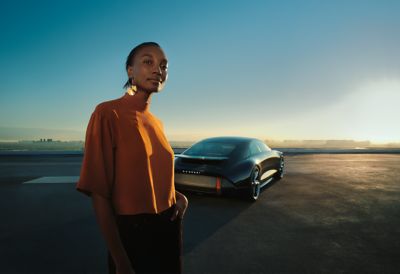 IONIQ – Hyundai's new electric line-up.
What if you could change the world?
This is the story of Debra, María, Ilaria, David, Kevin, BTS… but above all, this is your story. And it is no coincidence that IONIQ starts with "I". Dedicated entirely to electric vehicles, the new IONIQ brand has been created for conscious consumers who want to be in charge of a brighter, more sustainable future. Empowering all of us to say: I'm in charge.
IONIQ empowers everybody to say: I'm in charge.
Change is a big word we often associate with climate, peace, or politicians, forgetting that everything big once started on a smaller scale. Who can stop our impact on nature? Who can make the shift to green energy? Who can control time? Actually, it's you. Given your opportunity to make changes, you can choose to move towards progress or turn the other way and regress.
You're in charge. You can change the way we live together for the better – with IONIQ offering us a new way of moving, ready for the challenges of today and tomorrow, where individuals are at the center. More than taking us from A to B, the new electric line-up connects individuals with solutions that benefit the many.
Under the motto "I'm in charge", the new IONIQ campaign is a wake-up call for us all to realize that everything we do affects others – and we have the power to do good. With a whole electric line-up, charging solutions and connectivity features that empower everyone to move in our own way – more sustainably.