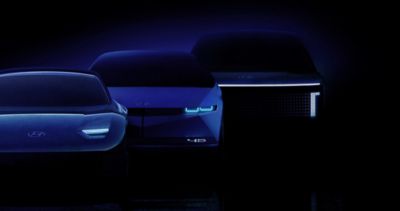 IONIQ – Hyundai's new electric line-up.
Leading the charge to keep things moving.
London, one of the world's most iconic sights is shining bright once again – temporarily dressed up as a 135 metre-high letter Q – to celebrate the launch of IONIQ as our new electric vehicle line-up. Dedicated entirely to electric vehicles, the new IONIQ brand has been created for conscious consumers who want to be in charge of a brighter, more sustainable future.
Humanity at the heart of electrified innovation.
Hyundai's innovative legacy now leads to the rebirth of the name IONIQ as a brand for our dedicated electrified line-up. It is a reflection of Hyundai's overall vision: Progress for Humanity – reflecting our fundamental pursuit to make every moment as rewarding and worthwhile as it can be. IONIQ embodies our vision of smart mobility. We pursue progress for electrified, connected living and a promise to provide an advanced connected life, for everyone.