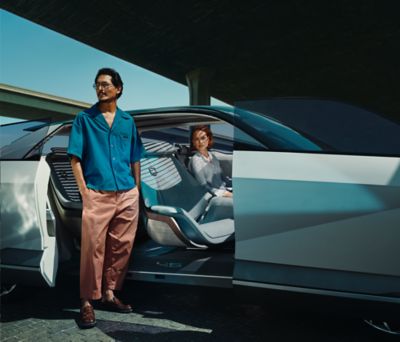 IONIQ – Hyundai's new electric line-up.
What if you could change the world?
This is the story of Debra, María, Ilaria, David, Kevin, BTS… but above all, this is your story. And it is no coincidence that IONIQ starts with "I". Dedicated entirely to electric vehicles, the new IONIQ brand has been created for conscious consumers who want to be in charge of a brighter, more sustainable future. Empowering all of us to say: I'm in charge.
IONIQ empowers everybody to say: I'm in charge.
Change is a big word we often associate with climate, peace, or politicians, forgetting that everything big once started on a smaller scale. Who can stop our impact on nature? Who can make the shift to green energy? Who can control time? Actually, it's you. Given your opportunity to make changes, you can choose to move towards progress or turn the other way and regress.
You're in charge. You can change the way we live together for the better – with IONIQ offering us a new way of moving, ready for the challenges of today and tomorrow, where individuals are at the center. More than taking us from A to B, the new electric line-up connects individuals with solutions that benefit the many.
Under the motto "I'm in charge", the new IONIQ campaign is a wake-up call for us all to realize that everything we do affects others – and we have the power to do good. With a whole electric line-up, charging solutions and connectivity features that empower everyone to move in our own way – more sustainably.
Loaded with talent.
Shown in their real occupation, the IONIQ protagonists underline the full power of simple situations. Debra can travel to the roots of humanity in Kenya while respecting local tribes and nature. María invites us to imagine what our environment would look like, if green was always in the spotlight. Environmentalist and explorer David de Rothschild takes us to a vast Arctic landscape to draw attention to our world's needs, while Kevin Bago's powerful dance is an ode to freer streets, void of traffic jams. They are examples of how our hearts are built to meet the challenges in life and how we can change our future.
RM, Jin, SUGA, j-hope, Jimin, V and Jungkook from BTS call on everybody to spread and share positive energy, creating the transition to younger generations and the girl at the end of the film. She embodies not only her generation but all generations – for, as she says it, "I can be in charge. We all can." Putting it in our power and responsibility to make things move.
Sustainability is an ongoing goal.

I learn from nature. Now is the time to make the whole world listen.
New living spaces.

'I'm in charge' speaks for Hyundai's broader vision of a clean and sustainable mobility landscape. The film also underlines IONIQ's mission within the wider spectrum of Progress for Humanity, which is to enable modern customers to live by a lifestyle of their choice with products that reflect who they are, while making a positive impact on the planet. IONIQ brings us all one step closer to the obsolescence of cars as we know them and the imminent rise of a whole electric ecosystem. Everything is about to become more connected and the boundaries between work and play will slowly fade away
What's your answer when they ask: who's in charge?
With the arrival of IONIQ 5 in early 2021, IONIQ 6 sedan in 2022, IONIQ 7 SUV in 2024 and new autonomous driving solutions, the dedicated electric line-up brand aims to give more time to the people by delivering truly personalized lifestyle experiences, where you get more control and decision power on how you want to live.