Introducing our newest SmartSense feature.
The Hyundai SmartSense system surrounds you and your family with a wide range of features that automatically look out for you all. However, improving safety doesn't always mean adding more sensors or radar systems. Sometimes it's also about adding a little bit of fun, especially when it comes to the safety of your children. The Pinkfong hug belts improve the sleeping position of children and make it more fun to wear the seat belt. That's why we're proud to introduce these hug belts as the newest Hyundai SmartSense feature: Toy Assist.
How does it work?
Toy Assist can be installed in every Hyundai family vehicle. Once your child is safely buckled up in the back seat, simply connect Toy Assist to the seat belt.
With this fun and playful toy, your children learn about safety through play and have a better sleeping position. And when they are asleep, you can keep your eyes on the road. Toy Assist is available in two playful characters: the internet sensation Baby Shark and Pinkfong, children's favorite character.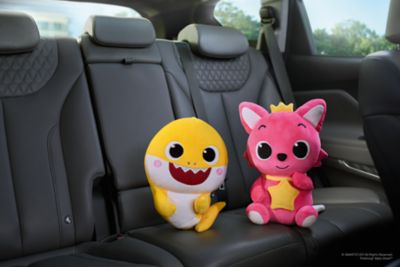 ©SMARTSTUDY All Rights Reserved. Pinkfong® Baby Shark™
About the collaboration.
Pinkfong® is the children's educational brand of SmartStudy©, a global entertainment company that creates award-winning kids' content for families around the world.  Hyundai is proud to collaborate with them on this project.

Looking for something fun to do for your kids at home?
We've got something for you: The Hyundai Colouring Book featuring Pinkfong and Baby Shark! It's as easy as that! Just print out the colouring book and let your kids have fun!