Tayo the Little Bus.
Children learn the best through play. That's why Hyundai adds a new innovative feature to the Hyundai SmartSense package: Toy Assist.
How does it work?
Toy Assist can be installed in every Hyundai family vehicle. Once your child is safely buckled up in the back seat, simply connect Toy Assist to the seat belt.
Toy Assist offers adorable hug belts which improve both the safety and comfort of your children while driving. It was created in collaboration with a worldwide platform for educational toys, books and videos. And it's available in the shape of Tayo the Little Bus.

With this fun and playful toy, your children learn about safety through play and have a better sleeping position. And when they are asleep, you can keep your eyes on the road.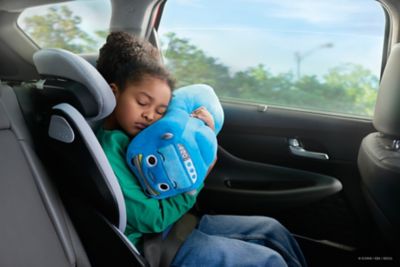 About the collaboration.
Tayo the Little Bus is the children's popular animated series created by ICONIX Co,Ltd. that is a leading global entertainment company. It is about exciting adventures that are to happen in the metropolitan city where different vehicles live with harmony with one another. Hyundai is excited to collaborate with Tayo on this project.
Looking for something fun to do for your kids at home?
We've got something for you: The Hyundai Colouring Book featuring Tayo the Little Bus! It's as as easy as that! Just print out the colouring book and let your kids have fun!