Maximum driving fun – the N high-performance range.
There's more to driving than just getting from A to B. That's why our N models have been developed from the ground up to provide more than just high performance. N stands for maximum fun, both on and off the racetrack, reflecting the N brand philosophy: Never just drive.
About N
Driven to perform - the N DNA.
Born on the track – N brings Hyundai's extensive motorsport experience and high-performance road car development together in a range of truly exhilarating sports cars. Created for maximum driving enjoyment on the road – and racecar feeling in everyday life, all N models share the same DNA, which can be distilled into the following three performance pillars.
Models
Our growing high-performance N line-up.
The KONA N is the latest addition to our growing high-performance N line-up – and the first N model with an SUV body style. Together with the i30 N, i30 Fastback N and i20 N, it joins an impressive range of high-performance vehicles that are designed to perform – and built to make every moment behind the wheel a chance for more kicks.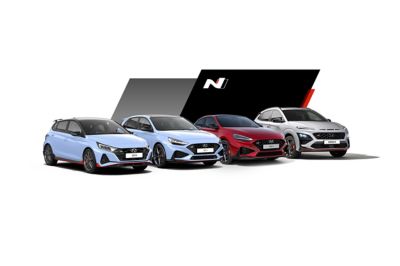 N Line trim – The confidence of powerful details.
You're used to making a statement. Now you can drive one. Take your Hyundai to the next level with eye-catching design elements taken directly from the high-performance N series. Featuring bold, performance-inspired design enhancements inside and out, Hyundai's N Line trim is available on a wide range of models.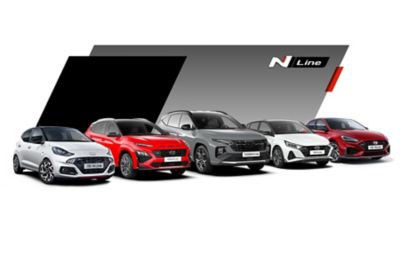 N Man – N-thusiast number one in Performance Blue.
Part petrol head, part performance driving aficionado, N Man is the embodiment of N-thusiasm – the passion for performance and the pure joy of driving that an N brings with it. Instantly recognizable in his Performance Blue helmet and racing suit, N Man has become a fixture at Hyundai motorsport events and in guest appearances in viral videos. Witty, enthusiastic – and always up for a drive – N Man loves N culture and is actively involved in the N-thusiast community.
Get inside with N-ZINE car magazine.
Journey with us as we share our stories from the road and offer N-sider insights that make driving the N all the more fun. This dynamic online magazine gives you a closer look at car culture and the N-thusiasm in all of us.
Hyundai N on social media.
Visit us. Follow us – Get an inside look at the testing, development and performance of all our N models in our social media channels.
Motorsport
Hyundai at the top of rally and touring car racing.
From the pinnacle of rally sport with the i20 Coupe WRC and the top of touring car racing with the i30 TCR N, Hyundai is a major force in motorsports.  Winning back-to-back titles in the FIA World Rally Championship (WRC) as well as 12 titles, 67 wins and 148 podiums in TCR racing in 2020, Hyundai Motorsport knows what it takes to perform. And the lessons we learn in motorsport, flow into our N models.