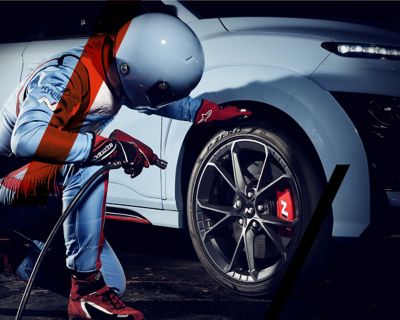 Passion for performance by Hyundai.
Performance that gets drivers' hearts beating faster.
With Hyundai N – our high-performance sub-brand – we provide our customers fun-to-drive cars with dynamic everyday driving capabilities and racetrack-capable performance that will get drivers' hearts beating faster.
About N
N – Born in Namyang and honed at the Nürburgring.
N stands for Namyang, home of our global Research & Development centre. Born in Namyang and honed at the Nürburgring – the N logo also symbolises a racetrack's chicane curve. Hyundai N cars are designed to perform – and to put a grin on your face. They are engineered to satisfy drivers who want to feel the burst of adrenaline that gets your heart beating faster – The pure joy of driving.
The Birthplace of N – Namyang R&D Center.
The Namyang R&D Center in South Korea is the heart of Hyundai Motor's global R&D network, and the birthplace of our N models. It consists of a multitude of facilities and test roads that cover over 3.3 million square meters of land. With world-class researchers and facilities, Namyang serves as the ultimate think tank for the development of High-Performance N.
Green Hell - European Technical Center at Nürburgring.
The Nürburgring Nordschleife is also home to the Hyundai Motor European Technical Center where accelerated durability tests are conducted. The creation of this test centre in the middle of a battlefield that pits the world's most advanced automotive technologies against the harshest road conditions, serves as a sign of Hyundai's aggressive dedication towards the development of high-performance vehicle technology.
History
Our journey to N – driven by motorsport success.
Hyundai announced its re-entry to the WRC in 2012, unveiling the new i20 WRC concept car at the Paris Motor Show in September. And following almost a decade of developing our versatile N line-up of racetrack-ready road cars, we have expanded our range in Europe in 2021 to include the i30 N, i30 Fastback N, i20 N, and KONA N – with more models on the way.
2012 – A new contender.

In 2012, we unveiled the i20 WRC concept car at the Paris Motor Show and announced our re-entry to the WRC. And just three months later, Hyundai Motorsport was established in Alzenau, Germany.

2013 – Full scale debut.

2013 marked our full-scale debut with the unveiling of the newly improved i20 WRC Concept Car at the Geneva Motor Show, March 2013 and the establishment of our European Technical Center in Nürburgring.

2014 - Taking the podium.

We celebrated our maiden victory at Rally Germany in 2014 as well as taking four podiums and finishing fourth in the WRC with our i20 WRC. Albert Biermann appointed as Executive Vice President in December.

2015 - A glimpse into the future.

Step-by-step, our engineers have been building, researching and developing new technology since 2012. In the fall of 2015, the full-on launch of high-performance N was announced.

2016 - N making progress.

The public's first look at the performance of i30 N's powertrain generated a whirlwind of anticipation. And we successfully completed the 24 Hours Nürburgring Endurance Race with i30 N Prototype.

2017 - A new car for a new era.

In 2017, the award-winning i30 N marked the premiere of the new Hyundai N high-performance range and the i30 N TCR won its first race ever at the Zhejiang international circuit in China.

2018 - The new takeoff.

2018 saw the launch of Veloster N and i30 Fastback N as well as the founding of the High-Performance Vehicle & Motorsport Division. Led the 2018 WTCR Series with Top Performance by i30 N TCR Drivers.

2019 – Winning championship.

Hyundai Motorsport secured its maiden title in the FIA World Rally Championship (WRC), finishing the 2019 season on top of the manufacturers' standings – only 5 years after their WRC debut in 2014.

2020 - The next generation.

The new i30 N and new i30 Fastback N are launched. Driven by lessons learned in our i30 N TCR race package and motivated by feedback from our N-thusiast community, major performance enhancements are on board.
DNA
Inspired by motorsport.
At Hyundai N, we have always taken the lessons learned in our highly successful racing programs and applied it to our road-going N cars. Every N model has internalized motorsport technologies. This is why we call WRC and TCR the cradle of N.
People
Driven to perform. The team behind the brand.
Hyundai will develop the technology to create fun and pleasant cars that are not just for a specific subset of people. We want to appeal to a much wider audience.

Hyundai N will be the most respected manufacturer of high-performance products in its segment that gets the hearts of customers racing and keeps them coming.
N-gineers – pushing the limits with passion.
Let loose, the people behind N create astonishing technology and have fun doing it. The performance development division is made up of departments ranging from NVH, to drive, braking, cooling, and aerodynamics, all under one roof. In the high- performance sector, we bring together all kinds of ideas. This structure makes communication between different departments easy and helps in the development process.