Hyundai unveils vision of new Metamobility concept, 'Expanding Human Reach' through Robotics & Metaverse.
Inspired by our vision, "Progress for Humanity", we dream of a future in which robots help humanity. At CES 2022, we unveiled our plans for our next generation robotics, which will move us beyond limitations, move things beyond our imagination and expand the role of mobility to virtual space, so-called Metamobility.
Watch Hyundai's vision for the future.
Expanding Human Reach.
Under the main theme of 'Expanding Human Reach', Hyundai's presentations reflected how the company's robotics business will drive the paradigm shift towards future mobility, going beyond the traditional means of transportation to fulfill unlimited freedom of movement for humankind.
Robotics.
Mobility of Things.
Robotics is an essential part of Hyundai's transformation into a smart mobility solution provider. Having acquired Boston Dynamics, an innovator in the field, we have sharpened our focus on advancing robotics to enhance people's lives through a range of mobility solutions. We see robotics and mobility as complementary in that one accelerates development of the other, and vice versa. Together, they form a synergistic combination that will add value to the business and drive progress for humanity, starting with a robotics-based Mobility of Things (MoT) ecosystem.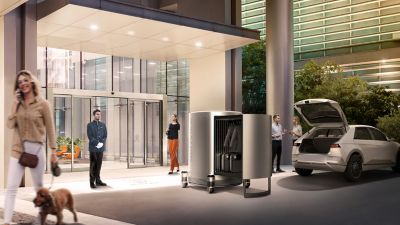 Robots that move people and things beyond imagination and limitation.
At CES, the Hyundai Motor booth presented how mobility in the real world can be advanced with its robots, including Spot® quadruped, PnD Personal Mobility module, L7 micro-mobility model and MobED small mobility platform with eccentric wheels. The four robot models are optimized to each module and video screens explain each robot's special advantages.


Plug & Drive (PnD) and Drive & Lift (DnL).
Plug & Drive (PnD) and Drive & Lift (DnL) modular platforms have been revealed as all-in-one solutions for its unlimited Mobility of Things (MoT) ecosystem, wherein traditionally inanimate things, from small objects to community spaces, will gain mobility using the company's robotics technologies.
Plug & Drive.

The new PnD module, a single-wheel robotics platform that combines intelligent steering, braking, in-wheel electric drive and suspension hardware that can be scaled up or down, for any purpose, size or application. LiDAR and camera sensors allow a PnD-enabled object to move autonomously.


L7 Concept.

L7 is a micro-mobility based on a platform that combines four large PnD modules. With infinite wheel rotation, it can switch directions freely and drive even in a restricted space. It can be used for various types of mobility platforms, not only in transportation but also in logistics.

Personal Mobility.

PnD's driving flexibility also can individualize public transportation to meet very specific, individual needs, such as a personal mobility module that attaches to a mother shuttle for most of its journey but can detach for the last mile to take the occupant directly to their final destination

Service Mobility.

Service Mobility can be used for diverse applications, such as transporting customers' luggage in hotels.

Logistics Mobility.

Logistics Mobility can be used for transporting goods from warehouses. By measuring 130-cm wide by 110-cm long and 180-cm high, with storage space that opens and closes like a drawer.
MobED
Mobile Eccentric Droid (MobED).
MobED (Mobile Eccentric Droid)  is a small mobility platform that uses the  Drive & Lift module (DnL), an eccentric wheel mechanism, combining the drive, steering and braking systems in one structure. With DnL mounted on each wheel, MobED can lift the platform up and down, so the body can stay level as MobED traverses uneven terrain or low barriers such as steps or speed bumps.
Clever design.

The MobED has an innovative design arrangement. It's flat, rectangular body rides on four large wheels, with an independent suspension that enables optimal body posture and stable movement even on inclined and uneven roads. This suspension allows the platform to move through complex urban environments by freely adjusting its wheelbase and steering angles.

The intelligent design arrangement of each wheel featuring an individual power and steering control system enables in-place rotation and omnidirectional movement, which allows for highly effective mobility even in narrow situations.
Specs.

MobED measures 67 cm long, 60 cm wide, 33 cm high, and weighs 50 kg. Its wheelbase expands to 65 cm for optimum stability in high-speed driving and then scales down to 45 cm for low-speed maneuvers in more complex environments. Its maximum speed is 30 km/h, allowing for around four hours of driving on a single charge with a battery capacity of 2 kWh.

Stabilizing.

The eccentric mechanism-based posture control system also stabilizes the body attitude by adjusting the height of each wheel according to the ground environment. The MobED's 12-inch pneumatic tires further help to absorb bumps and vibrations.

Diverse Applications.

We exhibited a guide application concept of MobED equipped with a monitor for drawing the attention of people, such as visitors at a public attraction.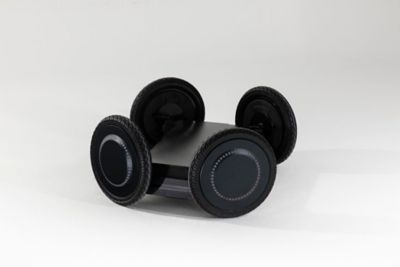 We have developed the MobED platform to overcome the limitations of existing indoor guide and service robots while maximizing its usability in cities by dramatically improving the platform's overall mobility. We are also looking ahead to assess how potential users of MobED will further expand their needs and use for this type of technology.
Metamobility
Expanding to Metamobility.
At the forefront of new mobility, Hyundai takes another leap forward at CES 2022. Chang Song, President and the Head of Transportation-as-a-Service(TaaS) Division of Hyundai Motor Group, introduces a new concept of 'Metamobility', with the goal of pioneering a smart device-metaverse connection that will expand the role of mobility to virtual reality(VR), ultimately allowing people to overcome the physical limitations of movement in time and space.
About CES
Most influential tech event in the world.
The first Consumer Electronic Show kicked off in 1967, with 250 exhibitors and 17,500 attendees in New York City. Since then, CES has grown by more than 10-fold and now encompasses both traditional and non-traditional tech industries. CES showcases companies including manufacturers, developers and suppliers of consumer technology hardware, content, technology delivery systems and more. It also includes a conference program where the world's business leaders and pioneering thinkers address the industry's most relevant issues.