Designing a sustainable future.
Designer. Icon. Pop culture figure. Enfant terrible. Jeff Koons of the fashion world. Jeremy Scott has been labelled all of these and more. For him there are no style, pattern or material boundaries and certainly no conventions. Creating pieces that are always exciting, unique, and completely unexpected.
Creating the Hyundai Team Century jersey.
And one to never back down from a challenge, Jeremy is now taking on his next goal, a world for sustainability. And we are proud to have Jeremy as a Team Century member, who will help us all unite under one truly eye-catching banner.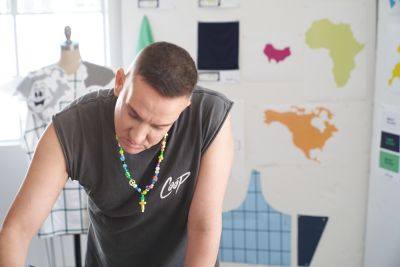 We have to pay attention to this beautiful planet we live on to take care of it as it's taking care of us for centuries.
Q&A with Jeremy Scott.
What does sustainability mean to you in general?
Recycling and reusing are what fashion should all be about. It's what I've always done, and will always do."
Do sustainability and fashion go together in your eyes?
Tell us about the shirt that you created for Goal of the Century?
No matter what language someone speaks: pop iconography, these are symbols that are universal. So, with the Goal of the Century, I thought what I could do, is to create a something we can all wear, together."
What motivated you to join Team Century?
To me, any pursuit that requires dedication and passion, I relate to it. I believe that creativity and drive are contagious! To be part of this newly formed team is such an honour and privilege, and I'm here to create new conversations, ideas, and solutions for our planet!"
So, why did you choose number 23?
They use their skills as a platform for more than sport, becoming ambassadors and leaders. This number is more than famous. It's the number I strive to be."
Get to know other players of Team Century.