A united goal for the future.
Our Team Century member Nadia Nadim is a real force on the field and off. Join us as we meet this Danish national team superstar and surgeon to find out more about how she's uniting the world for sustainability.
Fútbol Más Foundation visit.
As part of Team Century and the first partnership for Hyundai and Common Goal, she visited and supported the Fútbol Más Foundation in Seville, Spain to share her inspiring story with the children within the organization and enter the pitch with them.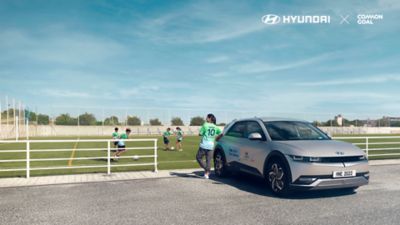 Q&A with Nadia Nadim.
So, Nadia, could you tell us a bit about you and what football means to you?
"I believe that football has the power to move and unite people. For me, educating kids to be good football players is also about educating them to be responsible people who protect the planet in which we live. Therefore, together with Hyundai and Common Goal, I visited a small organization on the outskirts of Seville, Spain, to meet with the next generation of football players."
Can you tell us more about the Fútbol Más Foundation and how they're building communities through football?
"For me, the work that Fútbol Más Foundation is doing is important because there is nothing worse than being uncertain about your own future. However, it is not too late for us to secure the safety of the next generation. If we unite and act globally, we will be able to protect our globe for them. I have learned so much through football that I implement into each and every part of my life. Football can move and unite people worldwide."
What does your jersey number – number 10 – mean for you, Nadia?
"Wearing the number 10 means that you lead the attack and everyone looks at you to score goals and win games. You are the inspiration for the team, the fans, the nation. But it's more than a number. It's an example of what dreams may come true and if you work hard enough, you can score all the goals you want."
What is the best goal you have ever scored?
 " I am a mixture of two cultures and of two countries. I have both in me, and I reflect this in ways I think. I am not 100% Afghan nor 100% Danish. I didn't score a goal in the game, but just playing in that game was the greatest goal I ever scored. However, I won't stop until I score "The Goal of the Century" – and that would be my greatest goal."
Get to know other players of Team Century.