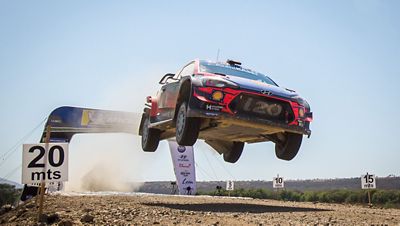 World Rally Championship.
WRC: The Ultimate Challenge.
The ultimate rallying challenge, the IFA World Rally Championship (WRC) is a test on highly-experienced teams of drivers and co-drivers, presenting an unmissable spectacle for rally enthusiasts. Men and machine compete on all sorts of terrains to secure titles across the globe.
Unlike circuit-based racing, rally drivers compete with a co-driver in short, timed stages, aiming to record the fastest time. The ever-changing landscape contributes to the rally's reputation as one of the most exciting forms of motorsport in the world,  highlighting the sheer exhilaration of WRC.
First organised in 1973, the competition continues to attract world-leading automotive manufacturers – like Hyundai – to this day. Held from January to November, the WRC takes teams, drivers and fans on an intercontinental tour of the world, from the wilds of Northern and Southern Europe to the vast plains of Australia and the Mexican desert.
Fans gather at the events to get up close and personal with the cars and drivers, while many more millions follow rallies on TV, radio and online. Its continued popularity is testament to the sporting and technical challenges the WRC poses.
2020 FIA World Rally Championship winner.
Hyundai Motorsport has claimed its second consecutive FIA World Rally Championship (WRC) manufacturers' title* after a double podium at the season finale, Rally Monza. The team won three events on the shortened seven-rally 2020 calendar: Rallye Monte-Carlo (Thierry Neuville), Rally Estonia (Ott Tänak) and Rally Italia Sardegna (Dani Sordo).
History. Repeated.

Hyundai Motorsport has defended its FIA WRC manufacturers' title with a determined, resilient approach that has placed team spirit at the heart of the organisation.

Five point advantage.

Hyundai secured the 2020 crown with a five-point advantage over its nearest rivals, having won three rallies on the shortened seven-event calendar.

Monte-Carlo rallye.

Coming out of the blocks confidently at the season-opener in Monte-Carlo, Thierry Neuville and Nicolas Gilsoul earned an early advantage, but it was quickly apparent that 2020 would be another closely fought championship.

Rally Sweden and Mexico.

Subsequent rounds in Sweden and Mexico were both condensed events, the latter due to the escalating pandemic that would cease championship action for six months.

Rally Sweden and Mexico.

Ott Tänak and Martin Järveoja picked up their first podiums for the team with consecutive second-placed finishes in those two shortened rallies prior to lockdown.

Rally Estonia.

Reducing the gap in the manufacturers' championship in tough conditions, it was another 1-2 in Sardinia that saw them build the advantage that would count.

Rally Sardinia.

Reducing the gap in the manufacturers' championship in tough conditions, it was another 1-2 in Sardinia that saw them build the advantage that would count.

Total wins.

Demonstrating the spirit of Hyundai's high-performance N brand, the team secured three wins in total across three different crews, and a total of 11 individual podiums, including two 1-2 results.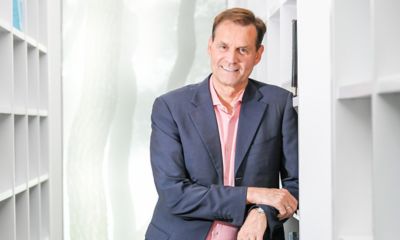 The performance and attitude of Hyundai Motorsport in this most challenging of seasons has perfectly embodied the character of Hyundai and our N brand. You don't win a title by luck; it is earned through tenacity, ambition, determination and sheer hard work with a human touch. Congratulations to the team for showcasing and upholding Hyundai's principles and values in such difficult circumstances.
Crews.
Our crews are the force behind the success of the cars our expert engineers assemble to take part in the WRC. We caught up with each one of our drivers and co-drivers to get a little more personal and learn about their work as a team. Discover all about their hobbies and highlights on their dedicated pages.
Car.
The Hyundai i20 Coupe WRC is based on the popular i20 Coupe model and comes with a turbocharged engine with direct injection, 380 HP, and four-wheel drive. You can find more information on the car our teams of star drivers are driving to success below.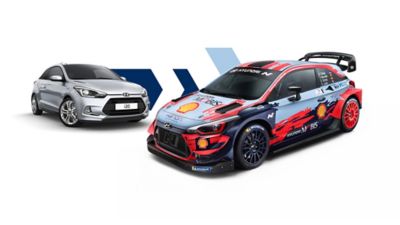 Hyundai Motorsport on Social Media.