The car our crews are driving to success.
Initially designed in 2014 by Hyundai's R&D Centre in Namyang and manufactured at our HQ in Alzenau, Germany, the i20 Coupe WRC specs were the result of our team of experts working around the clock for twelve months to manufacture a vehicle in compliance with the latest IFA and technical regulations.
Since 2014, when the first model competed on the roads of the WRC events, the i20 Coupe WRC has been upgraded both for better performance on the tracks and to continue to comply with regulations.
With the i20 Coupe WRC, our teams have secured victories on all terrains – gravel, snow, mixed, and tarmac – and have also claimed the manufacturer's title.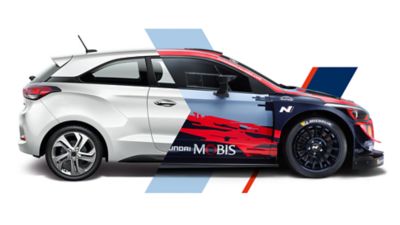 The Hyundai i20 Coupe WRC 2020 has one of the most potent power trains in a WRC car, with a 4x4 system. The electronic central differential complements the sequential gearboxes and other systems, ensuring WRC cars are at the cutting edge of technology. It has a number of aerodynamic devices including wings at its front and rear to improve the car's downforce.
Larger rear wings have become more efficient, giving drivers more grip on high-speed rally stages. Its size remains the same as that of the model from 2017. With a minimum increase of width, the i20 Coupe WRC 2020 is as dashing a WRC car as ever.
i20 WRC Evolution.
Twelve months was all our team of experts had to create the ambitious i20 WRC version back in 2014. Despite the time constraint, the i20 Coupe WRC boasted powerful engineering which has seen year-over-year performance enhancements and significant changes to gain a competitive edge over other competitors and comply with IFA technical regulations.
Hyundai i20 WRC.

Our first model developed to compete in the WRC. Twelve months of hard work certainly paid off when our teams secured our first spot on the podium in Mexico and our maiden victory with a 1-2 in Germany.

2015 - Hyundai i20 WRC.

New changes such as a new engine during the Rally Mexico to deliver more power, and a paddle shift in Argentina, which saw our drivers extract more consistency and performance from the car.

New Generation i20 WRC.

An all-new racing car based on the New Generation i20. Pace and durability were the core of our component and setting evaluation — the first to use the full range of capability at our Alzenau factory.

Hyundai i20 Coupe WRC.

Design and development changes to comply with new regulations. Aerodynamic and mechanical grip with increase in engine power, less overall weight, and the return of the active centre differential.

Hyundai i20 Coupe WRC.

We increased power even further to put up a good fight on the roads against our rivals. Performance on tarmac was the focus. Victories in Sweden, Portugal, and Sardinia in one of our closest seasons.

Hyundai i20 Coupe WRC.

Our sixth season has been our best season to date. The i20 Coupe WRC allowed for stability after an intensive development programme, which delivered on our goals of securing our first manufacturer's title.