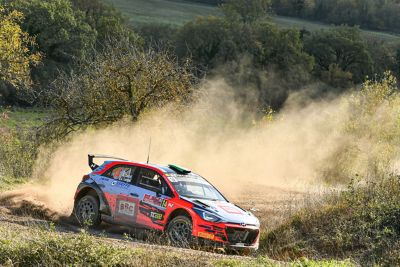 R5 Rally with Hyundai Customer Racing.
A key pillar of Hyundai Motorsport.
The R5 program is a key pillar of our Customer Racing department. Utilising the technology and expertise gained from competing in the WRC, R5 Customer Racing shows Hyundai's sporting and high-performance credentials to new fans and amateur drivers around the world.
The R5 category was introduced in 2012 by the Fédération Internationale de l'Automobile (FIA), which is motorsport's governing body. It was intended as the second tier of world rallying.
Since then, it has become one of the most competitive categories of world motorsport, hosting cars built by many of the world's most prominent manufacturers.
Accommodating privateer teams, the category offers affordability through strict cost-capping of cars and components, while producing a high-performance rally car that is at home on the stages.
Car
The Hyundai i20 R5.
Designed to compete in international, regional, and national rally championships, the i20 R5 '20 is the first car designed, developed, and delivered by our Customer Racing department.
First tested in January 2016, after nine months of extensive testing around Europe, the i20 R5 made its competitive debut in the WRC2 class at Tour de Corse. The car was immediately competitive against the established names in the category. In the hands of a privateer our car took its first stage wins on an international rally in only its second outing and claimed a first WRC2 stage win at Wales Rally GB 2016.
As the number of customers taking the car onto the rally stages of the world continues to increase there are further successes ahead for our i20 R5 '20.