Advocate for a sustainable life.
Hyundai Team Century member Ella Mills is a best-selling author and the founder of deliciously ella, a plant-based food and wellness platform dedicated to sharing delicious ways to feel better – while taking easy, everyday steps toward a sustainable future.
About Ella Mills
Delicious meals that are good for you – and the planet.
As a member of Team Century, Ella Mills wants to inspire you to experiment with plant-based meals, to have an impact not just on your wellbeing, but also toward a sustainable future. The way we eat has a direct impact on the environment around us. Eating plant-based food regularly can significantly reduce your environmental impact – and with the right preparation, it can also be delicious and healthy.
Hyundai Team Century Member.
Ella is the nutritional coach of Hyundai's Team Century and wears the number 27. She is also an award-winning cookery author, entrepreneur, and champion of plant-based living, whose nutritional goals support human health and global sustainability.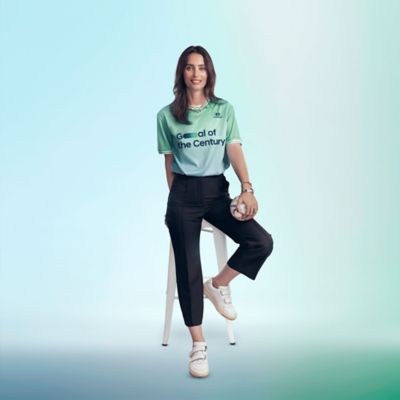 Achievements.
Ella's motivation comes from her community, nothing makes her prouder than hearing what a huge difference deliciously ella has made to their life. Her long-term goal is to grow this effect as far and wide as they can and keep helping millions of people in improving their health and wellbeing.
Deliciously Ella – the website.

What started out as a recipe website, has evolved into a plant-based food & wellness platform sharing delicious ways to feel better.

Best-selling author.

Her first book, "deliciously ella", is a Sunday Times number 1 best seller, a New York Times best seller and has been translated into almost 30 languages. She has since released five other best-selling books.

Range of plant-based food products.

Ella and her husband Matthew have also launched multiple ranges of natural, plant-based food products, such as granola, oat bars, nut butter bites and much more.

A Restaurant called Plants.

Together with her husband, Ella opened a restaurant in London to showcase plant-based cooking.

Wellbeing App.

Ella also runs a holistic wellbeing app, feel better, which includes almost 1,000 recipes, meditation classes, sleep support and movement classes, from yoga to cardio, Pilates and barre.
Ella's Vision
Feel better while helping the planet.
Ella's vision is to change the way we eat: more plants, for more people, more of the time. It's about making simple changes – trying meat-free Monday, incorporating an extra portion of fruit or veg into each meal and cutting back on animal protein intake. It doesn't have to be all or nothing, but if we move closer to a plant-based diet, we help support sustainable options for the future.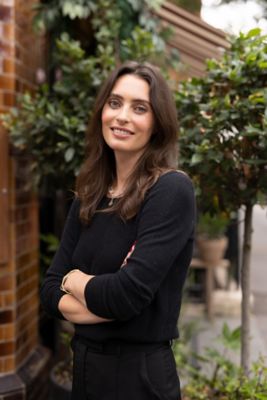 "Adopting a plant-based diet is the single most impact action you can take as an individual to improve the health of the planet."
Interview with Ella Mills.
What is your favorite meal of the day and what is your go-to for this meal?
What does a "Full day of eating" look like for you?
It varies, but usually porridge or granola with coconut yoghurt and black coffee for breakfast with my children in the morning, before they go to nursery and I head to work. Lunch is usually leftovers in the office, we're always testing new recipes so there's a lot of food going around! Today we had a rainbow orzo salad, a blueberry loaf and a new creamy scrambled tofu with sourdough. Snacks tend to be our peanut oat bar or chocolate dipped almonds. Dinner varies, sometimes we go out to eat, other times we make a delicious dinner at home.
Which three tips would you give someone who wants to start a plant-based diet?
1. Start slowly, it's not all or nothing. Often when we make massive changes we set ourselves up for failure, it's too much too soon and it becomes overwhelming. Think about changing the way you eat over months and years, not days and weeks. Could you try one plant-based meal this week?
2. Make sure you enjoy it. For anything to be sustainable it has to be enjoyable. Ensure every meal is delicious and you're cooking foods that you truly love, rather than forcing something on yourself.
3. Think about flavour – lots of fried garlic, herbs and spices, soy sauce, miso, harissa – bold flavours are fantastic.
Do you have any advice on how to find ingredients which are in season and locally produced?
What's your guilty pleasure when it comes to food?
Asides from eating plant-based, are there any sustainable habits you integrate in your daily life?