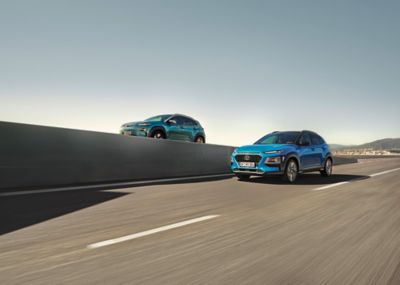 The all-new KONA Hybrid.
Hybrid Awaits. Next Awaits.
We charged-up the good looks.
The all-new KONA Hybrid uses electric power to help you go farther on a litre of petrol. All without you having to charge a battery or change your driving habits. Its petrol engine and electric motor work together to deliver excellent fuel economy and lower emissions.
Sporty and efficient.
Taking excellent fuel efficiency to the next level, this head-turning new hybrid SUV has both a petrol engine and an electric motor. It is also equipped with a top range of cutting-edge technologies from seamless connectivity for your smartphone to advanced safety and driver assistance systems.
What's a hybrid?
The all-new KONA Hybrid is equipped with a petrol engine and an electric motor. They work together with the support of a powerful battery to deliver amazing fuel economy and cut down on emissions. Kona Hybrid switches seamlessly between the conventional engine and electric motor. And as part of the regenerative braking system, this motor also helps slow the car while charging the battery.
5-Year Unlimited Mileage Warranty.
Like every Hyundai, the all-new Kona Hybrid is built to the highest possible quality standards. And we back that quality up with a 5-Year Unlimited Mileage Warranty so you can enjoy the things you love in life, without having to worry about your car. Enjoy the extra peace of mind that one of the industry's best warranties gives you – standard.