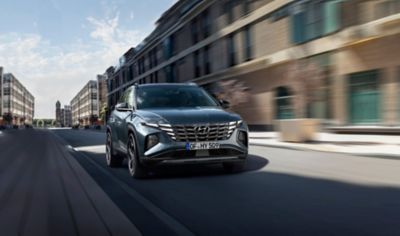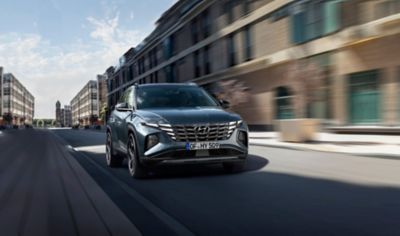 The all-new TUCSON.
Step in. Stand out.
Revolutionary design. Electrifying performance.
Welcome to the revolution. Advanced and experimental, the all-new Tucson is not simply an evolution of its predecessor, but a full-blown design revolution. Leading the way in progressive design, it also offers state-of-the-art smart tech and the most electrified powertrain line-up in its segment.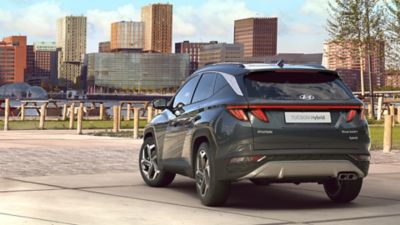 This model may not yet be available for sale in your country. Fuel consumption and CO2 values for this model have not yet been determined.  
Exterior Design
Revolutionizing the evolution of design.
Sophisticated and experimental, the all-new Tucson's design is revolutionary. Taking modern aesthetics to the next level, its chiseled surfaces and dynamic lines put it at the cutting-edge of SUV design. Featuring a bigger and wider body, its muscular stance combines sharp angles and dynamic proportions with rich surfaces – creating a progressive look without compromising on Tucson's rugged SUV heritage.

360°
World's-first Parametric Hidden Lights.
The parametric grille's dark chrome geometric design pattern is instantly transformed when you start driving. Thanks to state-of-the-art half-mirror lighting technology, the outer sections of the grille transform into brilliant jewel-like shapes when the LED Daytime Running Lights switch on, creating a unique high-tech lighting signature. When stopped, they blend in with the grille again.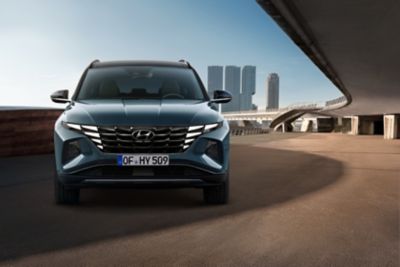 From concept car to a revolutionary SUV design.
The progressive design language of the all-new Tucson was inspired by Hyundai's Vision T SUV concept, which was unveiled to great praise at the 2019 AutoMobility LA. Its sharp angles and futuristic shapes are easily recognizable in this bold new compact SUV – the first Hyundai SUV to be developed according to our new Sensuous Sportiness design identity.
Interior Design
The beauty of interspace.
Getting into the all-new Tucson's sophisticated and spacious interior, or interspace, is like entering a neatly organised room where everyday concerns disappear. Here, space, technology and information intersect harmoniously. Featuring sensuous forms inspired by waterfalls, high-quality soft-touch materials are applied throughout the interior, taking the look and feel to a new level.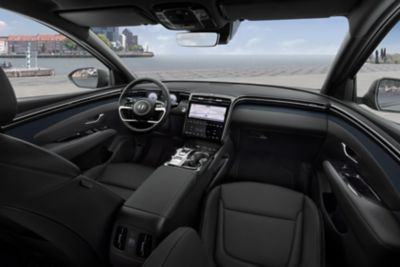 Connected for a fully digital experience.
The elegant simplicity of the cabin is highlighted by the seamless integration of segment-leading technology. Discover a highly advanced and fully-customisable digital experience with the new 10.25" touchscreen and touch console – and enjoy easy control of your online world and your vehicle.  Our designers dispensed with physical knobs and buttons, so all navigation, infotainment, heat and air conditioning functions are controlled via touch.
Click the left or right arrow to navigate to the previous or next slides.
Ambient lighting.

Set the lights anyway you want. Ambient mood lighting offers 64 configurable colours and 10 levels of brightness to fit every mood. Light sources are at the bottom of the centre fascia, in the wireless charging pad and door storage pocket.

Shift-by-wire controls.

The shift-by-wire controls are connected with the ergonomically-positioned arm rest for intuitive use and really enhance the clean look of the interior.

Increased roominess.

More spacious than ever before, the all-new Tucson provides occupants with comfort and roominess usually reserved for models in the segment above. Rear passengers enjoy additional legroom.

Versatile rear seat folding.

For improved convenience and versatility, the rear seats can now be folded in a 40:20:40 ratio. What's more, remote folding levers on the side walls of the boot let you fold the seats from a distance.

Enjoy increased cargo space.

Boot space has been increased and depending on the chosen trim and powertrain: you'll enjoy up to 620 litres overall for luggage with the seats up and up to 1,799 litres with the seats folded.
Convenience
Big on on comfort and convenience.
Versatile and connected, the all-new Tucson is also big on comfort and convenience. Clever features like remote folding seats and a smart walk-in device make loading cargo and getting in and out of the 2nd-row seats quick and easy. And your passengers will love the heated seats in the front and rear as well as three-zone climate control with indirect air vents for a more pleasant indoor environment.
Multi-Air Mode technology.
Maximise your individual comfort. For the first time in a Hyundai vehicle, the all-new Tucson's hidden type Multi-Air Mode technology consists of a combination of direct and indirect air vents for air conditioning and heating to create a more pleasant indoor environment with more gentle air flow.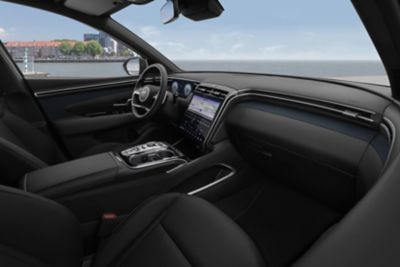 Connectivity
Cutting-edge connectivity to-go.
Naturally, the all-new Tucson has also been upgraded with all the latest tech like smartphone mirroring, and cutting edge connectivity features like Bluelink® Connected Car Services, which lets you control your car from your smartphone – or with your voice. A free five-year subscription to Hyundai's LIVE Services is included with the 10.25" big screen navigation system.
Click the left or right arrow to navigate to the previous or next slides.
High-speed wireless charging.

Enjoy high-speed wireless charging for your smartphone. The power has been increased from 5W to 15W for even faster charging. The unit features an integrated cooling function to prevent overheating.

Front and rear USB ports.

Stay charged up. The all-new Tucson is available with front and rear USB ports to ensure that everyone on board can charge their devices when on the road.

KRELL premium sound system.

The premium KRELL sound system delivers stellar performance with eight high-performance speakers and a subwoofer optimally tuned to deliver startling realism.
Safety
Enjoy more peace of mind with best-in-class safety.
With best-in-class advanced driver-assistance systems and an active safety package with a fantastic range of innovative features, the all-new Tucson delivers even more safety and peace of mind for you and the people you love.
Click the left or right arrow to navigate to the previous or next slides.
Highway Drive Assist (HDA).

For the first time, the all-new Tucson has been equipped with Highway Driving Assist (HDA). The feature is a combination of Lane Following Assist and Navigation Based Smart Cruise Control, utilizing sensors and map data to ensure safe operation as well as to automatically adjust speed in limited environments. A special button on the steering wheel allows the driver to activate HDA with just one click.
Click the left or right arrow to navigate to the previous or next slides.
Forward Collision-avoidance Assist (FCA).

The FCA system automatically brakes when it detects sudden braking by the car ahead or detects pedestrians or cyclists in your path. Now updated with a Junction Turning feature, specially calibrated to help prevent frontal collisions when turning left at intersections (in left hand drive countries).
Click the left or right arrow to navigate to the previous or next slides.
Remote Smart Park Assist (RSPA).

The all-new Tucson can remotely park or retrieve itself from a parking space. The system can even back into a parking spot by itself at the touch of a button.
Click the left or right arrow to navigate to the previous or next slides.
High Beam Assist (HBA).

Detects oncoming vehicles and vehicles in the same lane and automatically switches to low-beam. When no more vehicles are detected, it reactivates the high beams, maximising your range of vision.
Click the left or right arrow to navigate to the previous or next slides.
Blind Spot View Monitor (BVM).

Now you can see the rearward left- and right-hand side views of the all-new Tucson on a screen in the digital cluster. The cameras are activated by the use of the turn indicator during lane changes.

Lane Following Assist (LFA).

The all-new Tucson features Lane Following Assist (LFA). When activated, it keeps the car centred in its lane at speeds between 0 and 180 km/h on motorways and city streets.

Navigation Based Smart Cruise Control (SCC).

More safety and less stress. Maintains a set distance to the vehicle ahead, also controlling the speed for incoming curves.
Performance
The broadest range of electrified powertrains.
Developed to reduce emissions without compromising on being fun to drive, the all-new Tucson offers the widest range of electrified powertrains in the compact SUV segment. You can choose from petrol and diesel 48-volt mild hybrid, full hybrid and plug-in hybrid versions. Petrol and diesel options are also available.
More performance. Less emissions. CVVD Engine Technology.
Hyundai has developed the world's first Continuously Variable Valve Duration (CVVD) technology. It optimizes engine performance and fuel efficiency while also being eco-friendly. The valve control technology regulates the duration of valve opening and closing according to driving conditions.
5-Year Unlimited Mileage Warranty.
Like every Hyundai, the all-new Tucson is built to the highest possible quality standards. And we back that quality up with a 5-Year Unlimited Mileage Warranty so you can enjoy the things you love in life, without having to worry about your car. On top of that, the all-new Tucson's high-performance lithium-ion polymer battery is warranty protected for 8 years or 160.000 km, whichever comes first. Enjoy the extra peace of mind that one of the industry's best warranties gives you – standard.