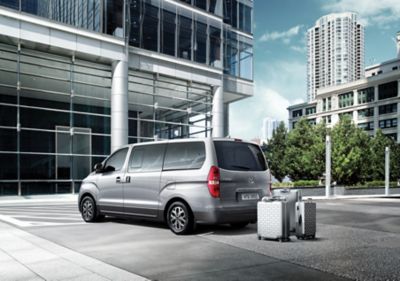 The new H-1.
Moving people in style.
Versatility redefined.
Built to work smarter with a remodelled interior and a flexible, easy-to-load cargo space, the New H-1 can do everything you need it to do. Lots of cargo? Or lots of passengers? Or both? You choose. This multi-purpose vehicle is equipped to handle every trip.
Refined business partner.
Looks good and works well. On the outside, the stable stance and confident styling of the new H-1 make it the perfect calling card for your business: Dependable, practical and high-performing.
5-Year Unlimited Mileage Warranty.
5-Year Unlimited Mileage Warranty. Like every Hyundai, the H-1 is built to the highest possible quality standards. And we back that quality up with a 5-Year Unlimited Mileage Warranty so you can enjoy the things you love in life, without having to worry about your car. Enjoy the extra peace of mind that one of the industry's best warranties gives you – standard.
Discover more of the Hyundai H-1.