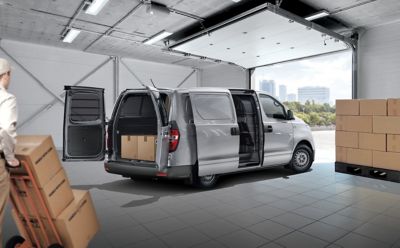 The H-1 van
Packed and ready to go.
Looking good, living even better.
H-1 vans offer both style and huge versatility. A 6-seater window van provides a plenty of space for luggage, while a 3-seater panel van allows room for up to 800kg of cargo.
Move it your way.
Getting gear in and out of an H-1 van is easy thanks to a range of carefully thought out features. Twin rear and sliding side doors open up for easy loading and unloading from all sides. The Hyundai H-1 range offers generous interior dimensions with wide door openings for easy storage of goods or access for rear passengers. And for more safety, the cargo partition panel keeps passengers and cargo securely separated.