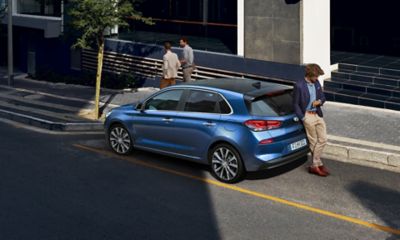 Design.
Explore the design of the new i30.
Precise and refined design.
Precise and refined lines give the new i30 a timeless and confident appearance. Launched to great praise at the 2016 Paris Motor Show, it introduced a new design language for Hyundai, becoming the first model to feature the new signature Cascading Grille.
Exterior
Move on in style.
The timeless design concept of the new i30 is reflected in the care and emotion that shines through in every detail.
Click the left or right arrow to navigate to the previous or next slides.
LED Daytime Running Lights (DRL).

The wing shaped LED Daytime Running Lights create an eye-catching light signature for great visibility – day and night.

Advanced LED lighting.

Sleek new headlamps use multiple LED projectors for both high and low beam. LED lamps are both brighter and more energy-efficient than conventional lamps.

Cascading Grille.

The form and detail of the newly developed Hyundai grille is inspired by the flowing descent of molten steel. It creates a powerful impression of both strength and movement.

Alloy wheels.

Highlights of the new Hyundai i30 wheel programme are the 16" two-tone 10-spoke wheels and the 17" two-tone 10-spoke alloy wheels.

Panorama roof.

The wide-opening tilt-and-slide panorama glass roof increases the open and airy atmosphere.

Rear combination lamps.

The strong horizontal design of the rear combination lamps enhances the feeling of strength, width and stability. Also available in an LED version for high efficiency and great looks.

Rear reflectors & fog lamps.

The elevated location of the rear reflectors and fog lamps contributes to the overall impression of width and stability.
Move on in comfort.
The calm simplicity of the dashboard and cabin creates a perceptible feeling of elegance, quality and space. It's more than just a feeling – the new Hyundai i30 is among the roomiest in this class.