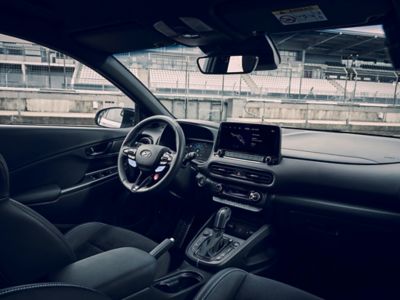 Features.
Explore the features of the KONA N.
Our true 'hot SUV'.
KONA N combines the fun-to-drive experience of a hot hatch with the versatility of an SUV: You'll appreciate its powerful engine and sound experience, and benefit from the perfect size and practicality for urban life, including an extensive list of safety features.
Performance
Motorsport power on the road. And off.
The KONA N brings the excitement of N to the SUV. N means more than the 280 PS flat power engine or the 8-speed wet dual-clutch transmission. It means performance features such as launch control, the N corner carving differential, and the N Grin Control System with five drive modes (including a customizable one). Experience them all, in any driving condition and on all kinds of terrains.
N DCT transmission.
N DCT is the enhanced version of Hyundai's 8DCT, an 8-speed, wet-type transmission with two separated clutches for better acceleration and a faster upshift. N improvements allow it to handle the demands of high-performance vehicles. N DCT applies unique gear ratios, allowing the 2.0-litre T-GDi engine to delivers its best possible performance.
The addition of the N DCT allows us to expand on the N brand's 'Fun to Drive' philosophy. By integrating it into the all-new KONA N, we're enabling all sorts of high-performance driving features and turning the KONA N into a true 'hot SUV.'
N Grin Shift (NGS).

NGS maximises engine and DCT performance for 20 seconds. Just push a button on the steering wheel and the car will directly shift down to the most appropriate gear for maximum acceleration.

N Power Shift (NPS).

NPS engages when the car accelerates with more than 90% of throttle, mitigating any reduction in torque during upshifts to deliver maximum power to the wheels, giving a "push feel" when you shift up.

N Track Sense Shift (NTS).

NTS optimises adaptive shift for racetrack driving, letting drivers focus on steering. It activates automatically when the system recognises optimal conditions for dynamic driving on a racetrack.
N Grin Control System.
Match your car to your mood – At the push of a button, the N Grin Control System lets you choose between five distinct drive modes to match your mood. The different modes adjust the parameters of the engine, suspension, steering, Electronic Stability Control (ESC), exhaust sound, N Corner Carving Differential (e-LSD), transmission.
Uncompromised SUV driving.
In addition to its racetrack capabilities, the KONA N is at heart still an SUV. An extensive list of ride and handling features result in uncompromised SUV driving abilities.
Connectivity
Expanding the boundaries of the Connected Car.
N brings you more data for more control over your car and your driving experience, like HP, torque, turbo boost and G-force as well as lap and acceleration timers. The 10.25" AVN touchscreen also displays exclusive N content, connects your phone via Apple CarPlay or Android Auto, and gives you access to Hyundai's state-of-the-art Bluelink services.
Bluelink® Connected Car Services.
Bluelink® makes the everyday driving experience in a high-performance vehicle more convenient. Apart from Live Services and the Bluelink smartphone app, the KONA N is also equipped with additional voice recognition features. Drivers can activate and control features like climate, rear window and side mirror heating, as well as steering wheel heating through a simple voice command.
Convenience
Feel powerful and comfortable.
The N focus on power and performance doesn't mean that you can't have outstanding convenience while you are pushing the boundaries of adventurous driving.
Hyundai N.
KONA N is the latest addition to Hyundai's growing high-performance N line-up. With technology inspired by motorsports, the N brand excels at delivering driving enthusiasm by providing racetrack capabilities and 'corner rascal' ride and handling in everyday sports cars.
Discover more of the KONA N.
Tyre information.
Below you will find the information about the tyres which come with your Hyundai KONA N.