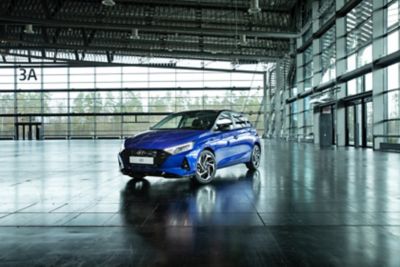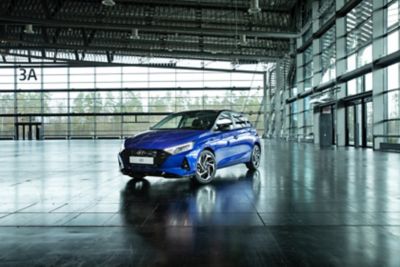 The all-new Hyundai i20.
The beauty of confidence.
Setting new standards.
Dynamic and distinctive, the all-new i20 is setting new standards in the small car segment. Combining best-in-class safety and connectivity features – it's also the first car in Europe to feature our new design language – Enjoy.
Walk-around
Discover the all-new Hyundai i20.
Get a closer look at the design and best in class features of the all-new i20 with Raf Van Nuffel, Head of Product Marketing & Pricing at Hyundai Motor Europe.
Design
Take the spotlight in style.
Sleek and stunning, the all-new i20 is shaking up the segment with its sensuously sporty new design. Wider, longer and featuring a lower roof than its predecessor, it is first car in Europe to be inspired by Hyundai's Sensuous Sportiness design philosophy – a harmonious combination of energetic proportions, style and technology.
High-quality, high-tech interior.
Hyundai's designers have created a fresh new look, applying a wide range of innovative aesthetic and technical solutions for an airy, modern atmosphere. The doors embrace the dashboard in an elegant, sensual way, inspired by shapes found in nature. The sculpture of the doors perfectly matches the instrument panel section and LED mood lighting sets a subtle, but sophisticated blue accent in the cockpit.
Connectivity
Best-in-class connectivity features.
Enjoy high-tech features like wireless smart phone mirroring and split screen functionality on dual 10.25" visually combined big screens. And with Bluelink Connected Car Services, you can control your car from your smartphone – or with your voice. It brings seamless connectivity directly into the all-new i20 with online voice recognition and features to make your drive more convenient and enjoyable.
Bluelink® Connected Car Services.
Bluelink, Hyundai's Connected Car System, uses embedded telematics to offer state-of-the-art Hyundai Live Services, such as Live Traffic or On/Off Street Parking. With the Bluelink app, you can lock and unlock your all-new i20 remotely, or find your car when you don't remember where exactly it's parked. The app will also send you an alarm if someone should try to break in. And if you want to know if the tyre pressure is okay, it will tell you that, too.
Click the left or right arrow to navigate to the previous or next slides.
Destination send to car.

If your all-new i20 is equipped with navigation, you can use the Bluelink app to search for destinations while outside of your car. Bluelink then syncs the route into your navigation system. Just get in and press go.
Click the left or right arrow to navigate to the previous or next slides.
Find my car.

Forgot where you parked? Just open the Bluelink app to see the current location of your car – anywhere in the world.
Click the left or right arrow to navigate to the previous or next slides.
Alarm notification.

Bluelink always keeps an eye on your car. If someone tries to break into your all-new i20 – the door lock is compromised and the door is opened – it will send a push-notification to your smartphone.
Click the left or right arrow to navigate to the previous or next slides.
Car health information.

For more peace of mind, you can run a remote diagnostic check from the Bluelink app. The vehicle report can show information on tyre pressure, malfunction indicator, airbags, brake system and more.
Click the left or right arrow to navigate to the previous or next slides.
Vehicle Status.

Need petrol? Just check the app. Enjoy remote access to the status of your car at any given moment, including fuel remaining, doors open/closed or locked/unlocked and windows or boot open/closed.
Performance
More powertrain choices. More efficiency.
Choose from 2 engines with 3 transmission choices. At the top of the range, a 1.0 T-GDi petrol engine is available with 100 PS or 120 PS. It can be equipped with a 48-volt mild hybrid system, either as an option with the 100 PS or as standard with the 120 PS. The mild hybrid system contributes to a 3-4% reduction of fuel consumption and CO2 emissions. A 1.2-litre MPi petrol engine is also available with 84 PS.
Convenience
More space. Premium sound system. Full wireless connectivity.
Bigger and better – the all-new i20 comes with more of everything: More convenience with wireless phone screen mirroring and wireless charging for cable free connectivity. More boot space means you can take more of anything you want with you. And the eight-speaker Bose sound system makes for more fun when you just want to turn it up and sing along.
Safety
Most comprehensive safety package.
With Hyundai SmartSense, our cutting-edge Advanced Driver Assistance Systems, the all-new i20 offers the most comprehensive active safety technology packages in its class – built to provide you with more safety and peace of mind. Many of the features available would not be expected to found in cars of this segment.