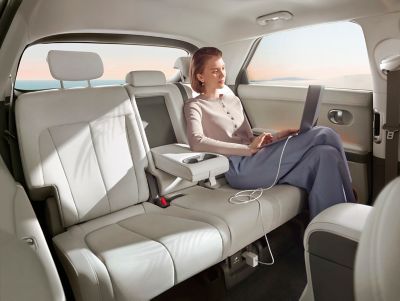 Real progress takes time.
No one said changing the future of mobility would be easy.
If you are seeing this page, we are sorry! It looks like the response to our IONIQ 5 Project 45 has been a little higher than planned. We are working as fast as we can to get the online reservation available again, so you can take your place among those driving change forward. In the meantime, take a look at what's waiting for you.
IONIQ 5 Project 45 Limited Edition.
Get a head start on the future. Customers in Germany, UK, Norway, The Netherlands and France now have the opportunity to reserve one of 3000 IONIQ 5 Project 45 Limited Edition vehicles in Europe for an exclusive head start into the future of mobility. Available as a special introductory offer, it comes fully equipped with the highest trim and the complete range of cutting-edge smart tech including an advanced solar roof. Click on the flag below to get to your country's configuration.
Looking for more information on the IONIQ 5?
It looks like you might have been re-directed here by mistake. Don't worry, you can regain access to your local country page through the links below.