Go ahead. Make a big statement.
In life, it's the small things that make a big difference. Like the new i10. With its refreshed, expressive design and gigantic selection of cutting-edge technology – this clever city car gives you the style and flexibility you need to live life by your rules.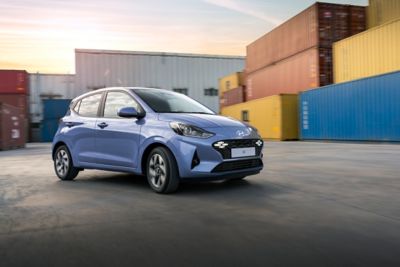 Perfect for small spaces and big moments.
When it comes to navigating narrow roads and squeezing into tight parking spaces, you'll love this clever city car's refreshing manoeuvrability and helpful features. Measuring just 3.67 metres long and 1.68 metres wide, the new i10 combines a compact exterior with a roomy interior with plenty of space and flexibility to live your life in a big way.
A fresh take on a bold design.
All flowing lines and muscular contrasts, the new i10's dynamic look catches the eye in an instant. In the front, new LED Day Running Lights integrated in the wide black grille and the updated design of the sculpted headlamps make a very sporty first impression. And inside the stylish cabin, new mood lighting, a new all-digital cluster, and the latest multi-media technology welcome you with a clean and modern look.
Pricing, Tech & Spec
Pricing, Tech & Spec
If you'd like to have a detailed look at exactly what's included on the new i10, you can download the Pricing, Tech & Spec brochure below.
Discover more of the new i10.