Hyundai Accident Aftercare
We can't stop accidents happening, but we can be there to relieve some of the stress with
free help, support and expertise. If your Hyundai is involved in an accident, call Hyundai First
on 0330 100 3124 before you call your insurer, and we'll take care of things for you.
Click the link below for more information on Hyundai Accident Aftercare or visit
Call Hyundai First
for your free emergency key tag.
Hyundai Approved
Accident Repair Centre
By using a Hyundai Approved Accident Repair Centre you can be assured of a repair that will safeguard the integrity of your Hyundai. You can also count on excellent standards of quality and service.
Hyundai Approved Accident Repair Centres are vetted against strict Hyundai standards
Your vehicle will be repaired with genuine Hyundai parts, providing you with a comprehensive parts warranty
You'll also benefit from a 5 year guarantee on the quality of repair
Insurance
Free Driveway Insurance
We'll give you free Driveaway Insurance when you buy any new or used Hyundai from an authorised retailer and request an annual insurance quotation, so you can get going straight away. Once you have purchased your new Hyundai call 0330 102 8557 or ask your retailer for your Driveaway Insurance certificate.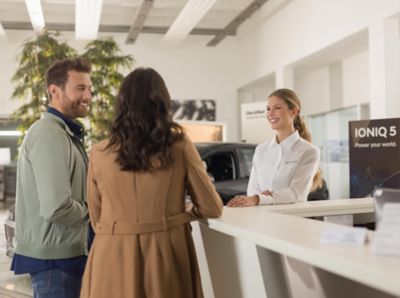 Additional Benefits
Upgrade to our annual cover
If you think all car insurers are the same, maybe it's time to think again.
Most insurers won't take your vehicle to a Hyundai approved accident repair centre, but we will, whilst also using 100% Hyundai genuine parts every time.
Click on the link below to get a quote, or call 0330 102 8557
Annual Hyundai Insurance includes all of these benefits:
Free courtesy car
24-hour free accident recovery
Cover including: personal belongings, replacement lock, child seat replacement and windscreen damage cover
EU comprehensive cover
Medical treatment
Personal injury cover
5 year guarantee on the quality of repairs
A brand new Hyundai if yours is written off or stolen within 12 months of its new registration date
As smooth as possible
Excess Return
We want to make everything as smooth as possible for you - whatever lies ahead. Excess Return gives you up to £250 cash back for any excess paid as part of a motor insurance claim if you call us first, no matter who you are insured by. This includes any additional excess charges imposed for having your vehicle repaired at a Hyundai approved repair centre.

Hyundai Excess Return is available for your new or approved used Hyundai. Simply ask your retailer to apply for your free Driveaway Insurance or Get Me Home Cover. To receive your free one year Excess Return, worth up to £250.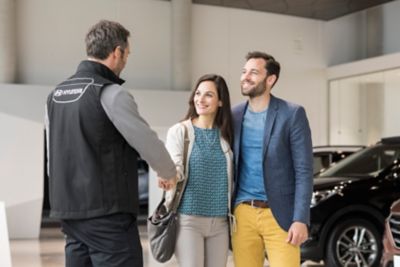 Our claim lines are open 24 hours a day. It's important that you call Hyundai First, before your motor insurer, on 0330 100 3124, or we won't be able to guarantee your vehicle can be repaired at a Hyundai approved repairer using Hyundai genuine parts or reimburse your excess charges.