Electrification
Can you e-scooter in
a skate park?
WORDS

VERENA DAUERER
3 minute read
Micro mobility is about convenience – and art! E-scooters aren't just a comfortable way of getting from A to B. Scooter pro Claudius Vertesi talks about performing e-scooter tricks on skate park ramps.
E-scooters are everywhere these days.
In recent years, we've seen a veritable e-scooter craze spreading worldwide. E-scooters are everywhere these days, making our lives easier on longer and longer journeys. And as they've evolved from last-mile curiosity to popular means of transport, e-scooters have inevitably piqued the curiosity of the sport scooter community. Yes, scooter sports are a thing, as riders explore scooters' artistic and acrobatic potential. When used to perform tricks on skate park ramps, these nippy little vehicles can be a whole lot of fun. We asked Claudius Vertesi, a 23-year-old German professional scooter rider living in the UK, to describe some of his swag tricks, what he thinks of the latest e-scooter popularity, and especially about the potential of Hyundai's new e-scooter prototype.
Hyundai's
Last Mile Mobility
Introduced last summer, Hyundai's e-scooter prototype folds into three and fits neatly into a rucksack. Weighing in at just 17 pounds, a traveler can easily carry it onto a commuter train and ride from station to office. You can ride up to 20 kilometers are up to, yes, 20 km/h. Two front and two rear lights help keep riders nice and visible on busy night-time streets.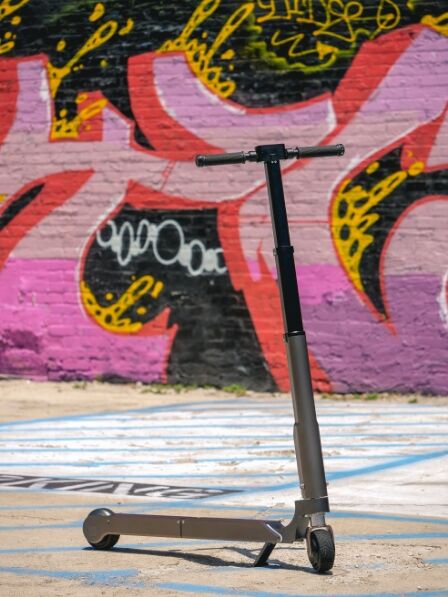 Let's get back
to Claudius.
Claudius is a hugely popular scooter pro: Over 1.1. million fans follow his YouTube channel [https://www.youtube.com/channel/UCE8CbY6_j-n7lDmDC2y8ucg]. After discovering a passion for scooters at the tender age of 13, he transformed his hobby into a professional career four years ago. Recently he visited sunny Barcelona to demonstrate his skills at several skate parks – and that's where he first laid his hands on an e-scooter.
Claudius, what are the biggest differences between scooters, e-scooters, and Hyundai's new prototype?

Stunt scooters are designed for skate park use; they're designed to be compact. E-scooters, on the other hand, are mainly used for travel, so whenever you want to get from A to B quickly and efficiently. They're practical because, like Hyundai's prototype, they're light and foldable. Just two years ago, almost nobody knew about e-scooters. Today, you'll see them on every street corner in California, and they're becoming more and more popular in Germany and the UK. In a few years, everybody over here will be using them.
Today, you'll see E-scooters on every street corner in California, and they're becoming more and more popular in Germany and the UK. In a few years, everybody over here will be using them.
CLAUDIUS
Speaking of the Hyundai e-scooter prototype, it can be mounted on Hyundai vehicles for a recharge – its 10.5 Ah lithium battery takes advantage of the electricity generated while the car is driving. How does this appeal to you?

I think it's a great concept. I drive around a lot to all the famous skate parks in the UK, but also I travel all over Europe and the States. A foldable electric scooter in my car would come very handy once I arrive at places and need to get around. It would make my journeys so much more convenient.
So e-scooters are the future of micromobility?

I use my electric scooter to get to places all the time because it's so light – and I can do tricks in-between. But for most people, I believe e-scooters could be the quickest, most efficient, and most convenient way to go places. They're ultra-mobile and you can take them almost anywhere. It's not just about the last mile only. The question is, how to make them more appealing for everybody.

Bicycles, on the other hand, are bigger and heavier and take up much more space. There'll be even more competition in the e-scooter sector as manufacturers optimize their designs for ease of travel, and there's already a lively market for selling or hiring e-scooters via apps.
Quickest,
most efficient
and most convenient
What's your verdict on using e-scooters for skate ramp tricks?

They're not really designed for scooter tricks because they're a lot heavier and they've got a built-in motor. When you take a normal e-scooter to a skate park to try some tricks, it does kind of work. But the main limitation is that they're so much easier to break – so the scooter's bar and deck, and many plastic parts, are all quite fragile. Also, you can't rotate the bar because of the cables and the front wheel, so you can't do bar spins. If I was going to use one regularly on a ramp, it would also have to be more compact.
When you're riding stunt scooters, what are your favorite tricks?

My favorite trick is a Flair, which is doing a 180-degree backflip on a quarter pipe. Why I love this trick the most is because it took me the longest to learn – six to eight months. Now I can do a Flair on almost any small ramp, and even flat on a razzie ramp. It's nice for impressing people who don't scooter! Another trick I like is a Buttercup – where you do a tail whip, a right flip, and a tail whip in a single motion. My third favorite trick is a Kickless, where you do a tail whip in one direction, then just use your arms to bring the scooter back to your feet. It's almost like magic and looks really cool as well.
A pool is a perfect spot to start learning e-scooter tricks.
Those sure sound spectacular! What advice would you give scooter newbies?

If you want to get started with scooters – first, get a light scooter so you can learn tricks that much faster. This helps you build up confidence. Then go to a skate park and find people you enjoy riding with. It's much more fun! Find friends who might be a little bit better than you, so you can learn from them.
Thanks so much, Claudius Vertesi, for your pro tips!