IONIQ concept
IONIQ: Answering the Call for Sustainability
4 minute read
We all have a calling, an inner voice that guides us to do the right thing. With IONIQ comes a new calling, one that asks humanity to act in a common pursuit and make a more sustainable future possible – today. In a new film with narration from David de Rothschild, three senior designers explain why IONIQ is a pioneer of sustainability.
IONIQ is Hyundai's first dedicated electric line-up, and it is redefining what sustainable mobility looks and feels like. It offers an elevated eco-friendly experience and shows us all how we can pass a better future to the next generation.
Drawing on 45 years of Hyundai design heritage for the first model in the line-up, the IONIQ 5's designers made a radical departure from the norms of internal combustion engine vehicles. The result is a car that represents the past, present, and future of Hyundai and truly fits the drivers' lifestyles. It is versatile, innovative and inspires all of us to live more sustainably.
Breaking New Ground in Sustainability
The fundamental concept behind the IONIQ line-up is sustainability, and that's where work on the IONIQ 5 began. The IONIQ 5 introduces new colors that are inspired by nature, and several eco-friendly materials from basic lining to top trim.

It offers everyone positive experiences with sustainable materials; experiences that will increase awareness of the importance of protecting the environment for future generations.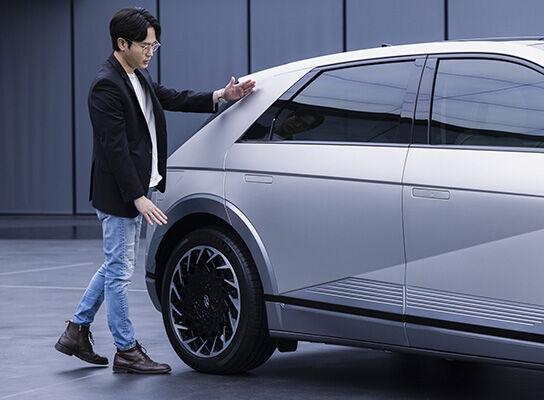 The IONIQ 5's theme is the redefinition of timeless and progressive design.BEOMSOO CHO, LEADER OF THE HYUNDAI ORIGINALITY DESIGN TEAM
The IONIQ 5's interior design redefines the car as much more than a method of getting from A to B – it is the place where we spend the most amount of time other than our workspace and home.

Its versatile and cozy interior is the result of bold design methods that seek insights from the past to create something new for the future.

Inspired by Pony's C-pillar profile and afforded flexibility by IONIQ's three-meter wheelbase, it is brought to life with innovative sustainable materials.
Each IONIQ 5 Contains
• Up to 32 recycled PET bottles
• 730g sugar cane and mixed corn
• 294g wool
• 200g flaxseed oil
• 0.08 square meters of recyclable paperette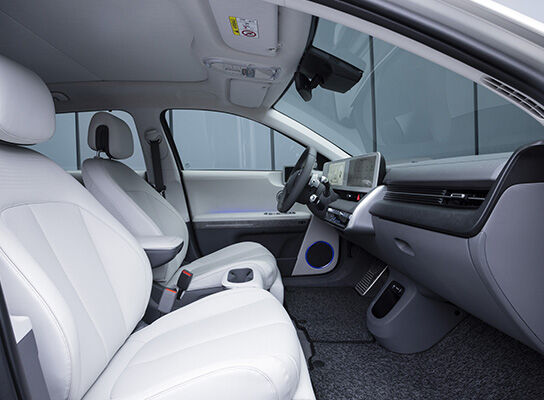 The most unique material used in the IONIQ 5 is seat fabric that has been made from recycled PET bottles. For each IONIQ 5, up to 32 plastic bottles are cleaned, crushed and shredded into plastic chips. Those chips are then melted and spun into thread that makes an inviting, woven upholstery fabric.
The seat, headlining and carpet fabric also includes bio components extracted from sugar cane and corn, while leather used in the IONIQ 5's interior is dyed using flaxseed oil instead of oil derived from animal products.
Look closely at the detailing on the door and you'll find 100% recyclable paperette. Made from HDPE, it has the same lightness and texture with the traditional Korean paper.
The IONIQ 5's doors and crash pads are painted with bio paint that includes oil extracted from plants such as rape flowers and corn.
Environmentally friendly twisted wool blend fabric is used in the IONIQ 5's seat coverings.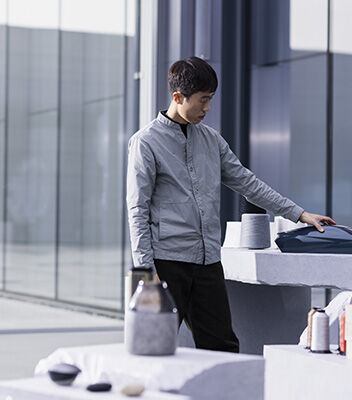 Using recycled PET bottles can inspire people to think about how products that are easily thrown away could be turned into something new. Of course, it would be better if PET bottles didn't exist at all. CHANKI PARK, SENIOR COLOR AND TRIM DESIGNER IN THE HYUNDAI CMF TEAM
Driving a Sustainable Future
The IONIQ 5 is just the beginning. As the line-up grows, IONIQ's focus on
sustainability will develop.

The IONIQ 6 includes materials that take care of people, while the IONIQ 7
will showcase materials that are purely focused on nature.

In the future, IONIQ will be a pioneer of good consumption and sustainability, showing how new cars can be made from the recycled discarded parts of previous IONIQ models for example.
True Colors Inspired
by Nature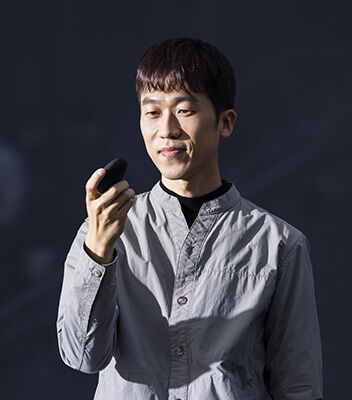 The IONIQ 5 design team was inspired by the array of colors that can be found in nature. I don't think there's anything that shows more beautiful colors than nature. CHANKI PARK, SENIOR COLOR AND TRIM DESIGNER IN THE HYUNDAI CMF TEAM
Dark Pebble Grey and Dove Grey are inspired by pebbles from the coast of Goeje Island and the Seom-jin river on the southern coast of South Korea.

Dark Teal Green is from the verdant forest of Jeju Island.

Mud Grey is inspired by the once-polluted mudflats that have been cleaned of oil by a collective effort.

Finally, Terra Brown was inspired by the clean, featureless soil of the DMZ that separates North and South Korea.
Sustainable inside and out, IONIQ demonstrates how the eco-friendly materials and our efforts to protect the environment can not only improve the quality of life, but also inspire us to look around the environment around us.