IONIQ lineup
IONIQ – Exploring the Inspiration and Design behind its EV Line-up
5 minute read
Hyundai's new brand IONIQ – dedicated entirely to electric vehicles – innovatively combines affordability and style, sustainability and convenience. It's an opportunity for conscious consumers to take charge, to create a brighter future for all of us.
But how did this come about? Here we delve deeper into the inspiration behind the IONIQ, and timeless design you can expect to experience.
The inspiration behind IONIQ
What are the origins of IONIQ? Firstly, there's the name. The word IONIQ is a fusion of two words – ion and unique. An ion has low mass and high mobility; electricity transforms to energy and power when two positively charged ions flow.

Then there's Project IONIQ, a lab which was founded in 2016 to research ways in which we can bring mobility and life together, and how we can liberate ourselves from the restraints mobility may have on us, in order to meet all the needs of our lifestyle.
Project IONIQ focused on three main areas of research. It aimed to advance the theoretical and practical understanding of future customer requirements. This included predicting changes in future mobility and studying the possible scenarios that could one day exist. It also worked to develop new types of mobility according to the changes in society and people's lifestyles, and finally it worked to create new service models and mobility experiences that extend the role and definition of mobility. Hyundai's concept IONIQ portable scooter is an example of its work – the lightweight electronically powered scooter could be stored in the front door of the IONIQ electric to allow drivers to continue their journey.
This focus on research, and development of ideas, is at the core of IONIQ. Since the initial launch in 2016, IONIQ has represented three types of alternative fuel model: the electric, the plug-in and the hybrid.

From 2020, IONIQ is an entire brand: a line-up of EVs created to give us a more eco lifestyle solution. Everyone deserves the opportunity to contribute to a brighter future without compromise, and this is it. Every drive to work, every roadtrip with family and friends, every errand can be a part of the journey forward.
Everyone deserves the opportunity to contribute to
a brighter future without compromise…
Taking inspiration
from the past to design
for the future
When it comes to the design of our IONIQ cars, the team at Hyundai will re-define the conventional norm of interior and exterior vehicle design. The design will create emotional efficiency entirely inspired by innovation. This begins with the IONIQ's signature 'Parametric Pixels' – a unique jewel-like design that will feature on the exterior of all IONIQ models, and represent the IONIQ brand into the future.
Inside, IONIQ will redefine the interior space as a place to enjoy life's moments – for work, for fun or for alone time. Spacious interiors and a larger, flat floor, will create a relaxing atmosphere. Seats will be highly adjustable to ensure constant comfort, and wireless connectivity will feature, while simple interfaces will also create new and intuitive experiences that will make occupants feel instantly at ease in the space.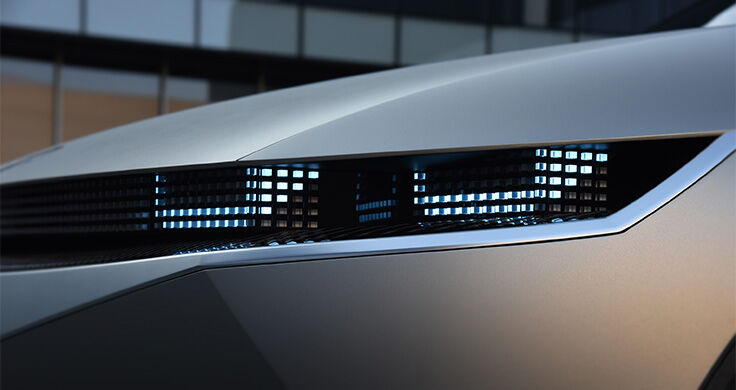 The line-up starts with IONIQ 5, which is launching later this year as a compact SUV that combines good looks, plenty of space, and unparalleled eco credentials. This will be followed by the IONIQ 6, a sedan scheduled to launch in 2022, and the IONIQ 7, a large size SUV, due to launch in 2024.

At a time when we're collectively recognizing the impact each of us make on the environment, Hyundai IONIQ offers a full range of sustainable mobility solutions to get us all to a better future.
IONIQ is a brand that empowers people to make choices that will create a brighter future, with every driver's experience tailored to make the most of the vehicles' spaciousness and energy efficiency. With IONIQ we help you to not just drive electric, but to live electric.