IONIQ vision
Maria Cornejo's
punk spirit is revolutionizing
sustainable fashion
4 minute read
Fashion legend and Hyundai IONIQ ambassador Maria Cornejo explores 'sustainable luxury', her fiercely independent streak, and why she's determined to take a different path, even if it means going it alone.
Since launching her first collection in London in the 80s, fashion designer Maria Cornejo has always remained fiercely true to her creative vision. Back then, she was breaking boundaries with her 'cowboy punk' aesthetic. Now she's making headlines with Zero – her sustainable fashion label – 80% of which is made locally in New York.

Dubbed 'luxury fashion with a conscience', her timeless pieces are not only designed to last, but are even created from recycled materials. Her Re:Style collection with Hyundai was crafted from materials, like leather, sourced from used cars. By collaborating in this way, she felt she could help play her part in boosting the voice of sustainability – something she is keen to continue with on the launch of IONIQ, our electric car line-up.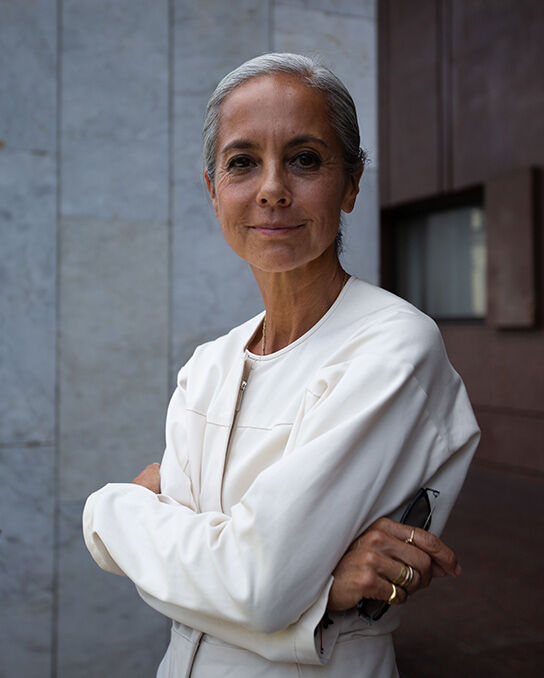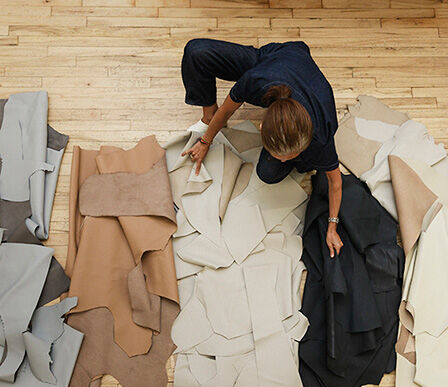 Tell us about your relationship with Hyundai
Working with Hyundai last year on Re:Style was a really interesting project because we got to upcycle car leather into garments and upcycle our fabrics. It was a really interesting experiment on how a big company could work with a small company to amplify the voice of sustainability.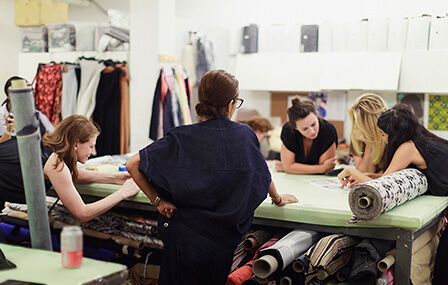 Sounds tricky…
It was a challenge because you know, how do you make garments out of car leather? Every day there are difficulties in sustainability, finding new ways of working. It's an ongoing process of how to be creative with less. It wasn't easy but the collection looked great and it was really well received.
The basic human right to be able to live well on a healthy planet.
That is progress to me.
Maria Cornejo
You've always forged your own path.
Where does your independent
streak come from?
To be honest, I had to take charge, I had to make decisions – I was a political refugee, I had to learn to speak a different language at the age of 12. I lost my mother when I was 14. You sort of have to get your own confidence – because you don't have your parents pushing you. You have to find confidence in yourself to take charge of a situation and do your best. It's all you can do.
What keeps you dedicated to sustainable fashion?
Having children made me realize how important it is that we respect nature. We have a responsibility to leave the world in a better place than we found it for our future generations.

I strive to be a better person, a better designer, and a more sustainable citizen by incorporating organic practices into my everyday lifestyle. I think we're all a work in progress. The vision for everyone should be to be more sustainable, and more edited, and design with a conscience.
You're collaborating with Hyundai for a second time.
Why is that?
Sustainability is not something that is done in a season. Development takes time, and it's an ongoing process, so the collaboration keeps going. I've decided to team up with Hyundai again as we hold the same values toward social and environmental practices. Not only do they acknowledge the needs of the future, but they're also making strides to become more sustainable, and I think that's admirable.

The reality is that as a small company, to have the voice of Hyundai behind me gives me a better platform to speak about the things that are important to me.



Are sustainability and luxury fashion compatible?
Sustainability doesn't have to be granola, it doesn't have to be boring. Nobody wants to purchase anything with the sole purpose of being eco-friendly and sustainable. They buy it because they desire it. You can still design clothing that is interesting yet luxurious, beautiful, and desirable.
What does progress for humanity look like to you?
The basic human right to be able to live well on a healthy planet.
That is progress to me.
You're in charge of the world for a day. What would you do?

Oh my goodness, if I were in charge of the whole world, I would clean it up! I would make it less polluted. I would clean up the beaches! That would be incredible!

This year, Cornejo is working with Hyundai to amplify the voice of sustainability on the launch of IONIQ electric vehicles.