Art
An exploration of life through art at MMCA & Tate Modern
4 minute read
At Hyundai, we are always looking for innovative ways to create, develop, and refine unconventional ideas by building a bridge between the field of technology and art. Among these exciting projects and ventures, we are proud to announce Haegue Yang's participation in the 2020 MMCA Hyundai Motor Series under the theme "O₂ & H₂O."

We also take a closer look and explore the experimental artist, Anicka Yi's most ingenious project up to date as we feature a new-site specific installation for the 6th series of our Hyundai Commission project with Tate Modern, at the notable Turbine Hall.

* Title image: Anicka Yi, Biologizing The Machine (tentacular trouble), 2019.
Photo: Renato Ghiazza

Strange Fruit, 2012-13
Installation view of In the Cone of Uncertainty,
The Bass Museum of Art, Miami Beach, USA, 2019
Photo: Zachary Balber
Inner and outer worlds meet in a captivating solo exhibition by Haegue Yang
As the 7th annual exhibition from our MMCA Hyundai Motor Series, we are excited to unveil Haegue Yang's 40-piece solo exhibition. This exhibition showcases Yang's unique artistic style on entwining culture and global narratives with folkloric and industrially manufactured materials within her large-scale abstract installations, paintings, hybrid sculptures, and other diverse pieces.

Yang's unique abstract style is based on geometric forms, expanding into subjects such as domesticity and mysticism as we can see in her new sculptural ensemble Sonic Domesticus(2020).
Yang's new works include a digital mural and a large-scale ad-balloon installation which integrates motifs from natural phenomena and extends her previous exploration of multi-sensory elements.

Her work Silo of Silence – Clicked Core(2017), is an approximately ten-meter tall kinetic sculpture which will be showcased in the Seoul Box.

Silo of Silence – Clicked Core, 2017
Installation view of Silo of Silence – Clicked Core,
KINDL – Centre for Contemporary Art, Berlin, Germany, 2017
Photo: Jens Ziehe
Based in Seoul and Berlin, Yang (b. 1971, Seoul) has developed an expansive body of work since the 1990s and is a professor at the Städelschule in Frankfurt, her alma mater.

She has participated in international art exhibitions including the Ven-ice Biennale and Documenta13. Yang's work has been exhibited and acquired by renowned museums, including the Centre Pompidou, Museum Ludwig, MoMA, and Tate Modern.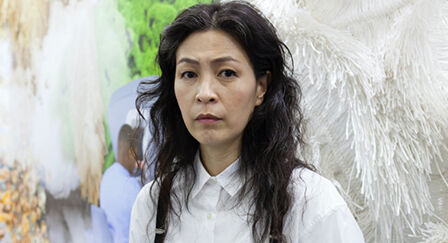 Haegue Yang, Taipei Dangdai 2019.
Photo: Sebastiano Pellion Di Persano,
Image provided by MMCA
Exploring of humanity's relationship to nature and technology in Anicka Yi's new work.
We believe art raises vital questions for society and is a mirror of which we can reflect on ourselves. The good, the parts we can improve on by furthering our understanding of the world. It isn't just something to stare at and admire, but it's also an instrument that brings people, communities, and cultures together. This is why we've dedicated ourselves to an 11-year partnership with Tate Modern (confirmed until 2025), with the longest initial commitment from a corporate partner in the gallery's history. With this dedication, we created the Hyundai Commission which gives upcoming artists a chance to design and display their work in the distinguished Turbine Hall within the walls of the Tate Modern and is known for transforming the public conception of contemporary art in the 21st century.

To celebrate the 6th part of the Hyundai Commission series, we have invited conceptual artist Anicka Yi, who is famous for incorporating science, cuisine, and scents to stimulate the senses while illustrating the relationship between humans and technology.
Anicka Yi's work is truly fascinating, as we can see a daring experimentation with unorthodox materials including tempura batter and kombucha leather.

In her works we can see the exploration of the links between art and science, as she draws from the research of philosophers concerned with emerging forms of life and intelligence while also addressing present day questions around migration, class and gender.

Over the years, we have seen Yi presenting a wide range of highly experimental works focusing on the possible new channels of communication between artificial intelligence entities and organic life forms. Giant pods made of kelp filled with animatronic insects (Biologizing The Machine (tentacular trouble), 2019) as well as panels of soil which featured living organisms controlled by artificial intelligence (Biologizing The Machine (terra incognita), 2019) were created for the 2019 Venice Biennale.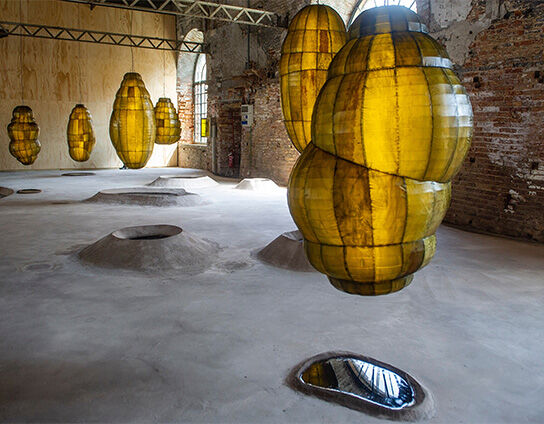 Biologizing The Machine
(tentacular trouble)
2019
Anicka Yi (photo: Renato Ghiazza)
Behind the exhibition
Hyundai Commission: Anicka Yi will be curated at Tate Modern by Mark Godfrey (Senior Curator), Petra Schmidt (Production Manager), and Carly Whitfield (Assistant Curator) at Tate Modern.
Yi (b. 1971, Seoul) lives and works in New York and has been the subject of solo exhibitions at museums such as the Solomon R.
Guggenheim Museum in NYC, Kunsthalle Basel, and the Fridericianum in Kassel. Her work has also been featured at the Venice Biennale in 2019, the Whitney Biennial in 2017, and the Gwangju Biennale in 2016.

She also won the Hugo Boss Prize in 2016 and has held residencies and fellowships at the Berggruen Institute in Los Angeles, the Headlands center for the Arts, and the Center for Art Science and Technology at MIT.
Anicka Yi (photo: David Heald)
About Hyundai's art partnerships
Hyundai Motor Company has been advocating art initiatives by establishing long-term partnerships with globally esteemed museums such as the National Museum of Modern and Contemporary Art, Korea (MMCA), Tate, and the Los Angeles County Museum of Art (LACMA), alongside sponsorships for the Korean Pavilion at the Venice Biennale since 2015 and the 20th and 21st Biennale of Sydney. Hyundai has also gone beyond borders by inducting the new Hyundai Tate Research Centre: Transnational, founding a partnership with global media group Bloomberg, as well as other initiatives with the hopes of uniting others through art and technology.