High performance N
What is a high-performance car?
8 minute read
N Brand is Hyundai's high-performance car brand. But what is a high-performance car, and what's it like to drive one? Read on to find out.
What is a 'high-performance car?' Within the automotive industry, you will find many cars of all different shapes and builds described as 'high-performance.' There is no standard definition. Still, if you've ever driven one, then you will know that, more than anything, these cars are built for enjoyment. So, what else makes 'performance' cars stand out from the crowd?
What is the purpose of a performance car?
When you think of a car, the first thing that comes to mind is that its primary purpose is to transport you from A to B. Some cars may be faster and others more comfortable, but the main purpose of a car is to help you reach a destination. However, with a performance car, there's another purpose - to make the journey from A to B as fun as possible. This is what sets performance cars apart; they are specifically designed to give you unforgettable fun experiences and to put a smile on your face.

If you get into the new i30 N, one of Hyundai N's performance cars, and start driving, you will discover precisely what makes a high-performance car different. This car is built for driving enthusiasts, and its powerful engine, cornering ability, and impressive acceleration will unleash unlimited joy on the road.
"Corner rascal" is one of the three pillars in the N brand DNA, and all of our N performance cars are designed so you can enjoy driving ferociously, yet solidly, around corners. For this, the new i20 N is equipped with the N Corner Carving Differential, a Mechanical Limited Slip Differential (m-LSD) to provide optimum traction and enhance grip on every corner for a sportier and more agile ride.
With the new i30 N, you get the best of both worlds. It's an excellent car for your day-to-day needs, but it also delivers the performance of a racing car. Thanks to its variety of driving modes, it will provide an optimal driving experience every time. You can drive to work in normal mode and switch to the fun N mode when you hit the racetrack on weekends. The new i30 N is more than just an everyday car. It's an exciting everyday sports car.
How much does a performance car cost?
The price range of performance cars is different from regular cars. High-performance cars are equipped with powerful and more intricate engines and parts, so they tend to retail at prices that range from moderate to highly expensive. While a new regular car might cost you anything from $20,000 to $30,000, performance cars often start with price tags around $20,000 and can go into the millions.

Once you've considered the purchasing prices of performance cars, you also have to factor in higher maintenance and operating costs. These cars tend to have higher maintenance costs for a couple of reasons.
One factor is car insurance which is usually more expensive for high-performance cars due to their increased acceleration, power, and speed. Another factor is that performance cars are typically driven more intensively than regular cars meaning that auto parts need to be exchanged more frequently. These specialized parts also tend to be more expensive than those used in regular cars. The third factor is that some high-performance cars require premium gas. While this isn't the case for all performance cars, this can also increase the overall maintenance costs.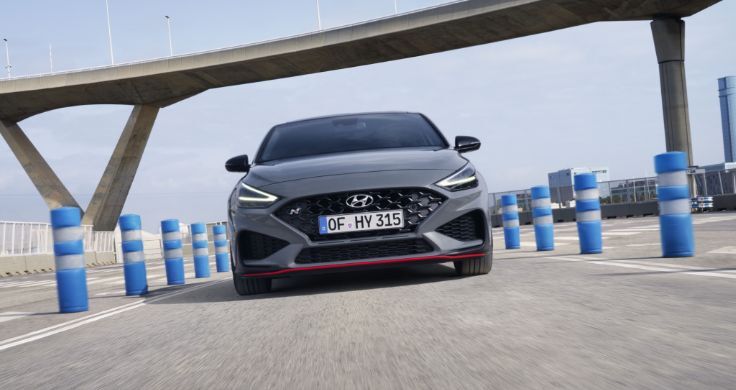 You can drive to work in normal mode and switch to the fun N mode when you hit the racetrack on weekends.
What makes the design of a performance car different?
Another thing that sets performance cars apart from regular cars is their design. Performance cars tend to share several distinctive design features. One is the number and design of the car seats, as many high-performance cars have between 2 and 5 seats. Regular cars also come with two seats, but you're more likely to be able to find regular models with 5 seats and up.
When it comes to car seats, there is an obvious difference between the seats designed for regular cars and those designed for performance cars. If you have ever sat in a high-performance vehicle, you will know that not only do the seats feel different, but they also make you feel like you're in a sports car. Seats in performance cars often look like the seats in racing cars and usually have extra bolster to keep you in position while driving fast and cornering.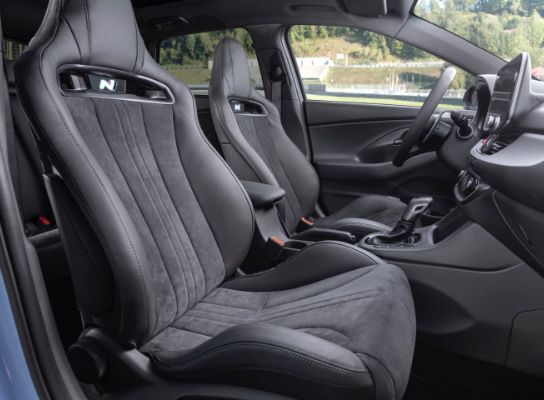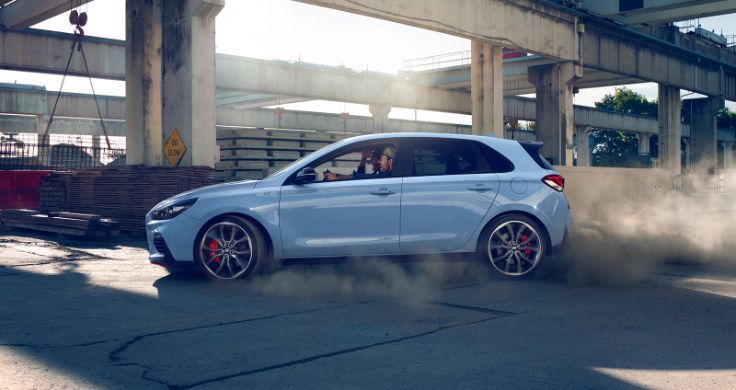 And, when you look at the suspension in a performance car, you will see that they use different springs, shock absorbers, and often lower suspension, all of which are designed to give you an enhanced driving performance.

In general, performance cars are sportier and more aerodynamic in their design than regular cars, thanks to their additional design factors. They also tend to be made in sportier colors such as blue and red. The sporty design of the VELOSTER N, for example, fits perfectly on the racetrack and the road.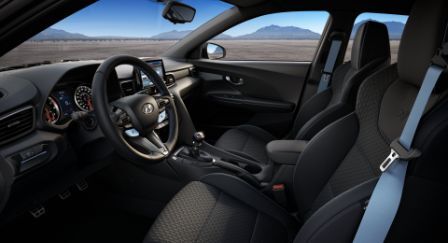 The VELOSTER N - the ultimate performance car
The VELOSTER N has an exclusive sporty N-design on its front fascia and grille. It also has front air ducts for enhanced brake cooling. Another tech-focused design detail on this performance car is the exclusive LED headlamps.

From its profile alone, the VELOSTER N differentiates itself from the regular VELOSTER thanks to its exclusive N-design rocker side sills and lightweight 19-inch alloy wheels with a machine-finished dual-spoke star design. The VELOSTER N also sports a larger N-design rear spoiler which completes the overall sporty design.
The sporty design continues inside the car with its exclusive N-design front cloth sports seats. Inside, there is also performance-enhancing bolstering, an exclusive N-design steering wheel and shift knob, and interior details, all accented by an N Performance Blue accent.
What does the word 'performance' mean in high-performance cars?
As the name suggests, performance cars are built to perform! The 'performance' in high-performance cars refers to their powerful engines, superior speed, agility, and overall driving experience.

While regular cars have moderately powerful engines that are easier to handle, performance and sports cars need powerful engines to provide higher performance. As a result, they often use more fuel than regular cars due to the difference in power. In terms of speed, most regular cars have a horsepower of around 150 PS. Performance cars can have a horsepower of around 250 PS and upwards.
Performance cars also need special brakes to withstand the power and heat generated when driven at higher speeds. High-performance brakes are therefore more robust than regular brakes and need to work effectively under harsh conditions while being highly durable too.
A strong example of high-performance brakes is Hyundai N's in-house brakes, which were developed and tested at the Nürburgring to make them as powerful and durable as possible. Hyundai N's high-performance brakes evolved from the brakes used in Hyundai's bigger and heavier car models, as they are powerful enough for the performance car models.

But it's not just the engine power, speed, and brake power that set high-performance cars apart from regular models. They also boast high-performance tires and top-notch technology, which means that they excel in agility and stability and deliver thrilling driving experiences on the track too. The specs of Hyundai's N performance cars are proof that these cars are built to perform no matter what kind of road you're driving on.
Hyundai's new i30 N performance car is powered by a 2-liter turbocharged engine available with two power outputs. The new i30 N's Standard Package delivers 250 PS, while its Performance Package offers maximum power with 275 PS. The performance car also provides a maximum torque of 353 Nm and reaches a speed of 250 km/h. With the Performance Package, the car can achieve an acceleration of 6.4 seconds from 0 to 100 km/h.
The specs of Hyundai N performance cars are proof that these cars are built to perform no matter what kind of road you're driving on.
It's all about the experience
Even though there are some defining characteristics of high-performance cars, they don't fall into one neat category. However, most performance cars share the same purpose, pricing, design, and overall performance.

Performance cars are built to be fun to drive. High-performance cars are sportier in design, are fitted with high-performance accessories, and are superior to other cars when it comes to speed, power, cornering ability, and general performance. And while their price and maintenance costs tend to be higher than regular cars, the extra costs mean that your car can deliver more outstanding performance and a heightened driving experience.
The definition of a performance car encompasses more than this, though. More than anything, a performance car is a car that makes you want to drive it just by looking at it. High-performance cars, with their exceptional speed and power, are exhilarating to drive and unleash pure enjoyment.

If you're looking for a high-performance car for everyday driving during the week and speeding around a racetrack on weekends, check out the N high-performance car line-up. Find out more by following Hyundai N Worldwide(@hyundai_n_worldwide) on Instagram.