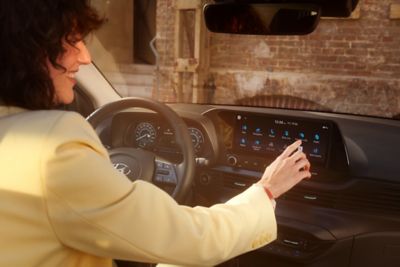 Features.
Explore the features of the BAYON.
This model may not yet be available for sale in your country. Fuel consumption and CO2 values for this model have not yet been determined.  
Setting new standards.
The all-new BAYON is setting new standards in its segment with its impressive range of state-of-the-art smart tech. Enjoy the latest connectivity, best-in-class safety features and advanced driver-assistance systems – and available 48V mild hybrid powertrains.
Connectivity
Get connected in style with class-leading features.
Enjoy state-of-the-art smart tech with dual 10.25" visually combined big screens with split-screen functionality. And with Hyundai's Bluelink Connected Car Services, you can control your car from your smartphone – or with your voice. It brings seamless connectivity directly into the all-new BAYON with online voice recognition and features to make your drive more convenient and enjoyable.
Bluelink® Connected Car Services.
Control your car from your smartphone – or with your voice. The latest Bluelink upgrade let's you take full advantage of our state-of-the-art Connected Car Services. On top of the many clever features you can control with the Bluelink app, a free five-year subscription to Hyundai's LIVE Services is also included with the navigation system with real-time information on traffic, parking or petrol prices.
Connected Routing.

Connected routing means that the route is no longer calculated by the processor inside the navigation device, but by a powerful server inside the Hyundai cloud. Why is that better? Because it allows for more accurate traffic forecasting, more precise times of arrival, and more reliable route recalculations.

Live Parking Services.

Find a parking spot faster – and enjoy more efficient and stress-free parking. This feature helps you find and compare real time parking options in garages and parking lots, as well as on-street parking spots.

Expanded voice recognition.

Activate and control features like climate settings and infotainment controls as well as steering wheel heating via voice command.
Bluelink® Connected Car Services.
Bluelink® Connected Car Services bring seamless connectivity directly into the all-new BAYON with online voice recognition and a wide range of features to make your drive more convenient and enjoyable. On top of the many clever features you can control with the Bluelink app, a free five-year subscription to Hyundai's LIVE Services is also included with the navigation system
Remote door lock & unlock.

Forgot to lock your car? Don't worry, the all-new BAYON will let you know by sending a push notification to your phone. Then, using your PIN, you can lock or unlock your vehicle at the press of a button.
Destination send to car.

If your all-new BAYON is equipped with navigation, you can use the Bluelink app to search for destinations while outside of your car. Bluelink then syncs the route into your navigation system. Just get in and press go.
Find my car.

Forgot where you parked? Just open the Bluelink app to see the current location of your car – anywhere in the world.
Alarm notification.

Bluelink always keeps an eye on your car. If someone tries to break into your all-new BAYON – the door lock is compromised and the door is opened – it will send a push-notification to your smartphone.
Car health information.

For more peace of mind, you can run a remote diagnostic check from the Bluelink app. The vehicle report can show information on tyre pressure, malfunction indicator, airbags, brake system and more.
Vehicle Status.

Need petrol? Just check the app. Enjoy remote access to the status of your car at any given moment, including fuel remaining, doors open/closed or locked/unlocked and windows or boot open/closed.
Convenience
Roomy and comfortable with plenty of cargo space.
Delivering the comfort and storage space of an SUV, the all-new BAYON's compact exterior size and its family-friendly interior mean you can enjoy the best of both worlds. While its compact size and excellent visibility make it easy to enter and easy to handle – and thanks to its high seating position, it also gives you that safe and robust feeling customers have come to expect from Hyundai SUVs.
BOSE premium sound system.
The available Bose premium sound system features eight high-performance speakers including a subwoofer for clean, immersive and powerful music reproduction.
Safety
Best-in-class safety package with Smart Sense.
The all-new BAYON shares its safe and robust DNA with the other members of the Hyundai SUV family – and it has the safety features to match. Another way it stands out in its segment: an extensive list of Hyundai Smart Sense safety features – our cutting-edge Advanced Driver Assistance Systems. Many of them are included in the standard equipment already.
Forward Collision-Avoidance Assist (FCA).

The FCA system automatically brakes when it detects sudden braking by the car ahead or detects pedestrians or cyclists in your path. Now updated with a Junction Turning feature, specially calibrated to help prevent frontal collisions when turning left at intersections (in left hand drive countries).
Navigation-based Smart Cruise Control (NSCC).

This advanced feature uses data from the BAYON's state-of-the-art navigation system and front radar to adjust speed autonomously when driving on a highway or motorway. The system anticipates upcoming curves or straights and adjusts speed for safer driving, automatically decelerating and re-accelerating to your set original speed after a curve.
Performance
Dynamic performance meets excellent fuel efficiency.
The all-new BAYON delivers excellent fuel efficiency and highly competitive CO2 emissions thanks to its updated T-GDi engines – downsized turbo-charged engines with direct injection for optimum efficiency and driving fun. When combined with our unique 48-volt mild hybrid technology (48V) with Intelligent Manual Transmission (iMT), you get even more enhanced fuel savings and efficiency.
1.0 litre T-GDi 120 PS.

Our three cylinder, 1.0-litre Turbo GDI engine is designed to take the all-new BAYON's sporty personality to the road. With 120 PS and our new 48v mild hybrid technology available, this low-key powerhouse makes the car just as fun to drive as it looks. It can be coupled with the 6-speed intelligent Manual Transmission (6iMT) or a 7-speed dual clutch transmission (7DCT).

1.0 litre T-GDi 100 PS.

The 100 PS version of the 1.0-litre T-GDi is also available without 48V and can be paired with a 6-speed manual transmission (6MT) or 7DCT.
1.2 litre MPi petrol engine.

With 1197 cc of engine displacement and 4 cylinders, our 84 PS entry engine is a gentle force to be reckoned with. Coupled with a 5-speed manual transmission, this power unit offers offers both full control and pleasant torque delivery.
48V mild hybrid – save fuel and reduce emissions.
The BAYON's 48V mild hybrid system supports the combustion engine with additional torque during acceleration to save fuel and reduce emissions. Hyundai's mild hybrid technology features a compact 0.46 kWh 48 volt lithium-ion battery and a new Mild Hybrid Starter Generator (up to 10kW electric power). Find out more about its advantages here.
Comfort start.

The mild hybrid system has particular advantages in city traffic, with the Mild Hybrid Starter Generator (MHSG) supporting the combustion engine when re-starting after traffic stops. This action supports a faster and smoother engine start with supplemental torque, drawing on energy from the 48V battery. The MHSG assists the combustion engine during take-off by compensating with torque and power.
Acceleration.

Under acceleration, the MHSG supports the combustion engine with compensatory 4 to 10 kW of power, depending on the battery system's state of charge and the degree of accelerator input from the driver. Once the required speed is reached, the MHSG shifts to neutral mode, delivering no power. As a result CO2 emissions, as well as fuel consumption, can be reduced by up to 11 per cent.* (*NEDC 2.0)
Constant driving.

At a constant speed, the MHSG either is at idle or acts as a generator charging the 48V battery, depending on the battery state of charge.
Recuperation.

In active braking or overrun phases, the rotating crankshaft powers the MHSG, which then acts as a generator with a maximum recuperation output of 10 to 12 kW. The generator converts the kinetic braking energy into electricity, and feeds it back into the 48V battery. In these phases, the combustion engine remains switched on and clutch kept closed to be able to transfer the power from the wheels over the transmission and the engine to the MHSG.
Extended start-stop.

When coasting at low speeds, the start-stop function already activates at 30 km/h. Under deceleration between 30 and 0 km/h, and with the clutch disengaged, the engine is switched off completely.
Energy Regeneration System (ERS).
Idle Stop & Go (ISG), Alternator Management System (AMS) and low rolling resistance tyres are complemented by our Energy Regeneration System (ERS): when the car is moving in gear but with a closed throttle, the braking effect of the engine generates kinetic energy that is converted into electricity and stored in the battery. This reduces both fuel consumption and exhaust emissions.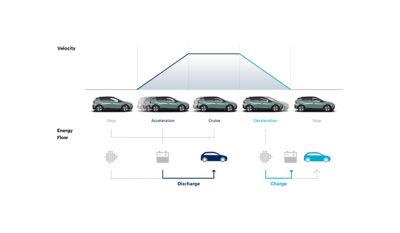 More performance. Less emissions. CVVD Engine Technology.
Hyundai has developed the world's first Continuously Variable Valve Duration (CVVD) technology. It optimizes engine performance and fuel efficiency while also being eco-friendly. The valve control technology regulates the duration of valve opening and closing according to driving conditions.
Discover more of the new BAYON.
Game-changing design meets best-in-class safety. State-of-the-art connectivity features keep you in the loop while on the road. New powertrain and transmission options make way for a refined and sustainable driving experience. The all-new BAYON is setting standards in the segment.
Tyre information.
Below you will find the information about the tyres which may come with your Hyundai BAYON.