IONIQ lineup
IONIQ 5: Ready to Go in Five Minutes
3 minute read
You can do a lot in five minutes – make a really nice cup of coffee, get on top of your email inbox, make weekend plans – and now you can even charge your car for a 100km trip. In just five minutes.
The IONIQ 5 is built on our new E-GMP – the backbone of our new EV lineup. It is designed with many improvements that will drive us into a new era of safe, efficient and high-performance electric vehicles. One of the most exciting of those improvements is its high-speed charging capabilities. Here's a closer look at them.
Hassle-Free
Multi-Charging
The E-GMP has a multi-charging system that works with a wide range of charging technology. It is the first in the world that is compatible with older infrastructure and newer, high-speed charging ports so you can visit any charging station on your journey. With no need to carefully plan a route around the charging stations you can use, the open road is yours for the taking.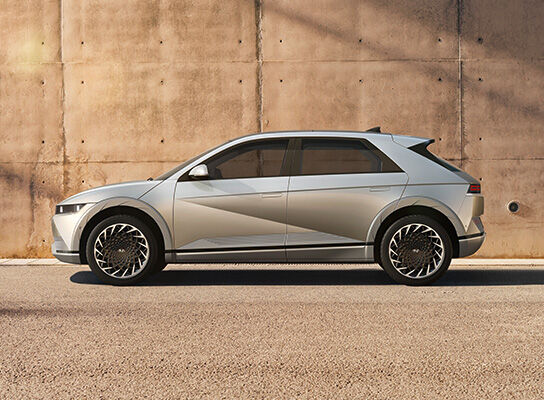 Improvements have been made to the motor to enable longer driving distances. This not only makes the IONIQ 5 a more efficient and eco-friendly choice, it also makes it perfect for those who enjoy long road trips and taking a detour to discover something new. And if you find yourself off the beaten path, a disconnector system allows the IONIQ 5 to freely shift between four-wheel and two-wheel drive, giving you energy-saving driving in all conditions.
High-Speed
Charging at 800V
The new Power Electric system is optimized for EVs and allows for very rapid charging. The IONIQ 5 can charge to 80% capacity in under 18 minutes, and according to the Worldwide Harmonized Light Vehicle Test Procedure (WLTP), charging the 72.6kWh battery option for just five minutes can get you 100km of range. That's enough charge for a day trip in the time it takes to enjoy your morning coffee.
If you can dream it,
you can make it
Whether you're a daily commuter or like taking the family on camping trips, or both, the IONIQ 5 is here to make things easy, efficient and enjoyable.

The Vehicle-to-Load (V2L) feature provides general electric power at 110V or 220V inside and outside the vehicle. (A separate transformer is required when using 110V) Simply plug your laptop or your mobile phone into IONIQ 5 when the battery is low. Moreover, bringing your home devices on the road with you is also capable – by using the V2L function, you can supply power to all home appliances including a coffee machine, air purifier, and even a refrigerator. Experience the first car that fits your lifestyle perfectly.
This is an early step in our vision of dedicated electric vehicles that are made to make time feel more valuable. Style Set Free is our roadmap to mobility solutions that empower us to be smarter, happier and more productive. Read more about it here.