Design
Hyundai Presents: Re:Style 2021
5 minute read
First shown in 2019, Re:Style made a successful debut with its first upcycling collection. As it's the 3rd year, the collection has stretched the scope of upcycling materials from using discarded car wastes to adopting eco-friendly materials from Hyundai IONIQ 5. The 3rd collection will be launched exclusively at BOONTHESHOP located in Cheongdam, Seoul and L'ÉCLAIREUR in Paris starting from October 14, 2021. Read on to find out more about the collection and our behind story.
Re:Style
Here at Hyundai, we're committed to building a cleaner and more sustainable world, and plan to become carbon neutral by 2045. We know that the steps we take today will determine how we live in the future and so we're committed to rethinking how we design and produce our products for future generations.

Designing for the future requires diverse thinking and collaboration. This is why we have launched a Re:Style collection for the third time. In a world where fast fashion has taken over, Re:Style encourages designers to upcycle discarded materials from the car manufacturing process into sustainable fashion pieces.
Since 2019, we have collaborated with famous fashion designers to showcase outstanding fashion items made with upcycled waste from auto manufacturing for our Re:Style collections. And this year, we have chosen to work with global boutiques so that more people can try our upcycled Re:Style products for themselves.
We hope that our collaboration with the best boutiques in and out of Korea will increase the brand awareness of Re:Style among consumers and those in the fashion industry
THOMAS SCHEMERA, GLOBAL CHIEF MARKETING OFFICER AND HEAD OF THE CUSTOMER EXPERIENCE DIVISION OF HYUNDAI MOTOR COMPANY
The Re:Style Collection 2021
The Re:Style 2021 collection focuses on 'one mile wear', which is comfortable but stylish unisex indoor clothes that you can wear within a one-mile radius of your home including sweatshirts, hoodies, shorts, and jogger pants.

Our 2021 collection is aimed at conscious fashionistas from the millennial and Gen Z, who prefer 'kind consumption' and luxury goods that are not too heavy or damaging the environment. The collection comprises 12 different items and there will only be 300 pieces available to buy.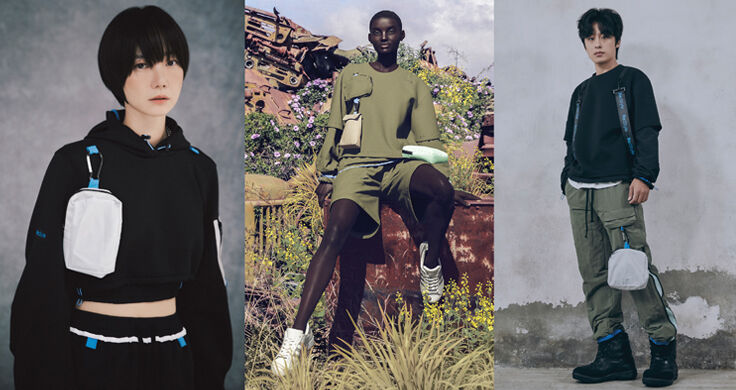 BOONTHESHOP
BOONTHESHOP, Korea's first luxurious select store run by Shinsegae, will exclusively offer Re:Style's products online (sivillage.com) and at its store in Cheongdam-dong.

"As a distributor, we are also concerned about the adverse environmental effects that clothing waste can bring about every year including carbon emissions," said DJ Kim, Executive Director of BOONTHESHOP. "We thought it was a fresh approach to recycle car materials and welcomed the opportunity to work with Hyundai. We also liked the fact that the sales revenues from Re:Style will go towards other environmental projects which are helping to save the earth."
The concept of sustainability is not just an option but has become a fundamental philosophy
DJ KIM, EXECUTIVE DIRECTOR, BOONTHESHOP
L'ECLAIREUR
L'ÉCLAIREUR is Paris' best luxurious boutique which is well-known for only working with a selected group of designers. This boutique will be in charge of the global sales of our Re:Style collection and will offer our items online and at its store located at the home of luxury fashion in Saint Honoré. "As a company in charge of fashion distribution, we have always had concerns about the impact of discarded clothing materials on our planet Earth," said Michael Hadida, the CEO of L'ÉCLAIREUR. "So, by reusing the wearable pieces from automobile manufacturing and channeling the profits into other projects, we hope to create a virtuous cycle of sustainability and uniquely contribute to saving our planet."
The Models
Global fashion star and movie actress Doona Bae and Shudu - the world's first virtual supermodel and influencer - participated as models for the 2021 Re:Style collection

You can see a behind-the-scenes video of a studio photoshoot with Doona Bae and her interview here, and photos of Shudu in Re:Style clothes on her Instagram account Shudu(@shudu.gram).
We hope to create a virtuous
cycle of sustainability and
uniquely contribute to
saving our planet.
MICHAEL HADIDA, CEO L'ECLAIREUR
Rethinking waste in the IONIQ 5
The Re:Style collection is just one of the ways that we're reimagining waste. We used eco-friendly and recycled materials in a variety of ways to make 'IONIQ 5', our electric SUV that was rolled out earlier this year.

Threads made of sugarcanes, corns, and recycled transparent plastic bottles were used to manufacture the textiles which were used to make the car sheets and armrest covers. The same materials were the main fabrics used in 2021 Re:Style collection as airbags and seatbelts from old cars that were reborn as pockets and accessories.
The items in the Re:Style 2021 collection will be sold at relatively lower prices ranging from 80 to 180 dollars at BOONTHESHOP and L'ÉCLAIREUR, both of which only deal with high-end fashion items. Both boutiques said they welcomed this collaboration opportunity because they empathize Re:Style's motto of 'saving the planet in style' and our passion for sustainability. Offline sales will start from October 14 (Thursday) and last for two weeks while online sales will run for four weeks. All revenues from the Re:Style collection will be donated to various programs with sustainable initiatives.

Feeling inspired? Follow Hyundai's Instagram(@hyundai) to find out more about our commitments to the planet.