Sustainable living
Sustainable Stars:
How to support the earth
with your food choices
4 minute read
Many of us know that our planet is getting sick. Every week we hear news about 8 million tons of plastic waste being added into the ocean each year. It may feel overwhelming to think about what we can do for the environment. But, it's important to remember to be aware and having the will to change is the first step.
Small choices can make all the difference. We just need to start small in terms of what we can do. The truth is, you can choose to live a more sustainable lifestyle at any moment without needing to sacrifice the things you love. By implementing a few eco-friendly habits and choices, you can help minimize our impact on the planet.

Following on from our Small Steps Big Changes and Save & Save sustainability-focused series earlier in the year, we wanted to share more advice on how we can all help create a happier planet.
These are all low-hassle, low cost, and hugely rewarding recommendations from some of the best in the business.
So where to start? This is such an important topic that we've spoken with experts to get their advice on sustainable habits. Now, we are proud to bring you our Sustainable Stars series that is filled with incredible insights that we hope will encourage you in your own sustainable practice.

In this series, our Stars will be sharing expert tips on how to live more sustainably in the areas of food, fashion, beauty, and home. The most exciting part? They are low cost, zero-hassle to do, but hugely helpful for the earth.
Sustainable Step #1:
How To Eat for a
Healthier Planet
First off, let's consider a healthy diet and sustainable eating. Did you know that a meat-based diet requires 17 times more land and 14 times more water than a vegetarian diet? That means by reducing our meat intake, we could see a considerable reduction in our carbon footprint. With this in mind, we spoke to the first of our Sustainable Stars, chefs Alex Rushmer, Lawrence Butler, and the team from the vegetarian restaurant Vanderlyle in Cambridge, England.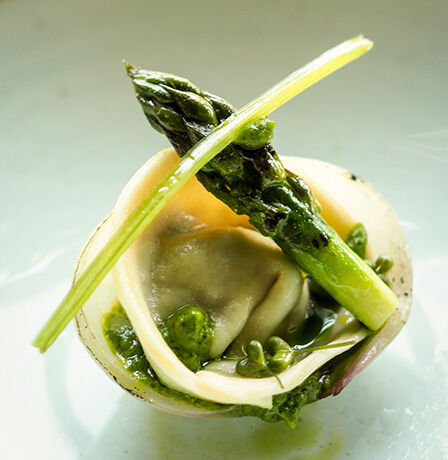 "It was never our original intention to leave animal protein off the menu entirely: we'd always intended to make vegetables the focus, but after a few weeks of running an entirely vegetarian menu we were curious to see how long we could go for without being tempted to put meat or fish on – and 18 months later, we're still going strong!" says Rushmer.

Rushmer had dozens of recommendations on how we can make more eco-friendly changes when it comes to our food habits, and therefore help alleviate some of the strain our planet is under.

Here's what he had to share:
Eat seasonally
"This doesn't just help the planet by reducing demand for produce out of season, but also ensures your food tastes better as most ingredients are more delicious when at their natural peak – growing your own can give you an insight into plant growth cycles and is also an incredibly rewarding activity!"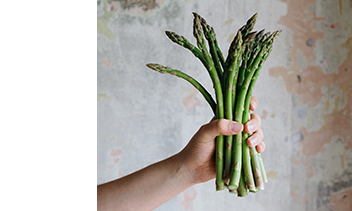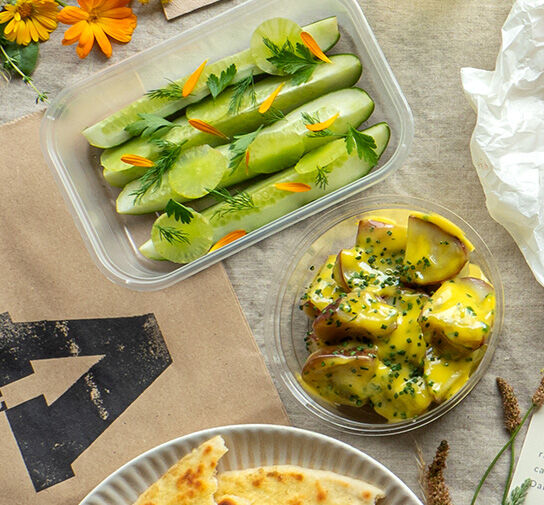 Seasonal fruit and veg
Choosing seasonal produce cuts down on carbon emissions as it reduces the demand for certain foods that are often transported from overseas. It also supports more local farmers. Keen to know what's in season?

Try these guides:
If you're in the USA
read here .
To those in the UK,
try this guide .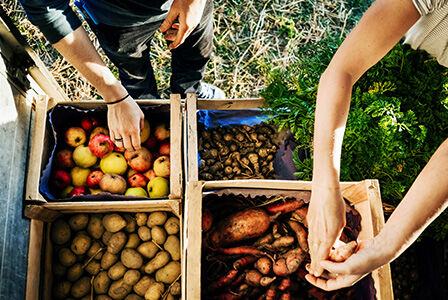 Find your local farms
and suppliers
"Many will have started to sell produce direct to consumers (DTC). Support them where possible – it's not always the most convenient choice but again, it'll have an impact on flavor and you'll be supporting a community business."
Ask your favorite restaurants about how they're promoting sustainability on both a micro and macro level
"They're probably incredibly stretched at the moment but you could always offer to help! One of our customers got in touch to share some research they'd carried out on eco packaging, and as a result we changed our supplier."
Learn five or six vegetable-led recipes that you love
and build them into your repertoire.
Eat less meat
"Learn five or six vegetable-led recipes that you love and build them into your repertoire. In our experience, vegetable-focused cookery is not about finding meat substitutes, but more about showcasing the unique flavors and textures provided by the plant kingdom."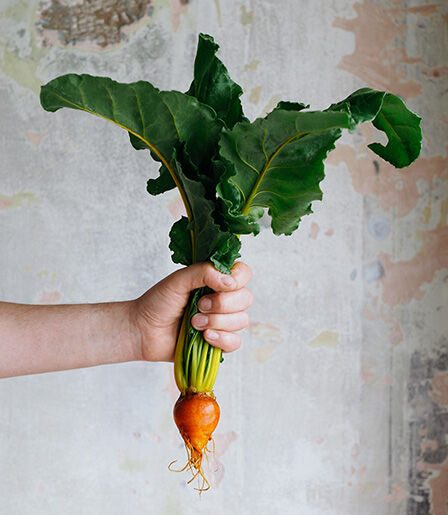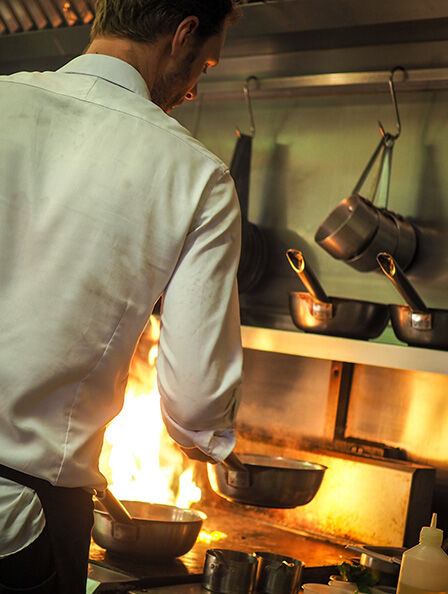 Cook more
"Always make your meals with an eye on leftovers. Not only will shopping in bulk for ingredients save you money and reduce your packaging usage, but cooking an extra two portions and freezing or preserving them is more energy efficient and allows you to build up a stock of your own ready meals."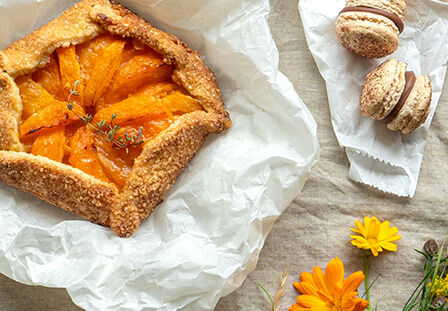 Find alternatives for single-use plastics
"Professional kitchens are notorious for excessive use of cling film, but we try to never use it, preferring reusable tubs with lids to store our prepared ingredients. We've also been experimenting with locally made beeswax wraps."
Get creative with leftovers
"Challenge yourself to find creative ways to use leftovers. If you have bread loaves several days old, why not try combining it with tomatoes and making panzanella? Panzanella is a well-known salad that makes good use of stale bread. Or make pappa al pomodoro which is a Tuscan tomato soup that includes tomatoes, bread, and olive oil."

There are many more ways you can be sustainable with your food habits, including bringing reusable takeout boxes with you when you dine out, which helps alleviate food waste. Check back soon for more from our next Sustainable Star, Milena Glimbovski, founder of the zero-waste store Original Unverpackt, with more tips like this, and advice on how you can be more eco-friendly in your home.
Find out more about Vanderlyle Restaurant here, and check out our Instagram Story highlights for more eco-friendly inspiration.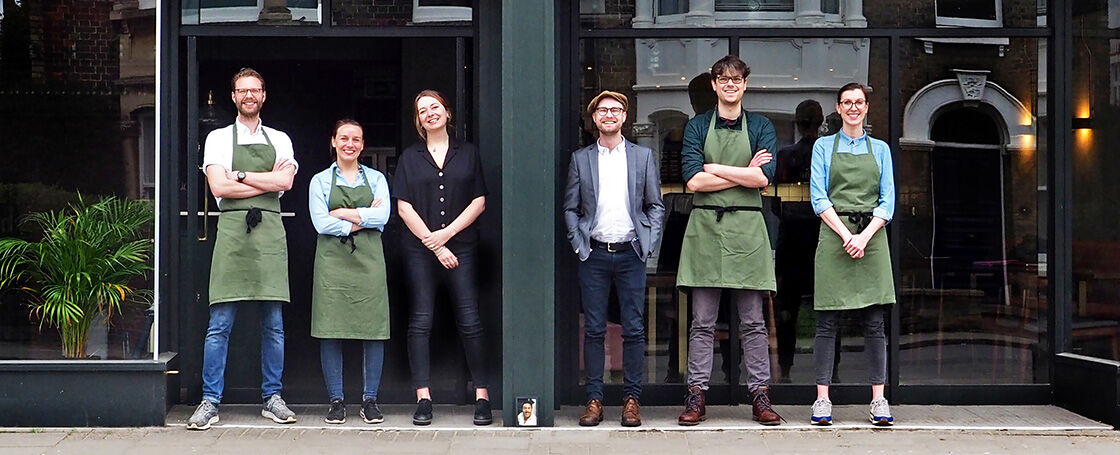 Follow Vanderlyle on Social