Hydrogen campaign
H2U x Peggy Gou
5 minute read
South Korean, Berlin-based DJ Peggy Gou kicks off Hyundai's new H2U advocacy program on September 10th, 2020 with a tour of her home city in a NEXO, Hyundai's new zero-emission and hydrogen-powered car.
With an avid fan base and clubs around the world vying for her to perform, Gou is required to travel a lot. But much like the majority of her generation, she is growing increasingly conscious of her carbon footprint - both on the road and even in the club. With the future in mind, Gou hopes that hydrogen, a pure and powerful element derived from the water of any source, can help provide cleaner and more sustainable mobility and environmental solutions.
Among these forward-thinking H2U ambassadors is South Korean, Berlin-based DJ Peggy Gou. As an internationally famous DJ, Gou travels often and is eager to find new solutions to assist with the transport of her equipment. In a Hyundai NEXO - a hydrogen-powered, zero-emission car - Gou takes us on a tour of Berlin, a city praised for its progressive culture and its futuristic hydrogen infrastructure. She is proud that a Korean brand has become a global pioneer in the field of hydrogen fuel cell technology, and as she gears up for her Closed Club Tour - a visit to perform live at some of Berlin's famed nightlife since their temporary shuttering - Gou is inspired and wonders if hydrogen can help Berlin clubs reach their goal to become CO2 neutral by 2050.
In the future, I believe entire cities can be powered by hydrogen fuel cells: not only cars, but buildings, factories, and even clubs. PEGGY GOU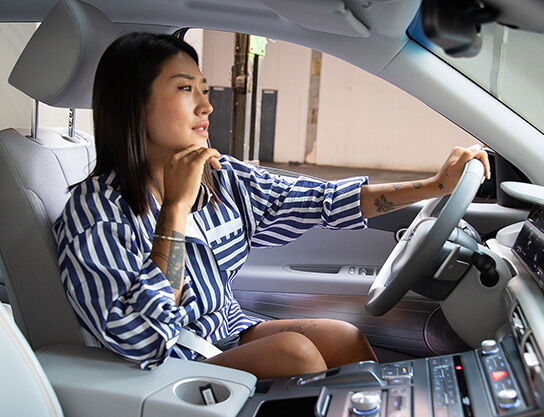 Just as Gou is a leading voice in club culture around the world, Hyundai is leading the transition towards a hydrogen-powered ecosystem. The two pioneers share energy and innovation, and both look forward to a brighter and greener future. As an H2U ambassador with over 1.8 million followers on Instagram alone, Gou has the ability to drive and amplify the younger generations' demand for change toward finding more holistic-based energy solutions that do not require fossil fuels.
Learn more about Peggy Gou and Hyundai's commitment to progress for humanity by checking out the H2U program launched on September 10th, 2020.