TRAVEL
Cafe Stories Vol. 1
PHOTOS

N CHAE

WORDS

EDGERANK
8 minute read
Every month we bring you the latest cafes to see and be seen in all around Seoul, sharing unique histories and people that intrigue and inspire. This month we head to the northwest area of Seoul, the popular Mapo-gu neighborhood, to bring you a public bathhouse-turned-hipster cafe, Haenghwatang. Out with the new, back in with the old.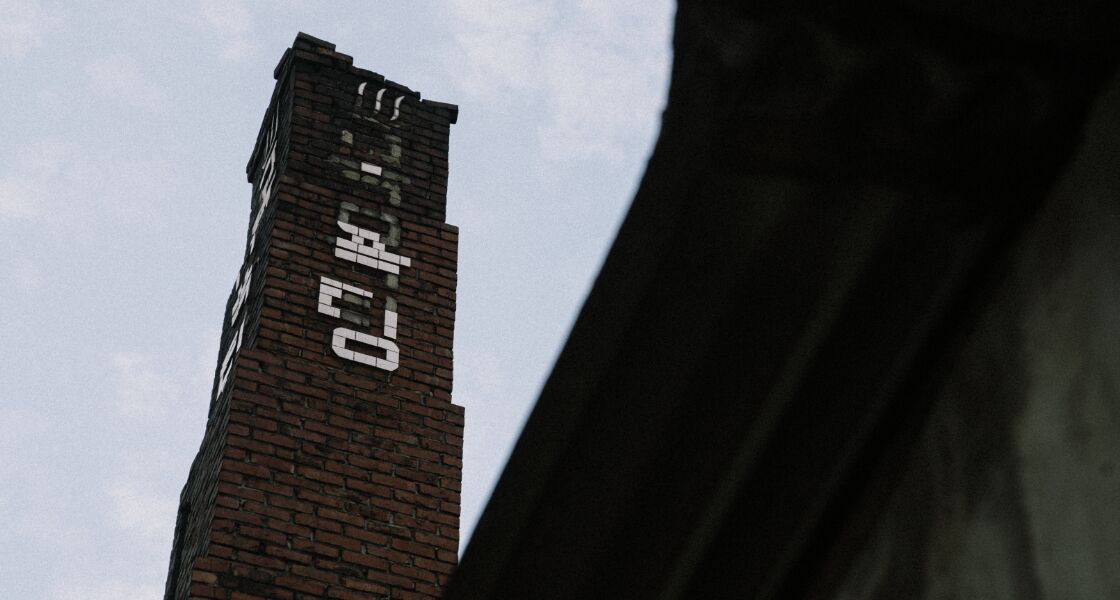 Therapy to-go
Many Koreans used to spend their weekends in public bathhouses with their families and friends to cleanse their bodies and spirits. These family rituals functioned as therapeutic recesses from the hustle and bustle of the "old days".

Old-timers are brought to nostalgia by the original facilities because they bring back the warmth of days-gone-by, which are often forgotten over time.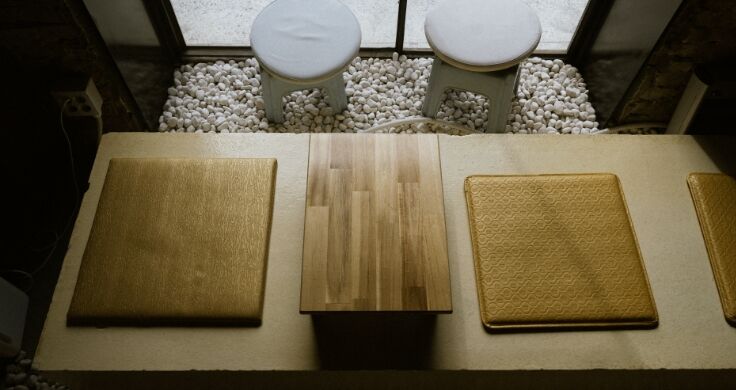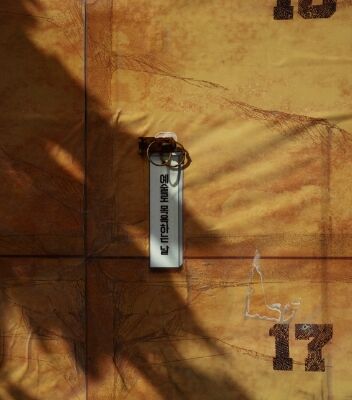 Haenghwatang is located near Aeogae station and is now converted to a cafe. Just as it used to cure the stiff backs and shoulders of people in the hot tubs, it now brings solace to visitors with a variety of hot beverages and art exhibitions.

One of their signature drinks is 'Bansinyok (half-bath) latte' , where a "whipped cream man" (dried whipped cream block) is half-bathing in a cup of café latte. Haenghwa-ade (apricot soda), another hidden gem, is also a very popular item on their menu.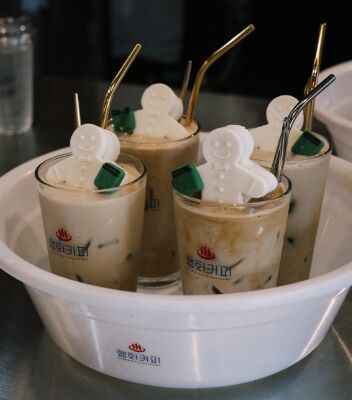 The Bansinyok (half-bath) latte
"It was around January 2016 when I started the Haenghwatang Project. It was a time when I felt that I couldn't continue working as a freelancer anymore," said art director Seo Sanghyuk, about the background of the project.

"It's not bad that my work is introduced as part of the 'Newtro (New+Retro)' movement, but it's a little different from what actually happened," he continued. "Of course, I was well aware of this big trend of urban regeneration, but I didn't set such a big goal when I started this project. My colleagues and I were seeking a place that is big enough to accommodate impromptu meetups. We were not looking for the bathhouse in particular at the time. We just set up the two criterion: low rent and convenient transportation."

Haenghwatang has drawn public attention as an up-cycled coffee place. The original building, made up of glass, iron, and concrete, still stands, and today it is transformed into a cultural complex.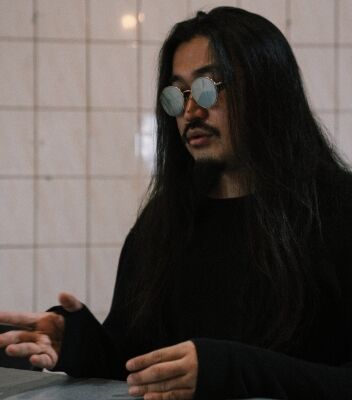 Owner, Seo Sanghyuk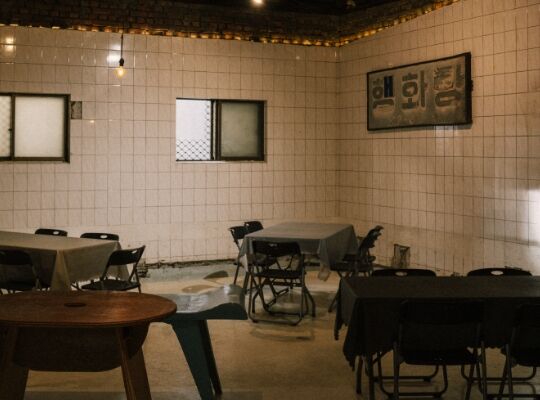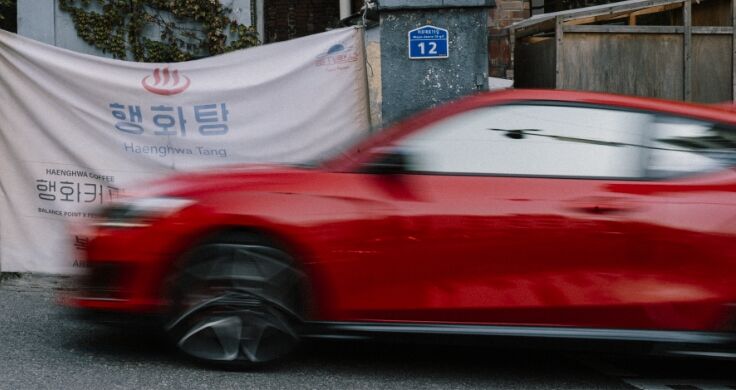 "I'm very happy that Haenghwatang, which was once a deserted space, can extend its life. But what I find most interesting is that the space seems to save all the beautiful memories from the past. Local residents whom I happened to meet on the street still remember the old Haenghwatang.

The other day, I came across Sweet Sorrow 's song by Ahhyeon Dong, and the lyrics drew memories from Haenghwatang, with the lyrics 'We swam in a bathtub at Haenghwatang where people are not going anymore'. I'm glad that the memory can continue thanks to our efforts."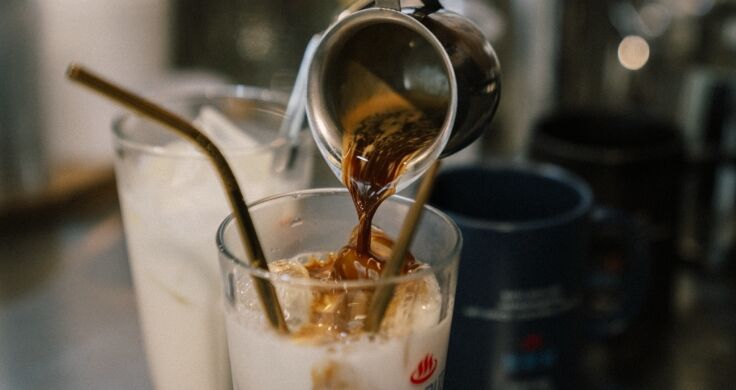 Haenghwatang has preserved its historic structure, allowing visitors to enjoy the original roof structure that creates a unique atmosphere in a warm orange hue, providing a break from everyday life.

"I love coffee and I don't usually pick just one café to go." said Ms. Kim who worked in the next building. "I go wherever I feel like going. But if I am with my close friends or want to talk with my colleagues, I would definitely bring them here because it has a high ceiling and many seats. My friends love the Bansinyok latte and they are always busy capturing the moments we spend in this space."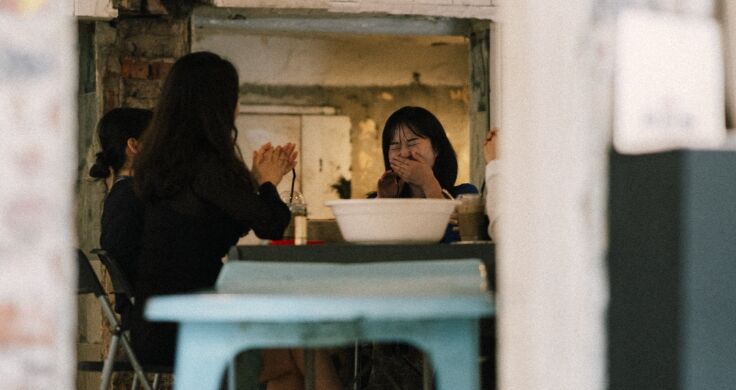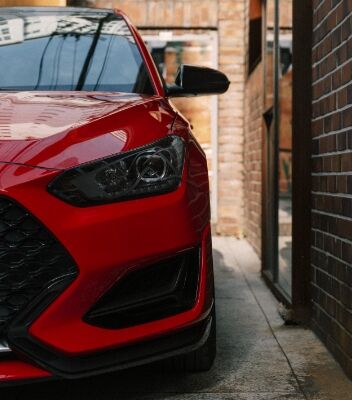 Sustainable Living
Hyundai supports a more sustainable way of living, and #Haenghwatang is a great example of sustainability in today's world.

Haenghwatang 행화탕
613-11, Ahyeon-Dong, Mapo-gu, Seoul, Korea 04117
서울 마포구 마포대로19길 12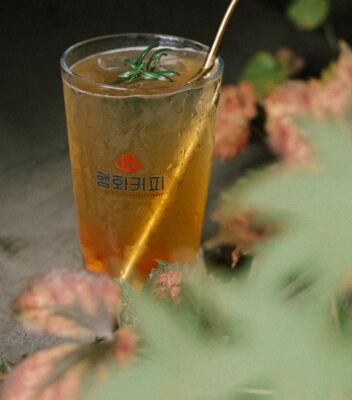 A glass of ice cool Haenghwaade (apricot-ade)