TRAVEL
Classrooms in the Wild
PHOTOS

ANTON WATTS

WORDS

EVAN SCHAPIRO
4 minute read
There is something so mind-opening, liberating and gratifying about a road trip. And a road trip that leaves as tiny as possible an imprint on our environment is even more inspiring. We sent this couple on a voyage in our Kona electric — out of LA and into the open desert. Our couple found relief, connectedness and a bit more about themselves on this Sustainable Road Trip, and their account was enlightening.
Education on a Sustainable Coexistence
An adventure out of LA and into the great California landscape. To fully appreciate the concepts of community and sustainability, we leave the comfort and routines of city life. Nature becomes our teacher. It is here we learn the lessons that allow us to grow as citizens of the planet, to achieve Progress for Humanity.
See: Joshua Tree Park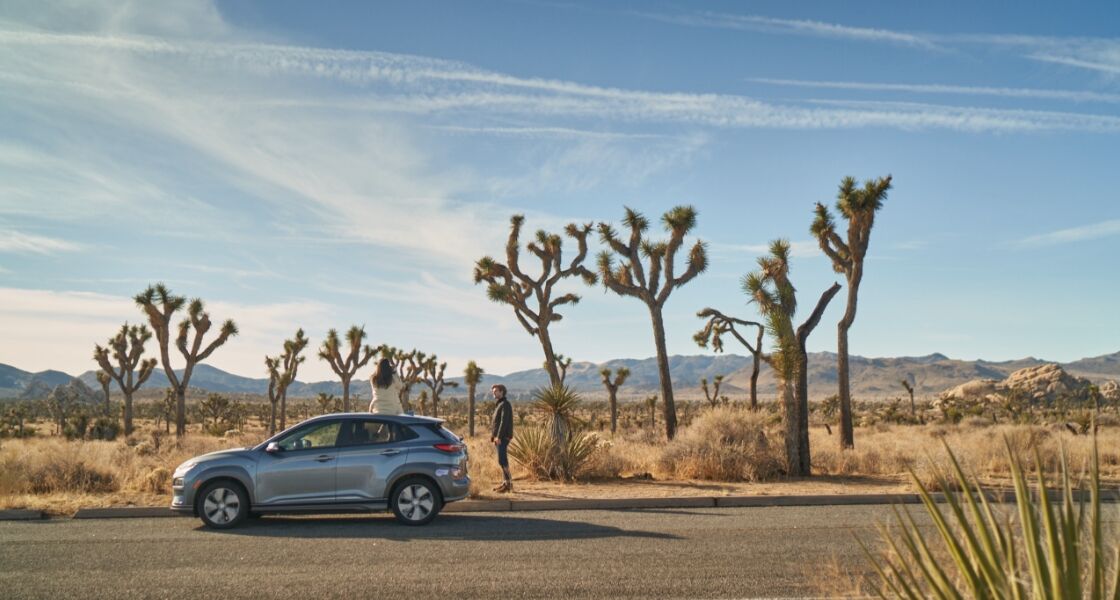 The Joshua Tree grows where two ecosystems — the Mojave and Colorado — meet. Its branches bend in every direction, guiding travelers to look north, south, east, west. It only grows in just the right conditions — where desert rains fall, a winter chill freezes, a specific moth pollinates. It has needs that are few, yet specific, and when these needs are met, it provides for those who dwell on the land. This beautiful park teaches a lesson in the simplicity, but also specificity, of life.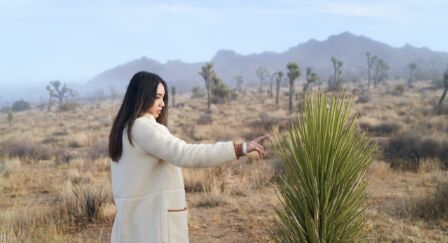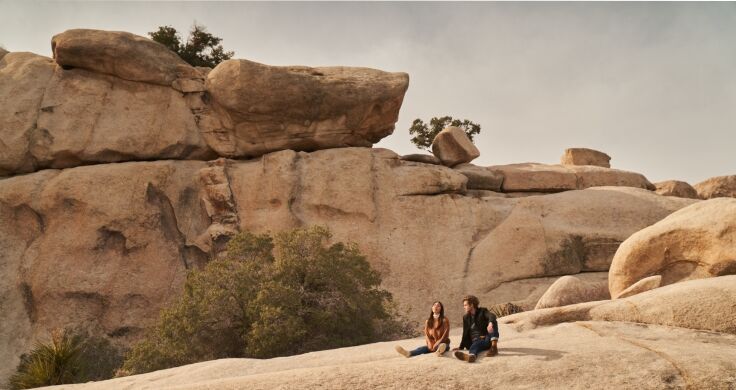 With hikes that provide respite and scenery like that around Barker Dam or illusions and excitement like Skull Rock, Joshua Tree Park is a place to let imagination soar. Many describe the landscape of Joshua Tree Park as otherworldly, but we feel that it is a shining example of what makes our world beautiful.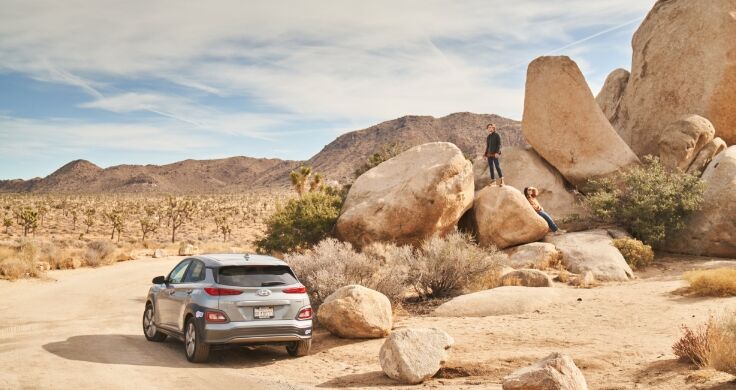 Taking a deep breath in Joshua Tree Park is a reminder of the great work ahead of us to preserve our planet. And how a car like the Kona EV is a big step in the right direction. The Kona even has a monitor to remind us of the CO2 emissions that are avoided while using its electric power. In the Kona EV, we can breathe easily.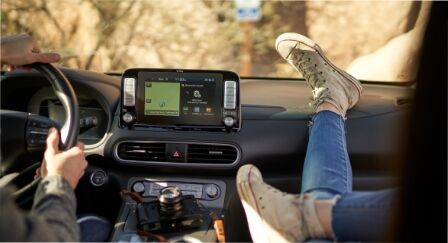 EAT: Trio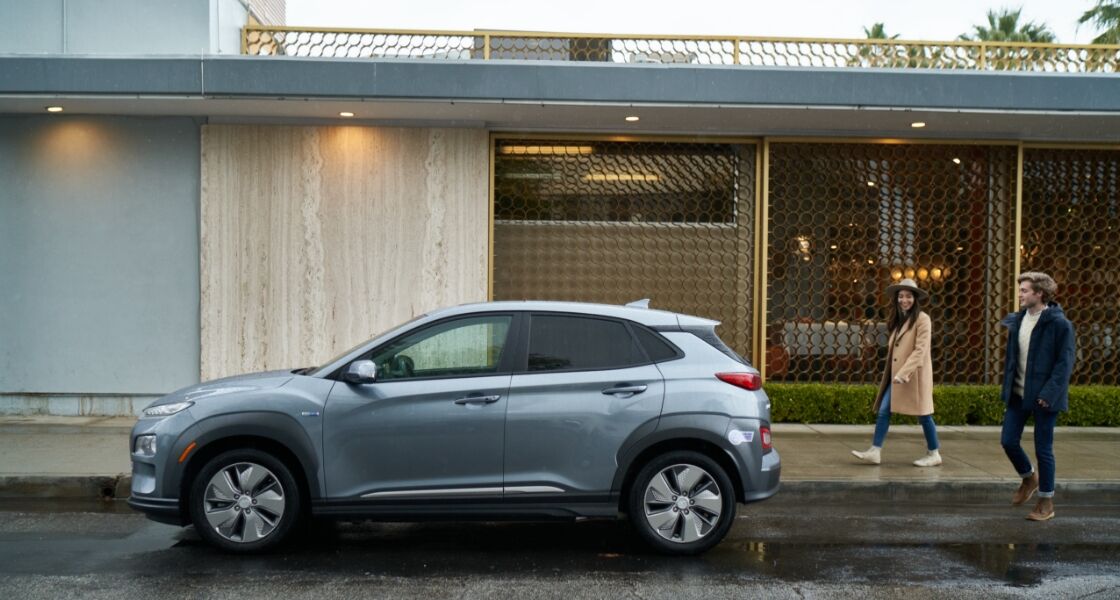 Palm Springs is scorching, and many find themselves forgetting lunch among the heat. Trio reminds us to enjoy the refueling that a lunchtime meal provides.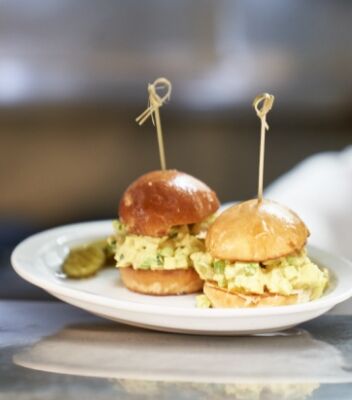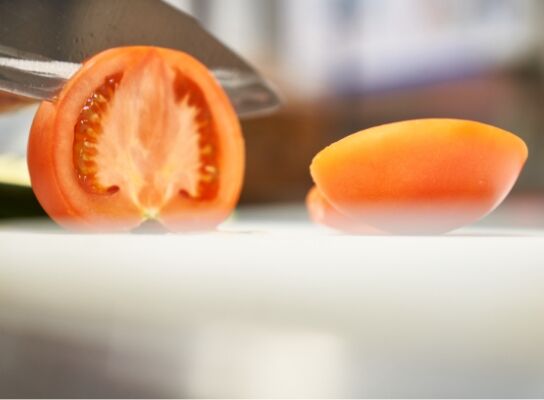 The produce is fresh, and its vibes are light. Trio focuses on sustainable farming, and the bold flavors show off the best of what the soil provides. Here we see a relationship between farm and table at its best and most loving.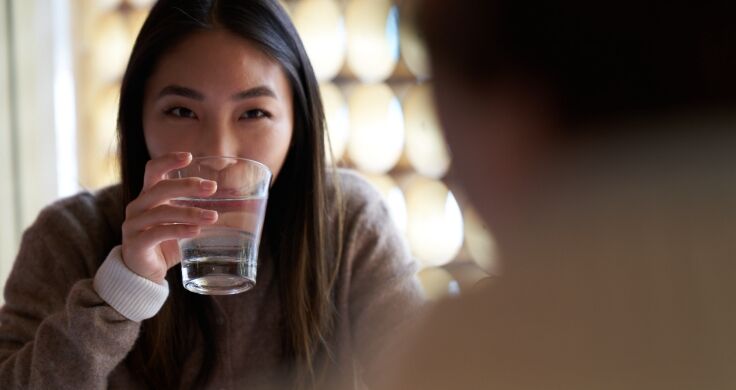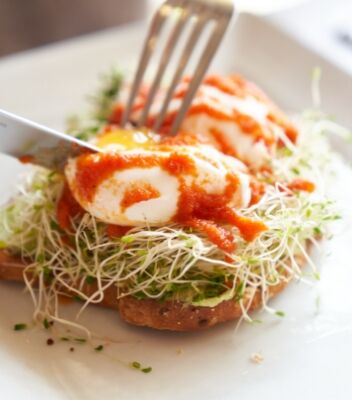 STAY: Folly Cabin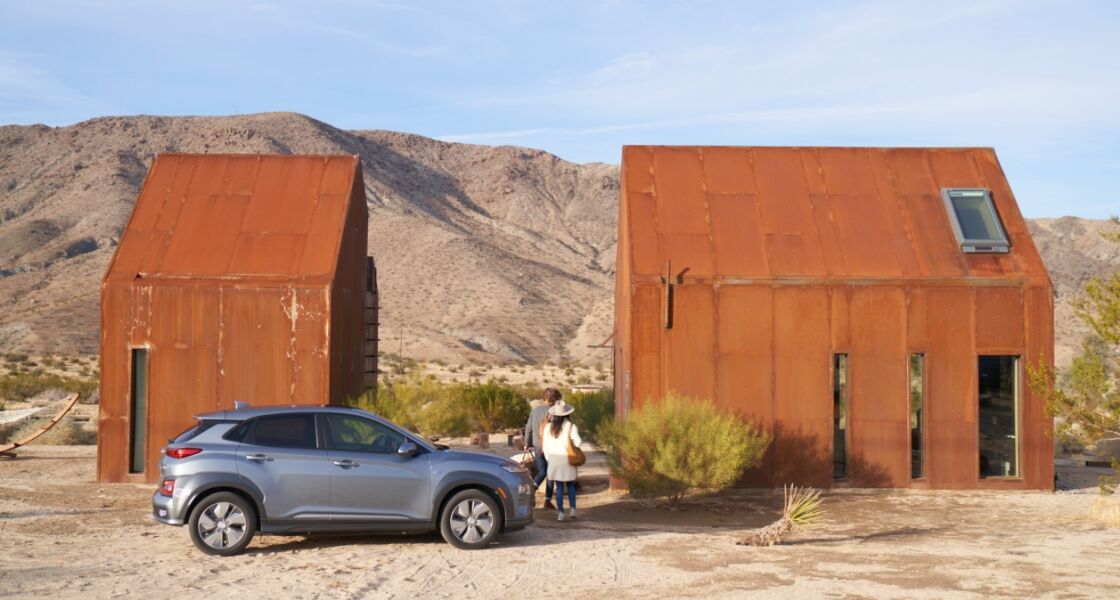 100 miles outside of LA, 400 square feet. The Folly cabins are simple, sustainable structures and not what one imagines to be built on land that expands endlessly outward. Why not build an estate - swimming pools and water slides? The answer is clear. The Folly cabins remind us about the most essential parts of life.
The tiny rooms feel expansive, as the windows provide portals to perfect light. The building materials are strong and solid. The kitchen is stocked with all the right tools — and a French press ready to brew he perfect pot of coffee. And yes, there's even a TV — solar powered, of course.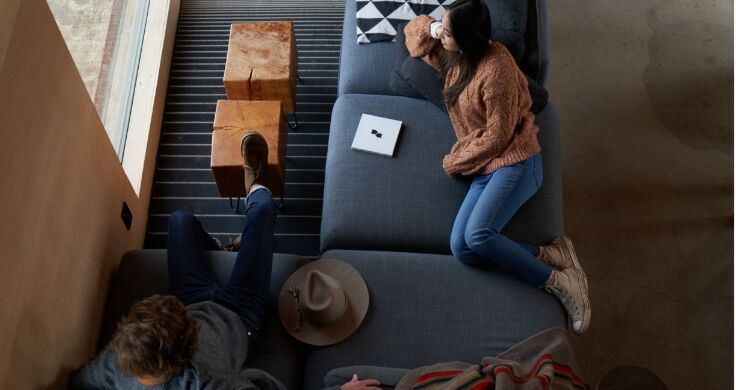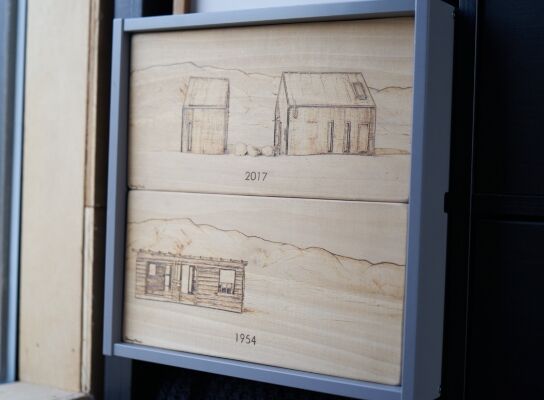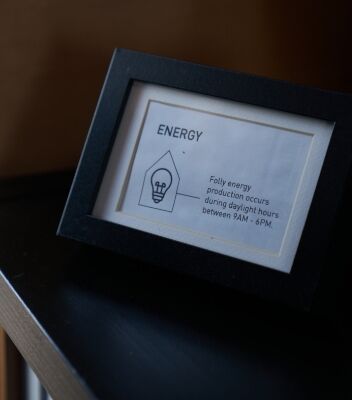 But the desert is the star of this show. The sublime landscape, the Milky Way's nightly dance, the calls of the local jays. And the energy produced here is as clean as the architecture.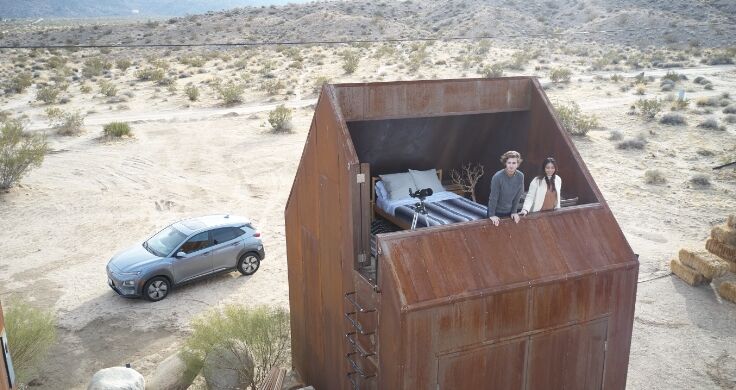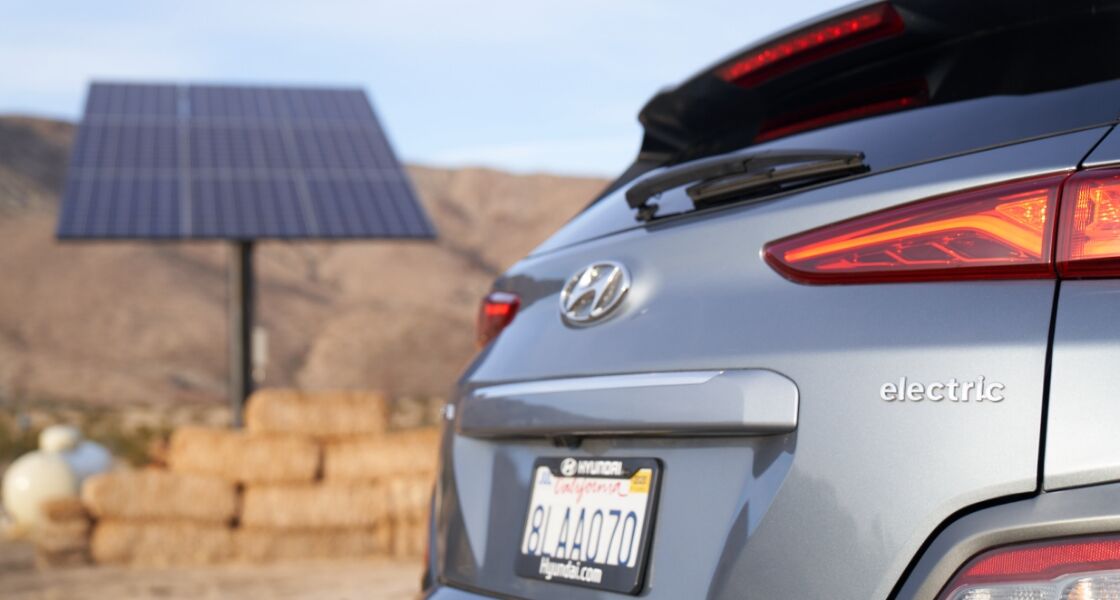 The architects at Cohesion Studios designed the Folly cabins with a paradox in mind: creating an off-grid vacation with joy-inducing, modern experiences. They used innovative technology, yet constructed a habitat grounded in the desert land. Salvaged steel, creative solar-panel placement and a stargazing bedroom bring the landscape inside, all while creating a peaceful space for guests. The Kona EV mirrors these sentiments. It brings a comfortable, powerful ride, with high efficiency and fully-clean energy.
The Hyundai Kona EV is here.
Free yourselves from emissions,
and enjoy the ride.