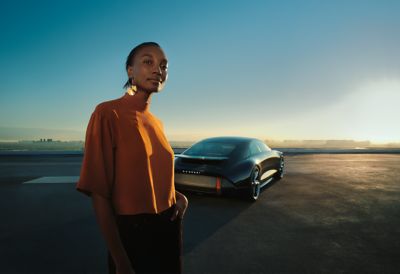 IONIQ – Hyundai's new electric line-up.
What if you could change the world?
Dedicated entirely to electric vehicles and next level e-mobility, the new IONIQ line-up brand has been created for conscious consumers who want to be in charge of a brighter, more sustainable future. Empowering all of us to say: I'm in charge.
IONIQ
I'm in charge.
Change is a big word we often associate with climate, peace, or politicians – forgetting that everything big once started on a smaller scale. Who can stop our impact on nature? Who can make the shift to green energy? Who can control time? Actually, it's you. Given your opportunity to make changes, you can choose to move towards progress or turn the other way and regress.
Sustainability is an ongoing goal.

I learn from nature. Now is the time to make the whole world listen.
A quick look at the IONIQ family of electric vehicles.
We introduced the term IONIQ, which fuses "ion" and "unique", when we created Project IONIQ, a R&D project for eco-friendly mobility. From there, we introduced the first IONIQ vehicle in 2016 – the world's first model to offer 3 electrified powertrain options: hybrid, plug-in hybrid and battery electric. Now, dedicated solely to our next generation of electric vehicles, IONIQ represents our commitment to sustainability and is key to achieving our clean mobility goals.
Electrified models
Our vehicle range is leading the way in e-mobility.
Our e-mobility vehicles have been leading the way for years. Hyundai is the only manufacturer to offer all major electrified powertrains in production cars: electric, hybrid, plug-in hybrid and fuel cell. Our award-winning, zero emission NEXO is the only hydrogen fuel cell vehicle available for purchase in Europe.
*Range shown is according to WLTP combined cycle. Driving range may vary slightly depending on road conditions, your driving style and the temperature. It is also is dependent on the type of tyres equipped. Technical data not final.
** Charging time is based on charging with on 32A wallbox and 3.3 kW OBC.  Charging times  may vary depending on available charging conditions, including charger type and condition, battery temperature and ambient temperature at point of use.