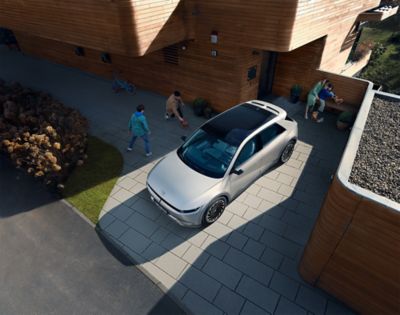 Products & mobility services.
Our commitment to sustainability and future mobility.
Hyundai is shaping the mobility of tomorrow – implementing innovative ideas for greater efficiency and creating a model range that covers the entire spectrum of alternative drive systems – and going beyond being an automobile manufacturer to become a mobility solution provider.
The entire spectrum of eco-friendly powertrains.
While some brands are just now announcing sustainable cars, we have been leading the way for years. We are the only manufacturer to offer all electrified powertrains in production cars: electric, hybrid, plug-in hybrid and fuel cell. The launch of our EV brand IONIQ in 2020 helped us to secure 4th place in global eco-friendly vehicle sales and with the launch of the IONIQ 5 in 2021 we continue to lead the way.
Electric vehicles.

Never having to stop for petrol again. Producing zero emissions while providing a thrilling driving experience, our dynamic range of all-electric vehicles (EV) includes IONIQ 5, IONIQ Electric, and KONA Electric. EVs don't need an oil tank, a transmission, or a catalytic converter – which means lower maintenance costs and no oil changes.
Hybrid electric vehicles.

Hybrids use electric power to help you go farther on a litre of petrol. All without you having to charge a battery or change your driving habits. Taking world-class fuel efficiency to the next level, our hybrids are equipped with a petrol engine and a battery-powered electric motor: a full-parallel hybrid drive system. We offer four hybrid (HEV) models in Europe.
Plug-in hybrid electric vehicles.

Electric when you want it, petrol when you need it. Plug-in hybrids offer the best of both worlds. Once the electric-only range is depleted, you can plug the car into a charging station – or just continue using the petrol engine. Our plug-ins are equipped with a full-parallel hybrid drive system. We offer three plug-in hybrid (PHEV) models in Europe.
48-volt mild-hybrid system.

Save fuel and reduce emissions with a 48-volt mild-hybrid system – available on a wide range of petrol and diesel powertrains. It supports the combustion engine with additional torque during acceleration. A Mild-Hybrid Starter Generator recuperates kinetic braking energy by converting it into electricity and stores it in the 48V battery for later use.
Hydrogen fuel cell electric vehicle.

NEXO reinforces Hyundai's leadership in Fuel Cell Electric Vehicles (FCEV). When hydrogen stored in the tanks enters the fuel cell stack, it is broken down into protons and electrons. The electrons provide electricity that drives the electric motor. The protons react with oxygen from the air, generating heat and water – the only emission.
Driving a sustainable future with David de Rothschild.
For the last decade, adventurer and environmentalist David de Rothschild has been pushing the plastics conversation. His relationship with Hyundai started in 2016 as both realised they shared a common understanding of our planet's future. He once built a boat out of 12,500 plastic bottles. Now, he's helping Hyundai revolutionise green mobility.​
Eco-friendly materials in our vehicles.
Sustainability is one of Hyundai's top priorities, and one of our efforts is developing eco-friendly materials for our vehicles and upcycling car manufacturing waste. For example, we use bioplastic produced from renewable raw materials. Headlining, seat covers, floor carpets, and mats are also made of bio-PET fibres. And 25 per cent of plastic used for the interior of IONIQ Electric comes from wood cellulose.
IONIQ 5 is made using nature-friendly materials.
The interior of IONIQ 5 features a wide selection of nature-friendly materials and eco-friendly methods. Its manufacturing processes include using polyurethane bio-paints and eco-friendly fibres, such as thread made of pulverised sugar cane, polyester yarn, and recycled plastic bottles. Hyundai is committed to using even more eco-friendly materials and methods in its IONIQ models going forward.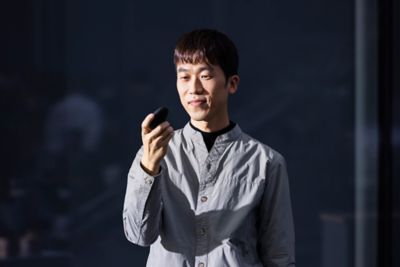 Using recycled PET bottles can inspire people to think about how products that are easily thrown away could be turned into something new. Of course, it would be better if PET bottles didn't exist at all.
Innovatively using environmentally-friendly materials.
Environmentally-friendly materials are used extensively in IONIQ 5, like eco-processed leather and recycled yarn. What's more, raw materials extracted from sugar cane are used on the headliner, carpet, and seat covers. The innovative use of natural materials is another contribution to sustainability in our manufacturing processes, making IONIQ 5 less reliant on oil-based products.
Calling you to create a more sustainable world.
The engineers and designers who developed IONIQ 5 felt called to do whatever they could to make a change in the world. The use of environmentally-friendly and natural materials, for example, makes IONIQ 5 less reliant on oil-based products. Now, it's your turn.
IONITY high-power renewable energy charging network.
IONITY normalises long-distance travel with electric vehicles – building and operating a high-power charging network across Europe with a charging capacity of up to 350 kW – with 100 per cent renewable energy for both emission-free and carbon-neutral driving. Through its participation in this joint venture, Hyundai is promoting the further adoption of zero-emission mobility.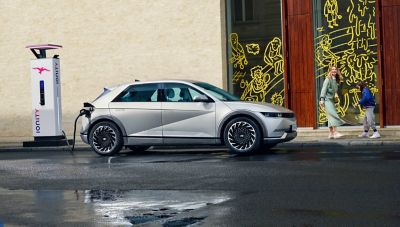 Drivers benefit from maximum charging speeds and short charging sessions while having access to 100 per cent renewable energy for both emission-free and carbon-neutral driving. In select countries, Hyundai EV owners can enjoy a free one-year subscription to IONITY, which forms part of Hyundai's new pan-European integrated public charging service, Charge myHyundai.
Developing a green hydrogen economy.
We aspire to build a "Hydrogen Society" for the betterment of humanity and the environment. Working, from our experience, in hydrogen fuel cell technology, we will continue to lead the way in building a hydrogen-related industrial ecosystem, ranging from eco-friendly hydrogen fuel production to stable storage and distribution and hydrogen mobility expansion with FCEV vehicles, hydrogen trucks, and trains.
Discover more of Hyundai's sustainability efforts.