Technology with a human heart.
Wearable exoskeletons, unmanned vehicles, all-terrain rovers - at Hyundai, we believe the future of mobility will involve more than just passenger cars. We are devoted to the research and development of robots based on our vision "Progress for Humanity."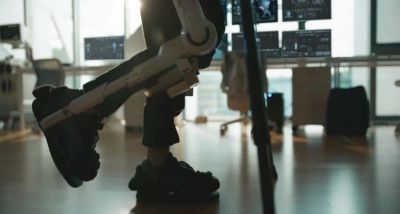 Dreaming a future where humans and robots are together
Wearable Robotics
Technology developed for humans.
Robotics have the potential to greatly improve the quality of human lives at work, at home, and at play by providing us with support for all kinds of tasks.
His first steps.

Jun-beom Park 's mother vividly remembers his first steps. Born prematurely at 7 months and weighing only 1.8 kgs, he first encountered the world from an incubator but grew healthier and took his first steps at 15 months. Taken with confidence and a smile, this was just the start for the young Jun-beom Park.
At eighteen, an unexpected accident.

On May 5th, 2008, an accident changed Jun-beom Park 's life forever. He'll never forget that day. Heading to the library with his friends. The echoing voices of the paramedics. Opening his eyes in the emergency room. Seeing his father cry for the first time. His thoracic vertebrae were damaged and he would be dependent on a wheelchair forever.
Despair, hope and goldfish.

Depression struck. Park isolated himself from his friends, girlfriend and even his parents. It was difficult for him to adjust to the new reality. For over a year, he stayed in his room. Then a glimmer of hope in his pet goldfish, as he found comfort and understanding in caring for them.
A new challenge.

The sport of archery guided Jun-beom Park out of his seclusion and back into the world. He first picked up a bow at a disability centre recommended by his therapist recommended. As he took aim, the world melted away and he directed his focus on a new target, to join the Korean national Paralympic team.
Practice, patient, preparation. 

Jun-Boem began to prove himself, joining a corporate team and winning a variety of competitions in his 10 year journey to reach the Korean National Team. Yet he still dreamed  to be free from his wheelchair, and see the world eye-to-eye. 
How can our robotics help Park Jun-beom walk again?
Jun-beom's success and motivation, despite his challenging circumstances, moved and inspired our robotics Team. From the moment Jun-beom personally reached out, our "Second first steps" project began. Could we help him walk again?
Project kick-off.

The first meeting for the project took place in Hyundai Motor's Robotic Lab in October 2019. Our engineers evaluated the situation, and prepared a plan for the wearable robot that would help Jun-beom Park take his second first steps.

Research.

We conducted extensive research, went through several phases of development, and completed multiple rounds of trials. Any miscalculation could be dangerous to Jun-beom Park, therefore significant safety precautions were taken to insure a successful testing phase.

Second first steps.

After a successful trail, Jun-boem Park was ready to take his second first steps. As Jun-boem put on the exoskeleton suit, he took a big breath and slowly began to put weight on his legs. Confident to proceed, he lifted himself up, and began walking toward his parents, for the first time in 10 years.
Our Next Steps:
Our second first steps project began with a simple letter, and grew to a cornerstone of our "Because of You" brand campaign. This remarkable journey taught us one lesson, that technology should support people, not divide them. This philosophy underpins everything that we do, from wearable robotics to our electric vehicles, our progress, is your progress. Progress for Humanity.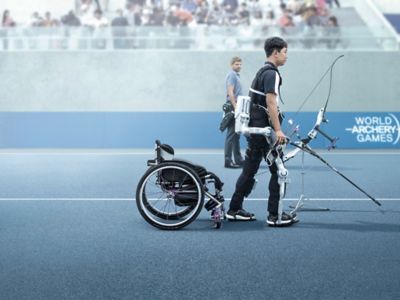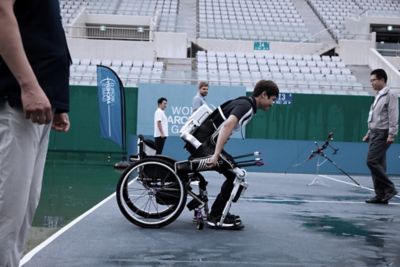 Wearable Vest Exoskeleton.
Vest Exoskeleton (VEX) is another wearable robot developed by Hyundai. It's created to assist industrial workers who spend long hours working in overhead environments.
Service Robotics
Mobility is more than a car.
In our aim to redefine mobility, we are looking beyond the form of a traditional automobile to change the way we move for the better. One of our more unusual concepts is the Elevate, an innovative and flexible new vehicle based around a simple question. What would a vehicle be like if it could walk? And more importantly, would anyone benefit? The resulting answer is a striking, and modular electric car with robotic legs that allow it to move across almost any terrain.
"People living with disabilities worldwide could hail Hyundai Elevate that could walk up to their front door and allow their wheelchair to roll right in."
- John Suh -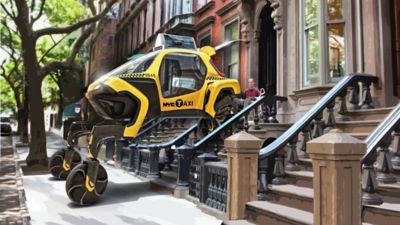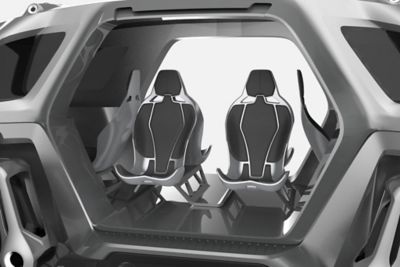 Boston Dynamics
Hyundai x Boston Dynamics: Welcome to the future of mobility.
With our recent acquisition of Boston Dynamics, Hyundai's investment and commitment into furthering robotics technology has entered a new, even more dynamic phase. Combining their technical expertise with our vision, we will re-define the future of mobility, as we believe that when mobility evolves, so does humanity.
A glimpse into the future.