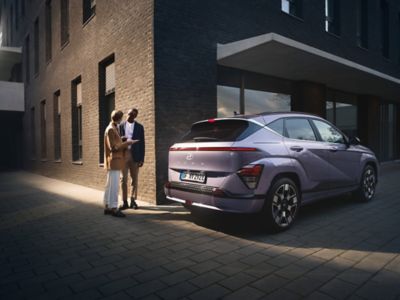 Accessories.
Exclusive finishing touches.
Nothing beats Genuine.
Why Genuine? Because every Hyundai accessory is designed, manufactured and tested to the same stringent standards as your own all-new KONA Electric. That means that they fit perfectly, they complement your car's design and will never look out of place. All are manufactured from high quality materials, some of which are sustainable and recyclable wherever possible. So, when you have the foresight to choose the KONA, you'll also be assured that our accessories match perfectly. That's Genuine!
Styling
Subtle changes make a great difference.
Adding your personal selection of our styling accessories is a great way to personalise your all-new KONA Electric. All have been designed to enhance its dynamic design, while others like LED lighting effects and entry guards also bring the bonus of even more functionality.
Decals, racing stripes.

Create the impression of even more sportiness and speed with eye-catching racing stripes for your car's bonnet. Available in glossy white and matt black.

Entry guards.

Make first impressions count. Welcome passengers to your cabin with these stainless steel entry guards featuring the KONA logo.

Tailgate trim line.

Superb elegance in every detail. This strip brings a stylish finishing touch to your tailgate. Available in piano black and brushed aluminum optic.
Wheels
There's no substitute for Genuine.
Whether sporty or elegant, there's much more to our Genuine wheels than their eye-catching appearance. Before they can be incorporated into our range they must be homologated. This means they are subjected to the rigorous testing procedures which ensure the strength, safety and longevity of all our Genuine wheels. So you can drive on with absolute confidence.
Alloy wheel 17", Balsan, silver.

17" alloy wheel, 7.0Jx17, suitable for 215/60 R17 tyres.

Alloy wheel 17", Balsan, graphite.

17" alloy wheel, 7.0Jx17, suitable for 215/60 R17 tyres.
Alloy wheel 19", Boramae, matt black.

19" five-spoke alloy wheel, 7.5Jx19, suitable for 235/45 R19 tyres. Only EV.

Alloy wheel 19", Boramae, bicolour.

19" five-spoke alloy wheel, 7.5Jx19, suitable for 235/45 R19 tyres. Only EV.
Protection
Made for your KONA and made to last.
Enjoying life to the full is so easy with your KONA Electric. But it often involves close encounters with mud, dirty water and other undesirable substances. Our specially designed accessories provide year-round protection and fit the interior perfectly. They often share matching surface patterns, and wherever possible are manufactured from bio-based materials.
Trunk liner with extention.

From gardening tools to sports equipment – some cargo can be potentially wet or grimy. Made from 80 % bio-based sources this semi-rigid, anti-slip and waterproof liner with raised edges will keep your trunk clean.

Trunk tray.

Heavy duty protection for the trunk area. Its high sides keep messy, muddy and wet loads away from the fabrics and materials of your KONA Electric.

Trunk mat, reversible.

Enjoy double the protection with two flippable surfaces – high-quality velour on one side, and a resilient dirt-resistant finish on the other – to suit the whole range of different transport tasks life brings with it.
Charging
Fast charge your lifestyle.
Enjoying a sustainable life is easier when clean electricity provides the power. The optimum way to charge your KONA Electric is to use our fast, efficient charging system. Our Mode 3 charging cable is exactly what you need to make the most of existing charging systems. So you can concentrate on maximising your life with a clean conscience.
And there's more!
Hyundai Genuine Accessories have been created to help you enjoy even more fun and versatility with your KONA. All are precision-made using high-quality materials, so that they will fit your car perfectly.