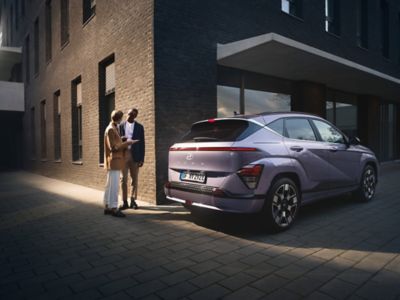 Design.
Explore the design of the KONA Electric.
A sharper and bolder new look.
The all-new KONA's sleek exterior design started with an EV-first approach, combining a clean, aerodynamic nose and Pixelated Seamless Horizon Lamps with flowing lines. But despite its futuristic appearance, the all-new KONA Electric never lets anyone forget that it's an SUV.
Futuristic design
Sleekly sophisticated.
With its sleek lines and futuristic flair, the KONA Electric's sporty character is underscored by the body-coloured wheel arch cladding, building on the iconic design identity of the first KONA.

360°
Pick your style.

You can choose from three stylish types of wheels depending on the trim level you prefer: 17" two-tone Carbon Gray alloy wheels and 19" two-tone Glossy Black alloy wheels.

Look on the bright side.

The distinctive twin headlamp design features full projection LED headlamps integrated in the front bumper, which combine with the bonnet's Seamless Horizon Lamp for an eye-catching lighting signature.

Seamless rear LED lighting signature.

Mirroring the front for a harmonious overall look, the rear Pixelated Seamless Horizon Lamp rounds out a unique LED lighting signature that really sets the all-new KONA Electric apart from the crowd.

Active air flap.

The active air flap integrated in the front bumper enhances the high-tech look in the front as well as improving energy efficiency when closed — and cooling vehicle parts as needed when open.
Maximised living space
Comfort and style.
To provide maximised living space, the KONA Electric has evolved, growing wider and longer, with generous leg and shoulder room in the 2nd row. The flat floor with no centre tunnel adds to the feeling of roominess.
A larger living space for all your adventures.
Designed to fit everything you and your busy life can throw at it, the KONA Electric offers plenty of room for passengers and cargo. This bold, upscaled SUV now gives you a larger living space for all your adventures.
Generous amount of flexible cargo storage.
When it comes to cargo and storage, the all-new KONA Eletric offers generous trunk space of 466 litres (VDA) – 30% more than the previous KONA Electric. It's also simple to adjust: you can fold down the rear seats flat in seconds without even having to take off the headrests. And with the seats folded flat, you have a roomy 1300 litres of space for weekend escapes – and big boxes of whatever you want to take with you.
Personalise it.
Your car. Your colours.
Express yourself. Depending on the model and trim level that suits you best, you can choose from a wide range of exterior colours and a two-tone roof to personalise your KONA Electric to fit your individual style.