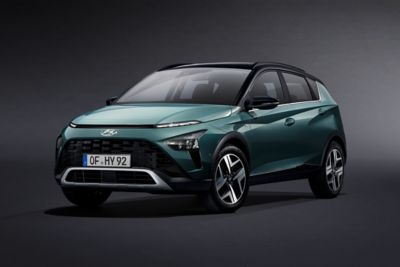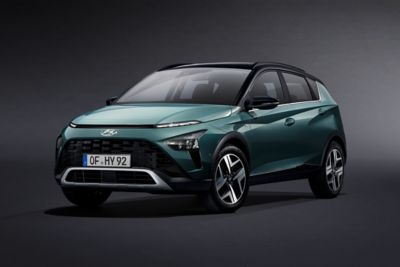 The all-new BAYON.
Ready for new heights.
This model may not yet be available for sale in your country. Fuel consumption and CO2 values for this model have not yet been determined.  
See things from a new perspective.
The all-new BAYON is a small-on-the-outside, big-on-the-inside crossover SUV that is designed to make a lasting impression. Packed with loads of smart tech like best-in-class safety and connectivity features – and efficient powertrains available with a 48V mild hybrid system.
Design
Stand out design.
All sharp lines and eye-catching proportions, the all-new BAYON really stands out from the crowd. Stylish and sleek, it elegantly combines Hyundai's award-winning SUV heritage with a visually stunning interpretation of our Sensuous Sportiness design language. And when it comes to seeing and being seen, you'll love the feeling of freedom you get from the higher seating position and great all-round visibility.
Refreshingly roomy.
With a strong focus on maximising passenger comfort and increasing boot space, Hyundai designers have created a well-it, modern atmosphere inside the all-new BAYON. Inspired by shapes found in nature, the doors elegantly embrace the dashboard. The sculpture of the doors perfectly matches the instrument panel section and LED mood lighting sets a subtle, but sophisticated blue accent in the cockpit.
Convenience
Roomy and comfortable with plenty of cargo space.
Delivering the comfort and storage space of an SUV, the all-new BAYON's compact exterior size and its family-friendly interior mean you can enjoy the best of both worlds. While its compact size and excellent visibility make it easy to enter and easy to handle – and thanks to its high seating position, it also gives you that safe and robust feeling customers have come to expect from Hyundai SUVs.
Connectivity
Get connected in style with class-leading features.
Enjoy state-of-the-art smart tech with dual 10.25" visually combined big screens with split-screen functionality. And with Hyundai's Bluelink Connected Car Services, you can control your car from your smartphone – or with your voice. It brings seamless connectivity directly into the all-new BAYON with online voice recognition and features to make your drive more convenient and enjoyable.
Bluelink® Connected Car Services.
Control your car from your smartphone – or with your voice. The latest Bluelink upgrade let's you take full advantage of our state-of-the-art Connected Car Services. On top of the many clever features you can control with the Bluelink app, a free five-year subscription to Hyundai's LIVE Services is also included with the navigation system with real-time information on traffic, parking or petrol prices.
Safety
Best-in-class safety package with SmartSense.
The all-new BAYON shares its safe and robust DNA with the other members of the Hyundai SUV family – and it has the safety features to match. Another way it stands out in its segment: an extensive list of Hyundai SmartSense safety features – our cutting-edge Advanced Driver Assistance Systems. Many of them are included in the standard equipment already.
Performance
Dynamic performance meets excellent fuel efficiency.
The all-new BAYON delivers excellent fuel efficiency and highly competitive CO2 emissions thanks to its updated T-GDi engines – downsized turbo-charged engines with direct injection for optimum efficiency and driving fun. When combined with our unique 48-volt mild hybrid technology (48V) with Intelligent Manual Transmission (iMT), you get even more enhanced fuel savings and efficiency.
1.0 litre T-GDi petrol engine.

Our three cylinder, 998cc Turbo GDI engine is designed to take the all-new BAYON's sporty personality to the road. With up to 120 PS and our new 48v mild hybrid technology available, this low-key powerhouse makes the car just as fun to drive as it looks.
1.2 litre MPi petrol engine.

With 1197 cc of engine displacement and 4 cylinders, our 84 PS entry engine is a gentle force to be reckoned with. Coupled with a 5-speed manual transmission, this power unit offers offers both full control and pleasant torque delivery.
More performance. Less emissions. CVVD Engine Technology.
Hyundai has developed the world's first Continuously Variable Valve Duration (CVVD) technology. It optimizes engine performance and fuel efficiency while also being eco-friendly. The valve control technology regulates the duration of valve opening and closing according to driving conditions.
5-Year Unlimited Mileage Warranty.
Like every Hyundai, the all-new BAYON is built to the highest possible quality standards. And we back that quality up with a 5-Year Unlimited Mileage Warranty so you can enjoy the things you love in life, without having to worry about your car. Enjoy the extra peace of mind that one of the industry's best warranties gives you – standard.