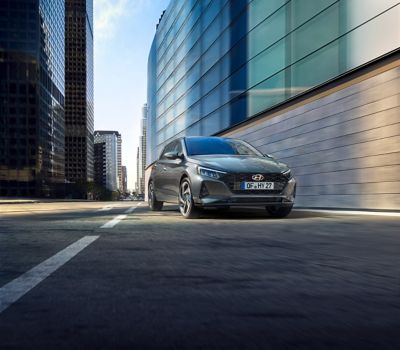 Designed to stand out.
Explore the design of the Hyundai i20.
Sportiness redefined.
Dynamic, distinctive, sensuously sporty: With its revolutionary design, the Hyundai i20 is setting new standards in its car segment. Its energetic look paired with a wealth of exciting new interior options makes it the perfect car to match your personality.
Exterior
Take the spotlight in style.
Sleek and stunning, the i20 is shaking up the segment with its sensuously sporty new design. Wider, longer and featuring a lower roof than its predecessor, it is first car in Europe to be inspired by Hyundai's Sensuous Sportiness design philosophy – a harmonious combination of energetic proportions, style and technology.

360°
Your car. Your colours.
Customize the i20 to reflect your personal style: Complementing its eye-catching silhouette, the car comes with a range of 10 equally mesmerizing exterior colours for you to choose from. On top of that, the two-tone roof in Phantom Black adds to the distinct and stylish look of a car that is truly unique – just as you are.
17" alloy wheels.

Take to the road in style with newly designed 17" alloy wheels, enhancing the car's dominant stance on the road even further.

Unique C-Pillar design.

The i20's signature dynamic look is achieved by bold design choices – prominently visible in the new C-Pillar design.

New Daytime Running Lights.

Sportiness meets safety: The Daytime Running Lights make both an impression on the streets and grant the i20 improved visibility for other road users.

Redesigned rear bumper.

The newly designed rear bumper highlights the i20's dynamic look, resulting in a car that radiates sportiness from every angle.
Interior
High-quality, high-tech interior.
Hyundai's designers have created a fresh new look, applying a wide range of innovative aesthetic and technical solutions for an airy, modern atmosphere. The doors embrace the dashboard in an elegant, sensual way, inspired by shapes found in nature. The sculpture of the doors perfectly matches the instrument panel section and LED mood lighting sets a subtle, but sophisticated blue accent in the cockpit.
Brilliant 10.25" digital cluster.

For an even more high-tech look in the cockpit, the brilliant new 10.25'" digital cluster displays essential driving information where you can see it best: front and centre. You can modify the display to your preference: you can display your speed digitally, the Energy Flow (48V only), or the Smart Sense features.
Three drive mode colours.

Change the mode to suit your mood. Depending on the drive mode you select, the digital cluster changes colour and graphics to match. Blue as seen here for Normal, green for Eco and red for Sport mode.
True beauty comes from within.
The i20's completely redesigned interior is a perfect match for the car's head-turning outside personality. With a vast number of customization options available, you have the tools at your disposal to precisely tailor the car to your individual taste.