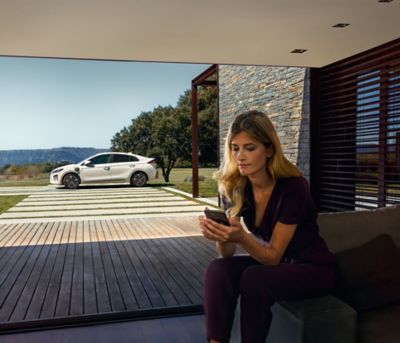 Features.
Explore the features of the new Hyundai IONIQ Plug-in Hybrid.
A winning combination.
Nobody said that lowering emissions had to be boring. The new IONIQ Plug-in Hybrid delivers a winning combination of space, style and refinement matched with the very latest in connectivity and technology.
Technology
Get there faster with real-time services.
The new IONIQ Plug-in Hybrid comes with everything you need to make driving less stressful – and to get you there faster. A free five year subscription to Hyundai's LIVE Services is included with the 10.25" AVN system. Access real-time information on petrol station locations and prices, traffic, weather and POI, as well as on & off-street parking and Hyundai dealerships – and even speed camera alerts where allowed by law.
Live fuel price information.

Find fuel fast when you need it and at a nice price – the continually updated fuel service coverage provides you with current fuel prices and location information – just tap the screen to set your choice as a destination.

On & off-street parking.

Find a parking spot faster – and enjoy more efficient and stress-free parking. Find and compare real time parking options in garages and parking lots, as well as on-street parking spots.

Weather forecast.

Want to know what kind of weather is heading your way? With the live weather service, you can always monitor the latest weather information of your current location, destination or favourite cities.

Speed camera alert.

A comprehensive service with alerts for both fixed and mobile speed cameras.* So you can focus on a safe, confident and relaxing drive.

Traffic information.

Get there faster. With Hyundai's real-time traffic information, you get the best routes according to the prevailing conditions – as well as the most precise time of arrival estimates.

Live Point of Interest.

Searching for an address, POI (point of interest) or a combination of both has never been so easy. Thanks to the free text search, you can always find the place you are looking for.
Bluelink® Connected Car Services.
Bluelink® Connected Car Services bring seamless connectivity directly into IONIQ Plug-in Hybrid with online voice recognition and a wide range of features to make your drive more convenient and enjoyable. On top of the many clever features you can control with the Bluelink app, a free five-year subscription to Hyundai's LIVE Services is also included with the navigation system.
Performance
Potent plug-in performance.
The new IONIQ Plug-in Hybrid combines a 44.5-kW battery-powered electric motor with a specially calibrated direct injection petrol engine to give you combined power output of 141 PS and 265 Nm of torque. Add a smooth-shifting Dual Clutch Transmission and the lightweight, high-strength body structure to this dynamic mix, and you get a very thrilling driving experience.
Start/ Low Speed.

When starting or driving at low speed, the electricity stored in the battery powers the electric motor to accelerate the IONIQ Plug-in.
Acceleration/Uphill.

During heavy acceleration or driving uphill, the electric motor and petrol engine work in pararell to maximise acceleration and minimise fuel consumption.
Constant Speed.

At constant speeds, power is provided by either the petrol engine or the electric motor, whichever is the most energy-efficient in that situation.
Deceleration/Downhill.

The regenerative braking system charges the battery by using the electric motor to slow the car. When decelerating or driving downhill, the energy generated is stored in the battery.
Saving fuel and lowering emissions: ECO-DAS.
The excellent fuel efficiency and low CO2 emissions of the new IONIQ Plug-in are supported by the ECO Driving Assistant System (ECO-DAS). When a route is entered into the navigation system, this predictive energy management system analyses the route, tapping into topography data to set an optimal mix of power from the battery and fuel from the engine. The Coasting Guide also informs the driver when a driving situation demanding deceleration is imminent to reduce fuel consumption.
Coasting Guide.

The Coasting Guide analyses information from the navigation system and alerts when a situation demanding deceleration is imminent. This reduces fuel consumption and minimizes brake usage.

Predict Uphill.

If the battery is low ahead of a hill, engine operation increases slightly to pre-charge it before the incline. This way, the electric motor can assist going uphill – thus optimizing fuel-efficiency.

Predict Downhill.

If the battery is sufficiently charged, electric motor usage is increased before driving downhill to minimise fuel consumption. The battery is recharged on the way downhill by regenerative braking.
Charging
Flexible plug-in charging.
With the IONIQ Plug-in Hybrid you have different ways to charge – including not charging at all. When you're plugged in at home, you can remotely schedule charging via Hyundai's Bluelink® app during low-demand hours for lower rates.
Convenience
Clever, convenient and connected.
Enjoy the seamless connectivity you expect and innovative tech that makes life easier. Designed to make every journey a good one, of the new Hyundai IONIQ Plug-in Hybrid offers wide range of clever features and systems that provide more comfort and convenience for everyone on board.
Wireless charging.

Charge your smartphone the easy way. The wireless charging pad conveniently located in the centre console in front of the shifter, lets you easily charge a compatible Qi-enabled smartphone without the use of cables.

Heated and ventilated seats.

Enjoy the luxurious comfort of an available 8-way adjustable power driver seat with 2-way lumbar support. A heated and ventilated version is also available. 60:40 folding rear seats are standard.

Heated steering wheel.

Enjoy warm hands on cold days. The heated steering wheel features ergonomically positioned controls so you can stay connected and operate car systems while driving safely.

Electronic Parking Brake (EPB).

Enjoy finger-tip control. An easy-to-use button activates or deactivates the optional Electronic Parking Brake.

Driving Rear-View Monitor (DRM).

The visibility of the rear view mirror is limited sometimes. With the new DRM, a camera provides clear video of exactly what's going on behind – for a safer and more comfortable driving experience.

eCall for more safety and security.

IONIQ Hybrid will automatically call for help if you're in an accident and the airbags deploy. You can also push the SOS button for emergency assistance 24/7, 365 days a year.
One car. Three kinds of electric.
Nobody said that lowering emissions had to be boring. Combing award-winning aerodynamic design with thrilling driving dynamics, the Hyundai IONIQ is the world's first vehicle offered with three different electrified powertrains: hybrid, plug-in and electric. Each model offers a different set of benefits tailored to different driving styles. Find the model that suits you best.
Discover more of the Hyundai IONIQ Plug-in Hybrid.
Tyre information.
Below you will find the information about the tyres which may come with your Hyundai IONIQ Plug-In Hybrid.