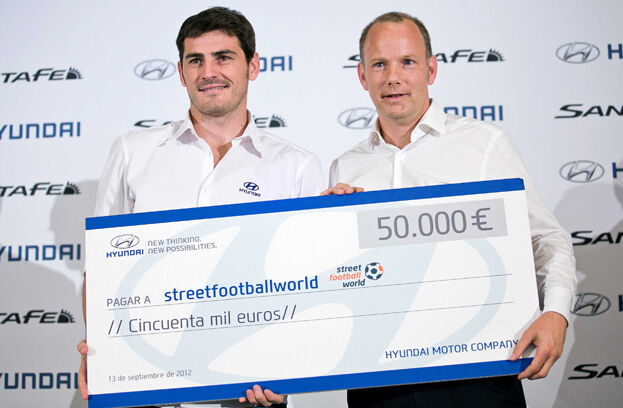 Hyundai Motors will support the education of children from low income families in Europe.
Hyundai Motors said that its face for the Euro 2012 promotion Iker Casillas (of Spain's team Real Madrid) donated €50,000 to the social business Street Football World in the company's name out of the €250,000 raised at the Euro 2012 Commitment Relay event held at Hotel Puerta America on the 13th.
The company plans to spend the remaining 200,000€ within the year - 50,000€ each for Germany, France, Italy, and the UK ? through Street Football World to help disadvantaged children gain a securer footing.

The Euro 2012 Commitment Relay has been ongoing on Hyundai Motor's official global Facebook page for the past two months since May. It is a novel CSR event that accrues €1 to the soccer foundation for a rooting message left with Hyundai Motors for Team Hyundai ? Iker Casillas (Spain), Lukas Podolski (Germany), Karim Benzema (France), Giuseppe Rossi (Italy), Daniel Sturridge (UK) ? or any other team.

The company noted that "Hyundai Motors is delighted to put the funds raised worldwide during the Euro 2012 to use for children from low income families in Europe. We will continue to develop various programs to fulfill our social responsibilities across the world as a global leading company."
Hyundai Motors is also devising CSR programs to serve the European auto industry and economy such as the Skills for the Future initiative that trains teenagers announced last April.