All-New Accent (RB)
 
(Note: All specifications and details in this release are based on the models for all markets except China, North America and Russia)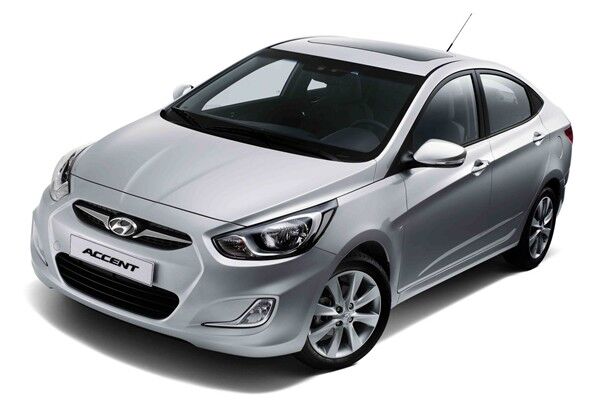 The all-new Accent (badged as 'Verna' in some markets) began life as the automaker's first product, Pony, in 1976 and has grown to become one of Hyundai Motor Company's top-selling global models. The seventh-generation Accent will maintain its reputation with a refined new modern design and an emphasis on high quality, while delivery improved fuel efficiency and performance.  
Hyundai began developing the new sub-compact sedan Accent in 2005 under the codename RB. The project took five years and 200 billion won (US $180 million based on today's exchange rate) to go from concept to production.  
DESIGN CONCEPT
The new Accent continues Hyundai Motor's Fluidic Sculpture design philosophy that injects sophistication and dynamic angles as well as elegant lines resembling a calligrapher's "orchid strokes" into the shape of a vehicle. Like any timeless work of art, the fluidic essence that characterizes the molding design of Hyundai's latest models is inspired by nature, realizing the harmonic coexistence of all things.    
Having roots in the Fluidic Sculpture design philosophy, Hyundai designers employed the design concept key words "Sleek on Dynamic" when crafting both the exterior and interior of the new sub-compact sedan. With a coupe-like profile found in the company's latest models such as the all-new Sonata, the Accent's outer design is highlighted by dynamic and sophisticated graphic elements, including eagle-eye two-tone bezel headlamps, unique L-shaped fog lamps and a large hexagonal front grill. Its refined and stately image is completed by sculptural side character lines that start above the front fog lamps and extend to the rear combination lamps.  
Inside the cabin where the character lines flow continuously, a Y-shaped crash pad showing bilateral symmetry gives a sense of stability. High-gloss black and metallic colors used in the center fascia add a futuristic and high-tech look to the interior of the Accent.  
OVERALL DIMENSIONS
The new Accent is built on a 2,570mm platform, which is 70mm longer than the previous model, offering more space and comfort for front and rear seat passengers. Leg room for the front row is on a par with that of a medium sized car: 1,112mm. It is also wider and longer than its predecessor by 5mm and 90mm at 1,700mm and 4,370mm, respectively. However, the overall height has been slightly reduced by 13mm to 1,457mm as the car sports a stylish coupe-like profile without affecting head room. The new Accent delivers class-leading luggage capacity that is wide enough to fit four golf bags and three overnight bags.  
The new Accent comes with a choice of 14'' steel, 14'' or 16'' alloy wheels with attractive spoke patterns for an up-to-the-minute appearance.  
POWERTRAIN
Gamma 1.6L or 1.4L Gasoline Engine
All-new Accent will be powered by
the new-generation Gamma engine, 1.6L or 1.4L DOHC in-line four-cylinder gasoline engines that feature multiport fuel injection with CVVT (Continuously Variable Valve Timing). By replacing the old Alpha engine of its predecessor with Gamma, the sedan promises more power and torque, as well as improved fuel economy, in keeping with Hyundai's pledge to be the industry's eco-leader. The power and torque of 1.6 Gamma are respectively 124ps and 15.9 kg
·
m, while those of 1.4 Gamma are 108ps and 13.9 kg
·
m. The powerful and fuel-efficient Gamma engine will be mated to a four-speed automatic transmission or a standard five-speed manual transaxle.
Average Fuel Economy
1.4 Gamma
1.6 Gamma
5 M/T
4 A/T
5 M/T
4 A/T
5.9 L/100km
(16.9 km/L)
6.3 L/100km
(15.9 km/L)
6.0 L/100km
(16.7 km/L)
6.4 L/100km
(15.6 km/L)
U-II 1.6L Diesel Engine
Some countries including India will be offered with a quiet, clean and responsive U-II 1.6L VGT diesel engine that has maximum power output of 128 horsepower and peak torque of 26.5 kg
·
m. The diesel engine is built using the common rail system for optimum fuel efficiency and minimized exhaust emissions. U-II achieves 5.6 L/100km (17.9 km/L) fuel economy with a four-speed automatic transmission and 4.4 L/100km (22.7 km/L) with a standard 6-speed manual gearbox.  
SAFETY INNOVATIONS
The high-tensile strength steel that comprises 58.6% of the new sub-compact sedan's floor and chassis offers enhanced crash performance as well as reduced weight. The new Accent's underlying structure is also engineered to protect occupants using a Collision Load Dispersion mechanism that distributes the force of a frontal impact in three ways to minimize floor deformation and maintain the integrity of the cabin, while a ring-type structure in the centre pillar area provides more strength and protection against side impact. In addition, Hyundai offers Anti-lock Brake System (ABS) and an optional six-airbag system to further upgrade safety.  
RIDE AND HANDLING
The long wheelbase of the new Accent contributes to a smooth ride with enhanced stability. McPherson Struts on the front wheels provide fully independent suspension with sensitive steering and controlled maneuverability. The old style sub-frame has been replaced by an H-shaped type, for a simpler and lighter structure. In the rear, a Coupled Torsion Beam Axle (CTBA) is applied to optimize the suspension and shock absorption in line with the changing situation on the road. Motor Driven Power Steering (MDPS) gives precise handling, sharp steering response and improved fuel efficiency as well.  
COMFORT AND CONVENIENCE
Thanks to an optional back warning system and a backup camera with display in the electro-chromic (ECM) rear-view mirror, the driver will be able to easily park the car in reverse. Other features in the new Accent include a USB port on the front console for iPod, MP3 player or other portable multimedia device; as well as an integrated Bluetooth system that allows drivers to make hands-free phone calls and to stream music wirelessly over the car's stereo speakers.  
SALES
Hyundai Motor, which started selling the new Accent last November in Korea, expects to sell 500,000 units in all markets (Korea and overseas combined) beginning from the year 2011. Hyundai is confident that the new sub-compact sedan, with trendy and stylish design as well as vastly improved features, will attract and satisfy youthful consumers.