(Note: All specifications and details in this release are based on the model for all markets except China and North America)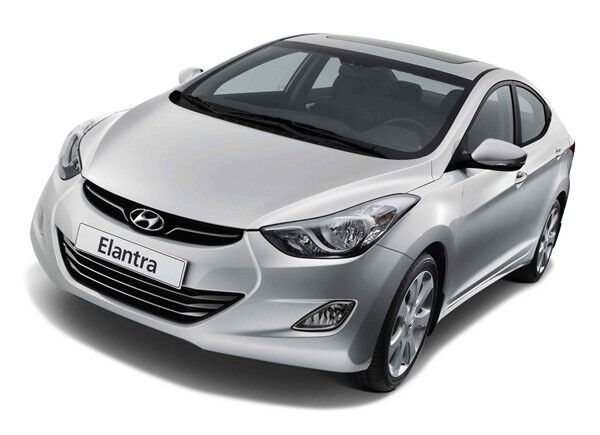 Elantra (badged as 'Avante' in some markets) has reached cumulative sales of six million units worldwide and received high marks from a number of world-renowned car-rating agencies since the first-generation model was launched in 1990. The fifth-generation Elantra's styling, power output, fuel-efficiency, comfort and safety features have been all upgraded. Projecting a sportier and even more progressive image than its predecessor, the all-new compact sedan Elantra will continue its successful tradition of offering class-leading performance and fuel efficiency, thanks to its cutting-edge technology and powertrain.
Hyundai began developing the new Elantra in 2008 under the codename MD. The project took 33 months and 300 billion won (US $267 million based on today's currency exchange rates) to go from concept to customer.
WIND CRAFT DESIGN LANGUAGE
Having its roots in Hyundai's Fluidic Sculpture design philosophy that aims to reflect sophistication and dynamic lines into the shape of vehicles, Hyundai applied a specific design concept called "Wind Craft" to the new Elantra, evoking a piece of sculpture literally crafted from by wind.
By lowering the roof line, creating muscular wheel arches and adding sharply creased character lines that flow from the A-pillar along the hood and into the front bumper, Hyundai Motor's Elantra design team gave the compact sedan a powerful and assertive stance. The distinctive hexagonal grille clearly establishes the new Elantra's identity as a Hyundai family member. Swept-back head lamps complete the elegant exterior.
The refined look continues inside. In particular, the silver garnish that starts from the crash pad and leads to the console features a windblown shape that exudes an overall refined and dynamic image. High-gloss black and metallic colors used in the cabinet add a futuristic, high-tech look to the interior of the all-new Elantra.
AERODYNAMICS
With its lower roofline and low rear deck lid, the new Elantra produces a slicker and sportier profile with a drag coefficient (Cd) of just 0.28, reducing wind resistance and improving fuel economy. A kicked-up trunk lid and carefully sculpted rear lamps allow smoother air flow. A center floor deflector and flush surfaces in the bottom of the car minimize air turbulence, as well.
OVERALL DIMENSIONS
The Elantra rides on a 2,700mm wheelbase, which is 50mm longer than the previous iteration. Its overall length exceeds its predecessor by 25mm at 4,530mm but the 1,775mm width is same as before. The height has been lowered by 35mm to 1,445mm without affecting headroom. Interior cabin space has been enlarged by 18 liters.
POWERTRAIN
The new Elantra comes with a choice of two all-new and remarkably advanced gasoline engines, Nu 1.8-liter MPI and Gamma 1.6-liter MPI D-CVVT. Both are mated to six-speed auto/manual transmissions, which deliver impressively more horsepower while consuming less fuel and producing lower emissions than the powertrains they replace.
ALL-NEW 1.8 Nu MPI Engine
The all-new 1.8-liter Nu Multipoint Fuel Injected (MPI) four-cylinder engine is capable of up to 150ps of horsepower at 6,500rpm while producing 18.2kg.m of peak torque at 4,700rpm, when pushed to the limit. The Nu engine was developed to replace the 2.0-liter Beta engine used in the previous Elantra. The Nu is smaller in size, weighs 33.6 kilograms less and helps achieve an 18-percent improvement in highway fuel economy, when compared with its predecessor.
The Nu engine features an aluminum block with a cast iron cylinder liner, cylinder head and crank. This unique configuration results in a block that is 30 percent lighter than an iron block, shedding more than 33.6 kilograms off the entire engine weight, while still providing comparable strength.
The 1.8-liter Nu also offers Dual Continuously Variable Valve Timing (D-CVVT) camshafts and hydraulic engine mounts for optimum power, efficiency and refinement. Using D-CVVT on both camshafts has several advantages when compared with using it just on the intake camshaft. Those include a 2 percent improvement in performance (increased volumetric efficiency), 2 percent improvement in fuel economy (reduced pumping loss) and a 30 percent reduction in hydrocarbon emissions.
In the valve train, roller swing arms and Hydraulic Lash Adjusters (HLA) reduce valve driven friction to improve fuel economy 1 percent compared with direct valve driving.  The Nu engine also features a maintenance-free silent timing chain system to enhance durability and improve Noise Vibration and Harshness (NVH).
A plastic two-stage Variable Induction System (VIS) enables switching between long and short intake manifolds, resulting in increased across-the-board performance. These result in a 4 percent improvement in performance, a 15 percent reduction in cost and 30 percent reduction in weight, when compared with aluminum.
Another tool Hyundai engineers have incorporated into the next generation Elantra is an electronic throttle control. The electronic throttle control replaces the conventional cable and mechanical linkage found in the previous generation Elantra with fast responding electronics. This system accurately controls air intake and engine torque, improving drivability, response and fuel economy.  
Hyundai's first application of double-pipe plumbing (internal heat exchanger) is found in Elantra. Double-pipe plumbing improves cabin cooling performance, while minimizing the capacity of the compressor, which further reduces fuel consumption. An external controlled variable compressor, as opposed to an internal variable compressor, is also used to improve fuel efficiency.
The Nu four-cylinder engine also has an offset crankshaft design that reduces friction between the piston and cylinder wall for a 1 percent improvement in fuel economy.
Gamma 1.6 MPI D-CVVT Engine
Lightweight thanks to its all-aluminum body structure, the 1.6-liter Gamma MPI four-cylinder engine is equipped with D-CVVT to boost horsepower output of 130ps at 6,300rpm and allow lower exhaust emissions while delivering best-in-class fuel-economy. Peak torque measures 16.0kg.m at 4,850rpm.
The Gamma features a Mechanical Lash Adjuster (MLA) that improves fuel efficiency and overall rigidity while its lower inertial mass helps reduce friction and noisy valve clatter. The intake/exhaust manifold system improves engine performance with the application of a novel structural design, reducing chronic problems and enhancing durability.
Hyundai's commitment to making the Elantra highly fuel efficient continues with a six-speed automatic transmission with SHIFTRONIC manual control or a standard six-speed manual transmission.
Developed and manufactured entirely in-house, the all-new six-speed automatic transmission is the world's first to be designed for engine applications in small mid-sized passenger cars. The new transmission consists of three planet gears, two clutches and three brakes, making it smaller, more compact and lighter than any other six-speed auto transmissions on the market today. Hyundai is one of only three global car manufacturers with its own unique six-speed automatic transmission layout.
Average Fuel Economy

1.8 Nu MPI

1.6 Gamma MPI D-CVVT

6 M/T

6 A/T

6 M/T

6 A/T

 6.5 L/100km




(15.4 km/L)

7.1 L/100km




(14.1 km/L)

6.1 L/100km




(16.4 km/L)

6.7 L/100km




(15.0 km/L)
DRIVER'S CONVENIENCE AND SAFETY
The new Elantra will delight and surprise with a raft of advanced features not found on other compacts. They include safety escort headlamps that remain turned on for 30 seconds after the driver leaves the car, a cluster ionizer system that purifies the air and deodorizes harmful gases by generating cluster ions, an auto defogging system, heated rear seats and rear parking assistance sensors.
Further, the new Elantra strengthens its safety features. While VSM (Vehicle Stability Management), which helps vehicles stay in a stable position, is applied for the first time in its class, ESP (Electronic Stability Program) and a six-airbag system is also available.
SALES
Hyundai Motor launched the new Elantra last August in Korea, selling nearly 77,000 units in 2010. The new compact sedan will make its way to overseas markets including Africa and the Middle East starting the first half of this year. From the year 2012, Hyundai expects to sell 400,000 units annually in overseas.