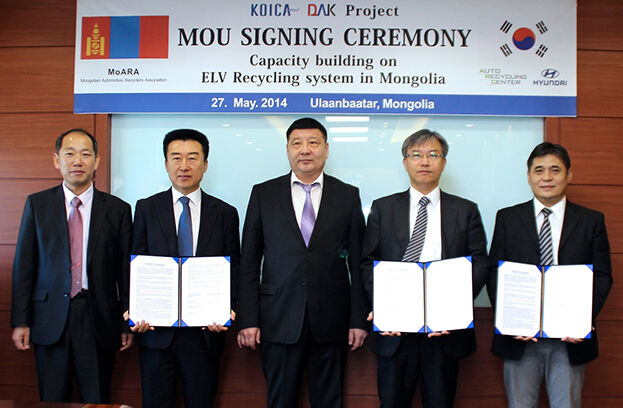 Hyundai Motors aims to support the Mongolian auto industry and the circulation of resources with its auto recycling technology. The Company signed an MOU regarding Mongolia ELV(End of Life Vehicle) Recycling Center at the Ministry of Traffic building in the Mongolian capital city of Ulaanbaatar on the 27th.

The ceremony was held in the presence of the Kyung-Hyun Lee, head of Hyundai Motors Service Supports Team, Deputy Minister Khabshai Yerjan of the Ministry of Traffic, Vice Director Dae-Keun Lim of KOICA Mongolia office, President Jong-Su Won of Auto Recycling Center, and Chairman Baasandash Choijil of Mongolian Automotive Recyclers Association (MoARA).

The Center which is an overseas program of KOICA seeks to curb environmental problems and build a virtuous cycle of resources by supporting the recent spike in end-of-life vehicles in Mongolia and brings together Hyundai Motors, MoARA, and Auto Recycling Center which is a Korean company specializing in the field.

Hyundai Motors will be in charge of the technological side pulling its long-standing experience as a finished automobile company and will transfer the knowhow in operating a local training center.
The actual establishment and operation of the Center will be undertaken by Auto Recycling Center and MorARA which consists of the Auto Department of the local Mongolian University of Science and Technology.

Over 75% of the 650,000 units of cars on Mongolian roads are aged over 10 years, but end-of-life vehicles are not being handled properly due to a lack in adequate facilities or technologies, creating waste and spoiling the urban scenery.
The stakeholders in this program hope that the new Center will serve to safely process the waste from aged vehicles and recycle the parts so as to prevent environmental issues.

The Center will be built in a 3,300㎡ area in Emeelt located in the capital city. Its dismantling and recycling facilities will start handling around 6,000 units a year from the end of this year and will expand going forward.
The high-level auto recycling technology of Hyundai Motors and those developed by the Korean Ministry of Environment's Waste Metal and Resources Reuse Technology Project are expected to widely promote Korea's prowess in the field.

"Hyundai Motors' advanced end-of-life vehicle processing technology will assist Mongolia's auto industry and virtuous cycle of resources." said the head of Services Support of Hyundai Motors, Kyung-Hyun Lee. The Deputy Minister of Traffic Khabshai Yerjan also added that "The increase in aged vehicles is a serious matter in Mongolia, and the government is keenly interested in this project and will offer support to ensure the Center serves its purpose."

Hyundai Motors has an Auto Re-Resourcing Center at Namyang R&D for the eco-friendly dismantling of ELV and developing related technologies, and the test vehicles are indeed being handled with minimal environmental impact at the Center.