First Hyundai Tucson Fuel Cell Vehicles Land in Canada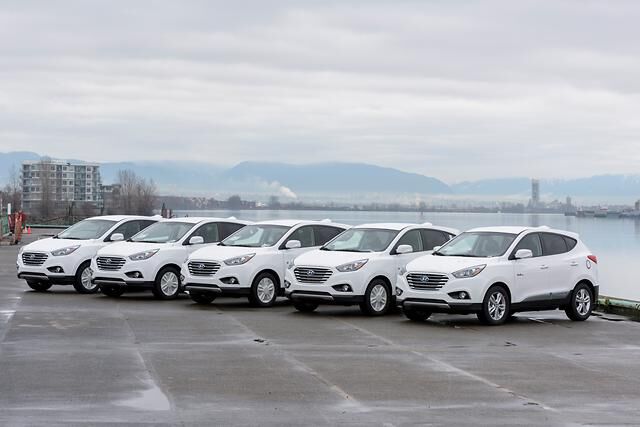 Vehicles arrive as the company is in the final stages of finding the first customers to drive Canada's newest zero-emissions SUV

VANCOUVER (January 6th, 2015) – Delivering on its promise to make hydrogen fuel cell electric vehicles available to the Canadian public, Hyundai Auto Canada Corp. announced today that it has received its first shipment of Tucson Fuel Cell Electric Vehicle (FCEV). Sailing from South Korea on the "Kaijin" cargo ship, the vehicles have been unloaded at the Vancouver port. The Hyundai Tucson FCEV will soon be delivered to Canadian customers on a 3-year lease in the Vancouver area.

November 26, 2014, Hyundai Motor Company announced it would be the first automotive company to make hydrogen fuel cell electric vehicles available to Canadians, and launched a dedicated website to find its first customer. The public's response has been immediate. "We've seen a tremendous response to our call for applications. Canadians all over the country wrote us to express their support for the fuel cell program and submit an application," said Don Romano, President and CEO of Hyundai Auto Canada Corp. "The numbers far exceeded our expectations, and it shows there is a definite market for fuel cell vehicles in this country. Our ambition is to lead the way in the zero emissions space."

The Hyundai Tucson FCEV takes less than 5 minutes to refuel and has an estimated range of 426 kilometres; both are comparable to the company's existing gasoline-powered Tucson and eliminate the range anxiety or recharge-time compromises of battery electric vehicles. Electricity is generated through an electrochemical process combining oxygen and hydrogen in the Tucson FCEV's fuel cell stack. This electricity powers the vehicle's electric motor and charges an onboard battery. The only by-product of the process is pure water vapour, resulting in zero greenhouse-gas emissions.

Canadians interested in leasing the Tucson FCEV can still apply at www.HyundaiHydrogen.ca.

HYUNDAI AUTO CANADA CORP.

Hyundai Auto Canada, established in 1983 and headquartered in Markham, Ontario, is a subsidiary of Hyundai Motor Company of Korea. Hyundai vehicles are distributed throughout Canada by Hyundai Auto Canada and are sold and serviced through more than 210 dealerships nationwide. Hyundai is also the first to offer its zero-emissions Tucson Fuel Cell Electric Vehicle to Canadian customers. More information about Hyundai and its vehicles can be found at www.HyundaiCanada.com.
For interviews or additional information, please contact:
Chad Heard, Public Relations Manager, Hyundai Auto Canada Corp.
Office: (905) 948-6712, Mobile: (416) 559-9640, Email: cheard@hyundaicanada.com
Laurence Myre Leroux, Public Relations Specialist, Hyundai Auto Canada Corp.
Office: (905) 948-6837, Mobile: (416) 518-5852, Email: lleroux@hyundaicanada.com

About Hyundai Motor
Established in 1967, Hyundai Motor Company is committed to becoming a lifetime partner in automobiles and beyond. The company, which leads the Hyundai Motor Group, an innovative business structure capable of circulating resources from molten iron to finished cars, offers top-quality best-sellers such as Elantra, Sonata and Genesis. Hyundai Motor has eight manufacturing bases and seven design & technical centers worldwide and in 2014, sold 4.96 million vehicles globally. With almost 100,000 employees worldwide, Hyundai Motor continues to enhance its product line-up with localized models and strives to strengthen its leadership in clean technology, starting with the world's first mass-produced hydrogen-powered vehicle, ix35 Fuel Cell. 

More information about Hyundai Motor and its products can be found at:
http://worldwide.hyundai.com or http://www.hyundaiglobalnews.com