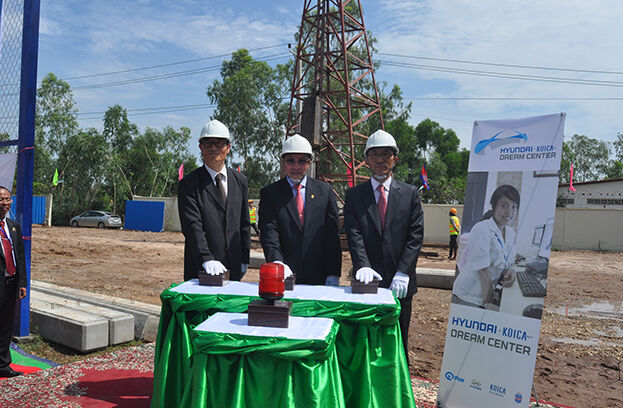 Hyundai Motors hosted the groundbreaking ceremony for the 3rd Hyundai and KOICA Dream Center in Phnom Penh, Cambodia together with Korea International Cooperation Agency (KOICA), Plan Korea, and local governmental and school officials. The CSR effort to train maintenance professionals follows the first three-year vocational school opened in Ghana in January 2013 and the second in Indonesia that opened this January.

The new school will be completed in the first half of next year, serving to realize dreams for young Cambodians through auto maintenance training.
Hyundai Motors will not only provide the overall costs for establishing the school, but will also ensure that the school is well-run through training teachers, developing the curriculum, and employing top students.

The Cambodian Dream Center will offer quality courses by incorporating the training courses in Korea, and will separate the program into five three-month courses (gasoline engines, diesel engines, power train, electronics, and inspection) and a two-year intensive course, allowing the approximately 140 students to receive training that fit their needs.

Hyundai Motors will be sparing no effort in training skilled technicians in Cambodia, as noted by the scholarship for students in the intensive courses.
The company will also assist graduates in finding jobs at auto shops, mentoring programs to start a business, and employ the best talents at the local Hyundai Motors maintenance center.

"The new auto school in Cambodia will generate opportunities in training and job creation" said Hyundai Motors, adding that "The effort by our Asian Pacific Division and local dealerships will be a CSV (Creating Shared Value) model between the community and the company by supporting underdeveloped nations through transferring Hyundai Motors' core auto-maintenance technologies."

The Hyundai and KOICA Dream Center is a global private-public coordinated CSR project that Hyundai Motors drives forward with KOICA and Plan Korea to strongly support less developed countries through addressing educational inequalities and creating quality jobs.
The Company will promote such a differentiated approach to global CSR activities by continuing to establish a Dream Center every year in developing nations in Africa and Asia.